When Will 'Saturday Night Live' Return for Season 46, Episode 15?
Saturday Night Live returned from its mid-season break on Jan. 30, 2021. And already the iconic sketch comedy series is taking another few weeks off. So with 14 episodes already in the can, when can fans expect the show to continue season 46? Here's the update as well as who will be serving as host and musical guest when SNL Season 46 returns.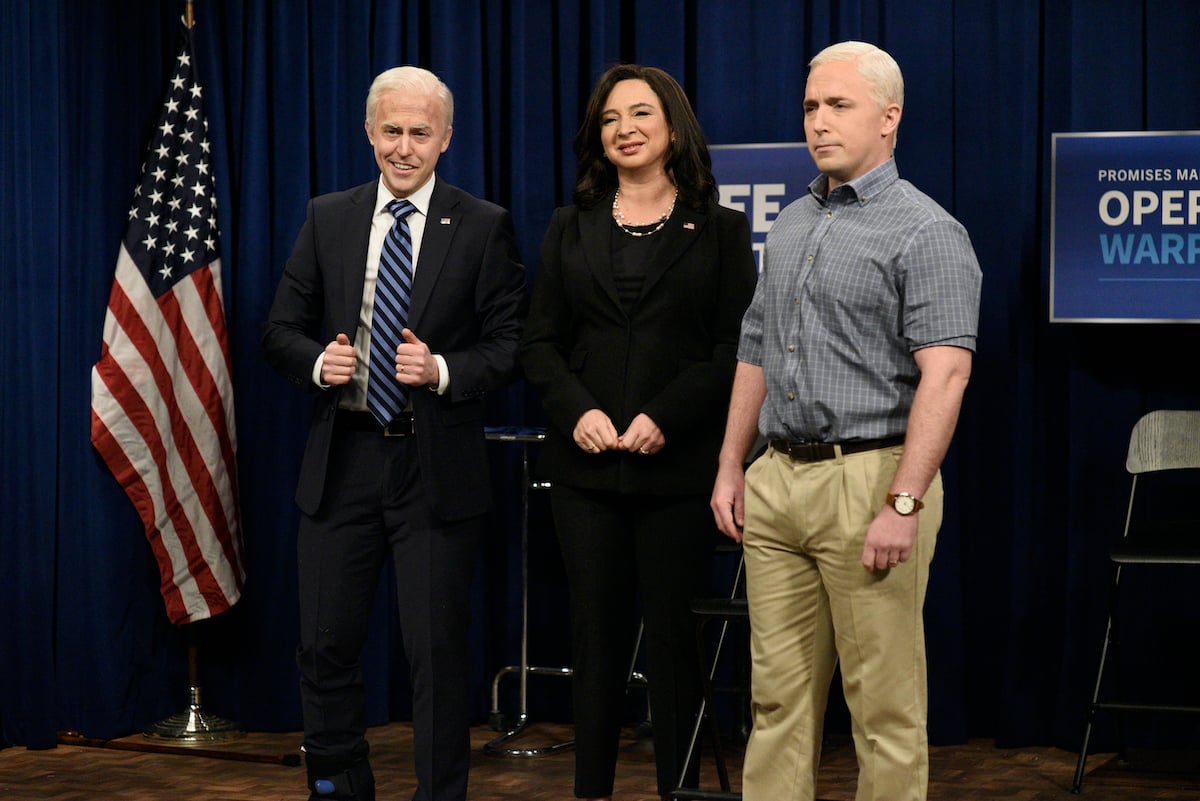 'Saturday Night Live' opened strong with Chris Rock and Jim Carrey
In October 2020, SNL returned to Studio 8H for the first time since the coronavirus (COVID-19) pandemic. And the series pulled out all the stops with its first batch of new episodes. In particular, the season 46 premiere featured host Chris Rock, musical guest Megan Thee Stallion, and special guest Jim Carrey as presidential candidate Joe Biden.
While Carrey's interpretation of Biden proved divisive, SNL continued to lean into the political sphere as the 2020 presidential election loomed. And the show's first post-election episode earned its biggest ratings in years, thanks largely to host Dave Chappelle. The comedian notably bookended his previous SNL hosting gig, the first to air after the 2016 election.
A former 'SNL' cast member returns to the show in 2021
Just as SNL Season 46 began with Rock, another former cast member will host the show when it returns on March 27, 2021. As confirmed on the air, Maya Rudolph will host the show for the second time. Rapper Jack Harlow will be the musical guest during the episode. Rudolph — who was an SNL cast member from 2000 to 2007 — previously hosted the show in 2012.
But she has, of course, never really left entirely. Rudolph has continued to pop up in cameo roles, as has become customary for SNL alumni. The show's many past stars often return for a surprise appearance or to host an episode. In season 46 alone, Rudolph will be the fourth past SNL employee to host, after Rock, John Mulaney, and her Bridesmaids co-star Kristen Wiig.
'SNL"s Kamala Harris will almost certainly return to the show
Rudolph could revive any number of characters, but one feels like an absolute lock. In the lead-up to the 2020 presidential election, Rudolph began impersonating Kamala Harris. Now that Harris serves as vice president, she's certain to reprise that role during her upcoming hosting gig. In 2020, Rudolph even won an Emmy for her portrayal of Harris during the December 2019 episode hosted by Eddie Murphy, her first for SNL.
With Carrey officially out as Biden, Alex Moffat will likely reprise the role opposite Rudolph's Harris. Moffat — who debuted on SNL in 2016 — briefly played Biden in a December 2020 episode. Right now, it's unclear what the focus of the sketch will be. But the show will certainly have plenty of hot topics to touch on, particularly as the COVID-19 vaccines continue to make the rounds.