'Saved by the Bell': How Old Are the Original Main Cast Members Today?
With the Saved by the Bell reboot on Peacock — and the former teenagers now playing guidance counselors, governors, gym teachers, and parents— the original series is gaining public attention once more. So, how old are the original kids that schemed in school today? And, what have they been up to since stealing hearts in Saved by the Bell?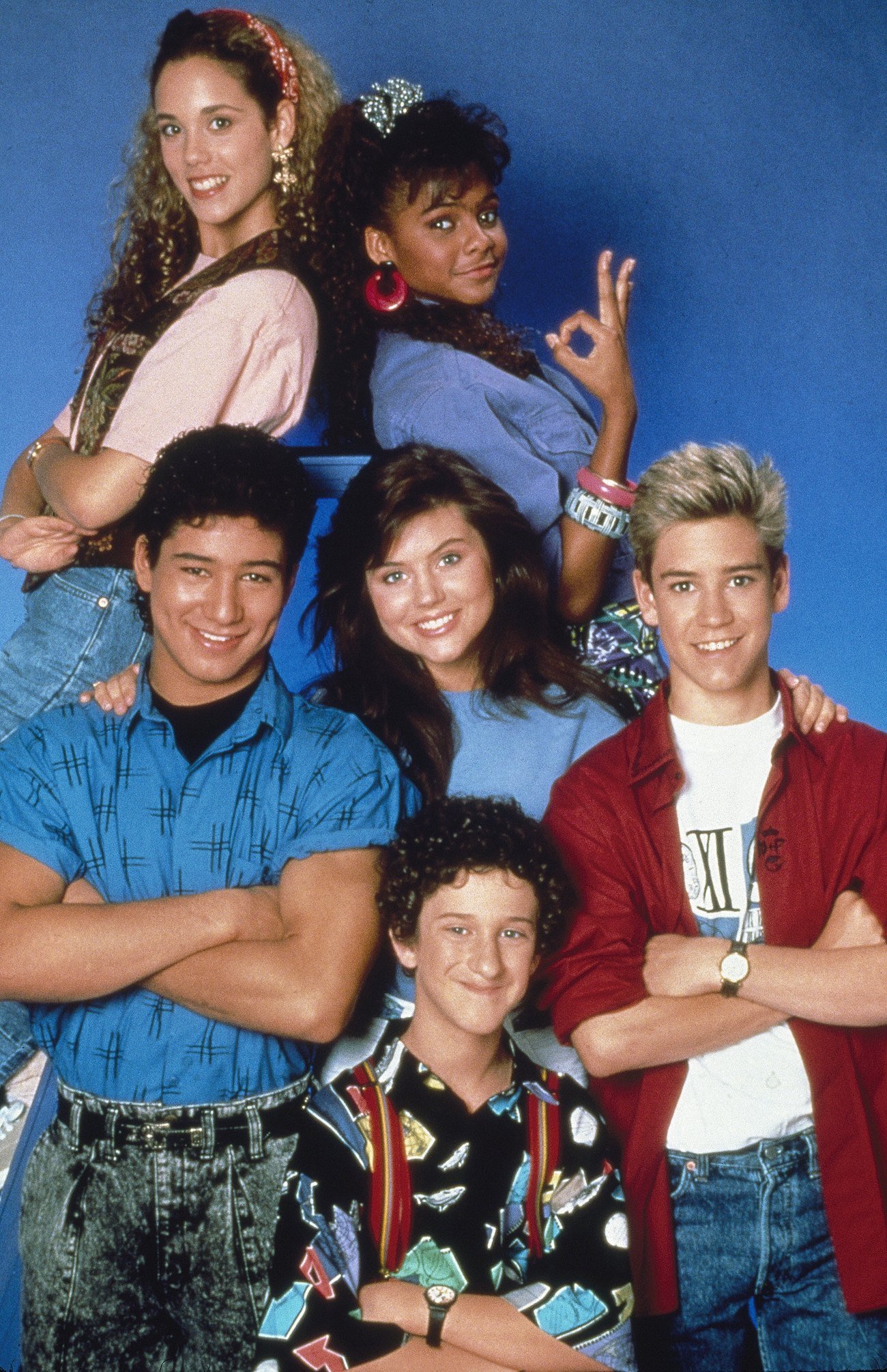 Jessie Spano / Elizabeth Berkley
Elizabeth Berkley played the whipsmart social justice warrior Jessie Spano in the original Saved by the Bell series. Her character also boasted a romantic arc with Mario Lopez's Slater. Today, Elizabeth Berkley is 48 years old; she was born on July 28, 1972. She is well known for starring in the contentious and risque movie Showgirls, as well as Any Given Sunday and Lucky Christmas. 
A.C. Slater / Mario Lopez
Mario Lopez played A.C. Slater – the wrestling master and dance king who battled Zack Morris (Mark-Paul Gosselaar for Kelly Kapowki's (Tiffani Thiessen) attention in the early years of the show. Mario Lopez is 47 years old (though he doesn't look a day over 35). He was born on October 10, 1973. Following Saved by the Bell, he became one of Extra's main hosts; he currently stars in a new Lifetime Christmas movie A Recipe for Seduction. 
RELATED: What 'Saved by the Bell' Star Elizabeth Berkley Deemed 'More Painful Than Anything You Could Imagine'
Zack Morris / Mark-Paul Gosselaar 
Mark-Paul Gosselaar portrayed Zack Morris: the kid who paused the show to talk directly to the audience — cueing them into his ideas and manipulative schemes. Today, Gosselaar is 46 years old and well known for his former leading role in Franklin & Bash. He also starred in 2019's The Passage and Pitch. 
Kelly Kapowski / Tiffani Amber Thiessen
Tiffani Thiessen portrayed the popular cheerleader Kelly Kapowski who wound up married to Zack Morris way down the line in The College Years. She is also known for her roles in Beverly Hills, 90210, Alexa & Katie, and Dinner at Tiffani's.  Thiessen is 46 years old; she was born on January 23 in 1974.
Samuel "Screech" Powers / Dustin Diamond
Dustin Diamond portrayed the nerdy and loveable Samuel "Screech" Powers in Saved by the Bell. The actor went on to release a tell-all book about what went on behind the scenes of the show years later — some stories have been confirmed, while others remain pure rumors. Today, Diamond is 43 years old, making him one of the youngest original cast members from the show.
Lisa Turtle / Lark Voorhes
In Saved by the Bell, Lisa Turtle was the most fashionable of the bunch, and she was often found fending off Screech's advances. Lark Voorhes has a small appearance in season 1 of the reboot. Voorhes is 46 years old; she was born in March of 1974. Voorhes also appeared in 2001's How High, 1997's How to Be a Player, 2002's Civl Brand, and more. She has also published two books: Trek of the Cheshire and True Light.