'Scandal': Bellamy Young Was Only Supposed to Appear As Mellie in 3 Episodes
Scandal wrapped up production in 2018 after seven long seasons and a groundbreaking crossover event featuring How to Get Away with Murder.
Scandal wrapped up production in 2018 after seven long seasons and a groundbreaking crossover event featuring How to Get Away with Murder. The show caught many viewers' attention by providing a breath of fresh air on television with its gripping plotlines, representation of minorities, and exciting characters.
Although Kerry Washington, who played Olivia Pope, was the show's star, Bellamy Young turned heads with her portrayal of Mellie Grant. While fans enjoyed Young's performance, not many know that she was only supposed to appear for three episodes.
Bellamy Young chose her name as a tribute to her father's friend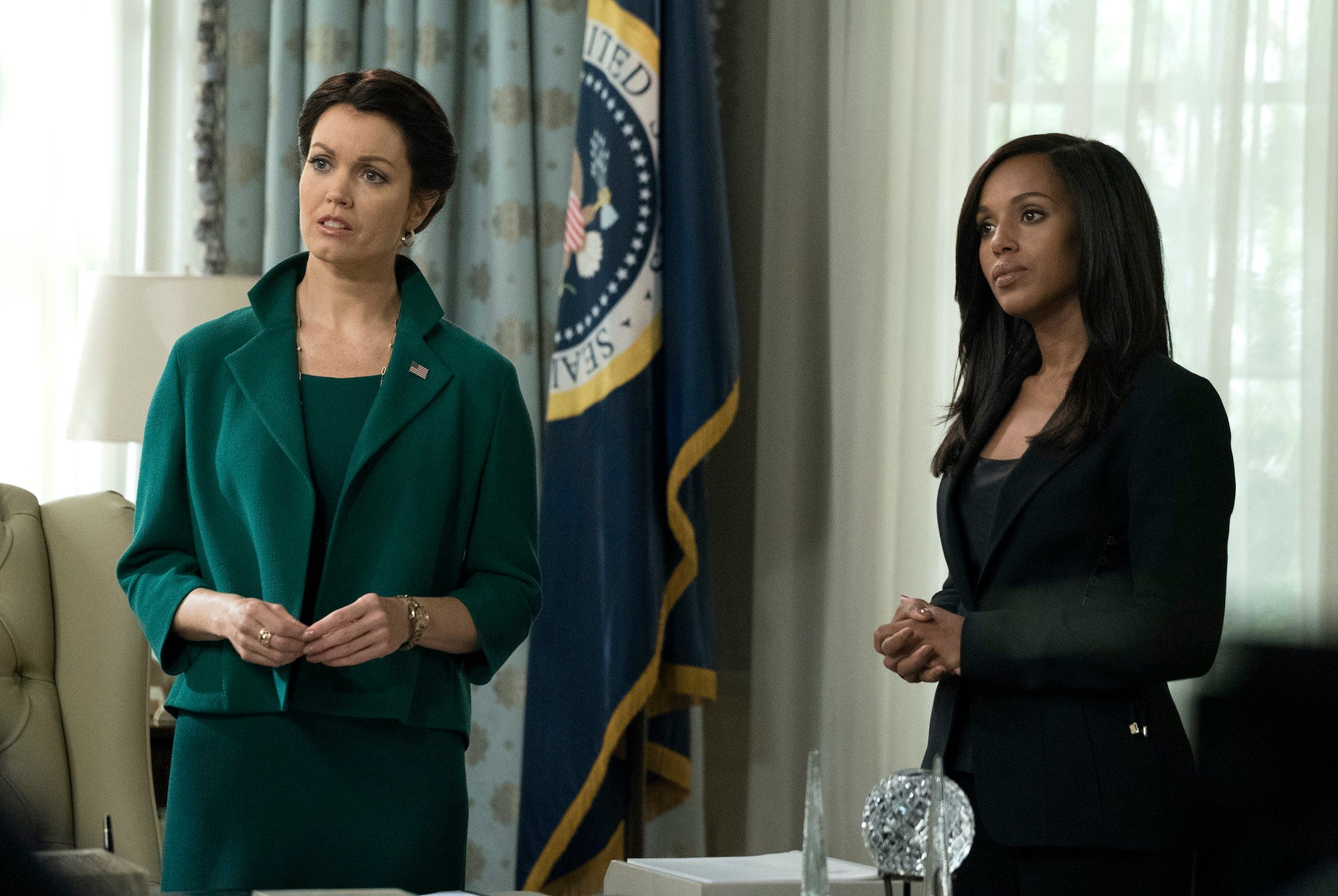 Born Amy Maria Young in February 1970, Young changed her name for two reasons. When joining the Screen Actors Guild, she learnt that another actor had already registered the name, Amy Young.
Additionally, her father's best friend, Bill who'd helped raise her when her dad died, had passed away. She, therefore, took his name and merged it with hers becoming Bellamy.
Young attended Yale University and majored in Physics but decided to pursue English and Theatre. The actor began her acting career in theatre in the '90s. She also appeared in off-Broadway productions like the musical Merrily We Roll Along in 1994 and Faust from 1995 to 1996.
Young first appeared in the daytime soap Another World, where she had a recurring role as Dr. Courtney Evans. She also guest-starred in Law & Order. In the early 2000s, Young guest-starred in various comedies and tv dramas such as Grey's Anatomy, Drop Dead Diva, Two and A Half Men, The West Wing, The X Files, Frasier, and ER.
In 2003 she landed a recurring role in the short-lived USA network series Peacemakers. Young has had supporting roles in various films, including Mission: Impossible III and We Were Soldiers, along with independent movies such as This Is Not A Test, Joint Body, The Freebie, Larceny, and In My Sleep.
Her most notable role was Mellie Grant
In 2011, Young got the part to play Melody Grant in the ABC political drama series Scandal created by Shonda Rhimes. The show followed former White House staffer-turned-"fixer" Olivia Pope and her tumultuous affair with the very-married President John Fitzgerald Grant III.
Young played the president's wife and first lady. Her character became the 2016 Republican presidential nominee, eventually winning the presidency.
The star has also worked with Rhimes in her other shows like Grey's Anatomy and Private Practice, so they were already acquainted.
Young received praise for her portrayal of Mellie Grant. Critics called her "a scene-stealer" and praised her performance, especially in the episode "Everything's Coming Up Mellie." She also won a Critics Choice Television Award For Best Supporting Actress In A Drama Series.
Young also doubles as a singer. She released her first album in May 2015 called Far Away So Close. She also starred in The Night Stalker and co-starred in 2018's Disney live-action adaptation of A Wrinkle In Time opposite Reese Witherspoon, Oprah Winfrey, and Mindy Kaling.
Young's character on 'Scandal' initially had a three-episode arc
When Young went in to audition for Mellie Grant, she'd already done her homework. She sourced inspiration from the then First Lady Michelle Obama and went in dressed "very Jackie 0."
According to Mental Floss, Young only had two lines to read. Rhimes informed the actor that her character only had a three-episode arc.
Young's performance impressed many, and her character was written and developed into a regular one, with Young appearing from season two until the show's last season. Scandal marked Young's first time as a series regular.