Scarlett Johansson Had Some Great Advice For 'Black Widow' Co-Star and Marvel Newcomer Florence Pugh
At this point, Scarlett Johansson is a Marvel movie pro. Playing Black Widow, she's starred in nine Marvel films in total, including Iron Man 2, Captain America: Civil War, and the Avengers franchise, giving her significantly more experience than most other actors in the franchise.
Having been in so many films over the years, she's learned a thing or two about how to get the most out of her performances as Natasha Romanoff. In her latest film, Black Widow, she stars alongside Florence Pugh, a newcomer to the Marvel Cinematic Universe.
Johansson, who is older than Pugh by nine years, made sure to give the up-and-coming actor some important tips on how to make it through the production of a Marvel movie.
Scarlett Johansson had some advice for 'Black Widow' co-star Florence Pugh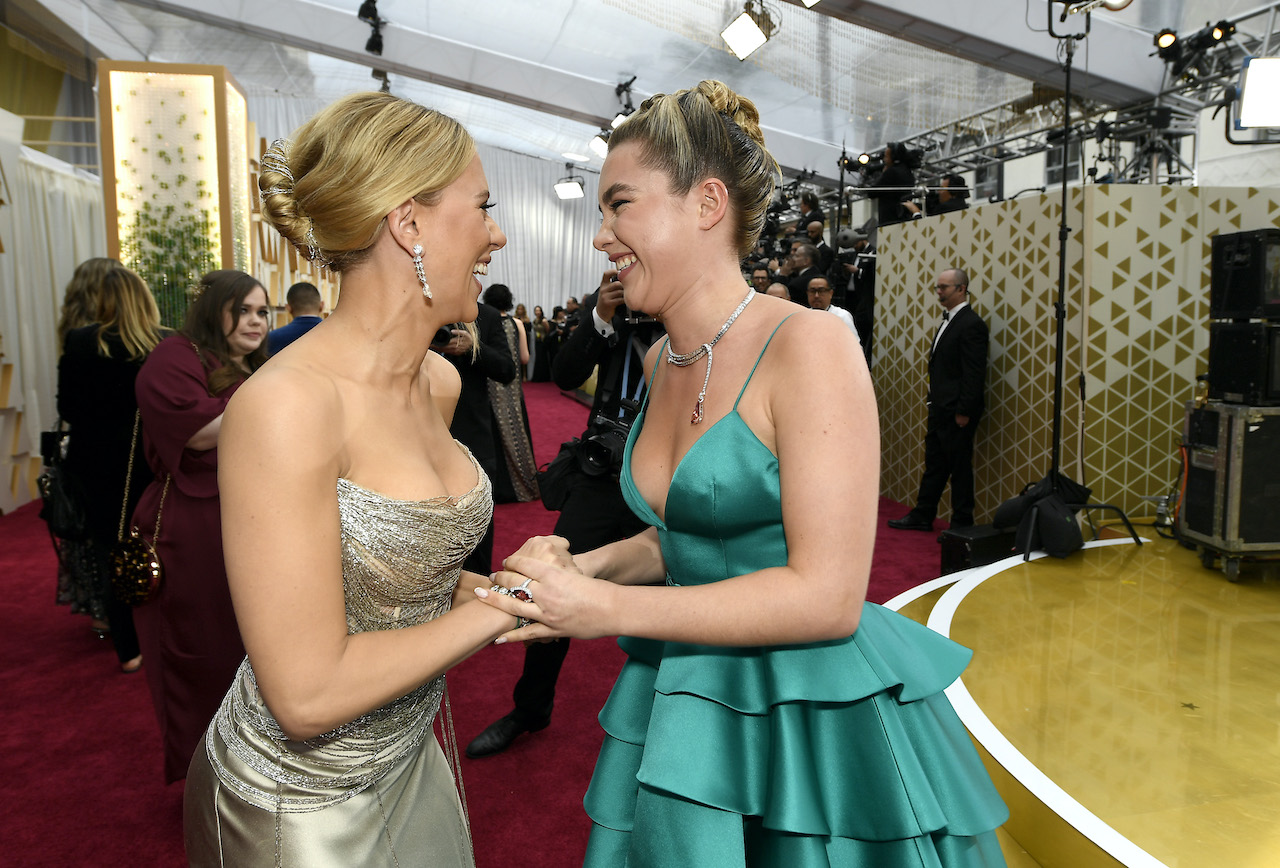 RELATED: Scarlett Johansson Says Training For 'Black Widow' Was Way Harder Than Previous Marvel Films — 'Everything Is More Painful'
Johansson revealed the advice she gave Pugh during a recent interview with Good Morning America.
"I told her in the beginning when we were doing these fight sequences … I said, 'You're never gonna be a professional athlete like all these incredible stunt people that we have here. And the most important thing is to conserve your energy and give it all in your performance, and that's all the character work that you do that will bring that action to life. But don't try to do the over-the-head throw into a somersault thing and a roundhouse whatever. You're not gonna land it."
They became close friends while shooting action scenes for 'Black Widow'
Even though Johansson and Pugh didn't know each other prior to filming Black Widow, the two were able to develop a close relationship in a short period of time. During a separate interview with Access, Johansson explained how she and Pugh first connected. 
"We had met in our rehearsals, so we knew each other a little bit, not really. Just a few days of work, or whatever time we spent together doing some character work and flushing that out," Johansson said.
More specifically, the two developed a bond while they engaged in intense combat scenes with each other.
"And then yeah, day one, we were slamming each other into door frames and getting each other into headlocks and choking each other out," Johansson said. "And it was an interesting way to sort of just hit the ground running with another actor. Yeah, we're in each other's physical intimacy very early on. It actually ended up being kind of the perfect ice breaker."
Scarlett Johansson wasn't sure she'd connect with Florence Pugh at first
Later in the Access interview, Johansson noted that although they're close friends now, she wasn't sure if she'd get along with Pugh at first.
"You never know, when you work with another actor that you've never met before, how it's going to be," Johansson said. "I mean, of course, I knew Florence would bring her brightness, her freshness to the performance based on the work that she's done. So I knew there would be something exciting between us dramatically. But then you just don't know whether it's gonna also be an off-screen thing, and we just got really lucky. I think we work in a similar style, environment. We both like to chat a lot, goof around, keep things loose. And then we both are very professional at the same time. … It's like luck of the draw."
Black Widow enters theaters on July 9.