Scarlett Johansson Says 'Black Widow' Would've Been a 'Missed Opportunity' if It Didn't Discuss Female Empowerment
Scarlett Johansson has become one of the most recognizable faces in the Marvel Cinematic Universe. Over the course of 11 years, she's starred in nine Marvel films, including Iron Man 2, The Avengers, Captain America: Civil War, and the upcoming Black Widow. During that time, she's seen both her character and the film industry evolve.
Black Widow touches on a number of important subjects that have become more prevalent in mainstream American culture, particularly female empowerment. Johansson is grateful for this and recently said it would've been a "missed opportunity" to become a part of the conversation if the film didn't prioritize such themes. 
Scarlett Johansson doesn't think 'Black Widow' could've happened 10 years ago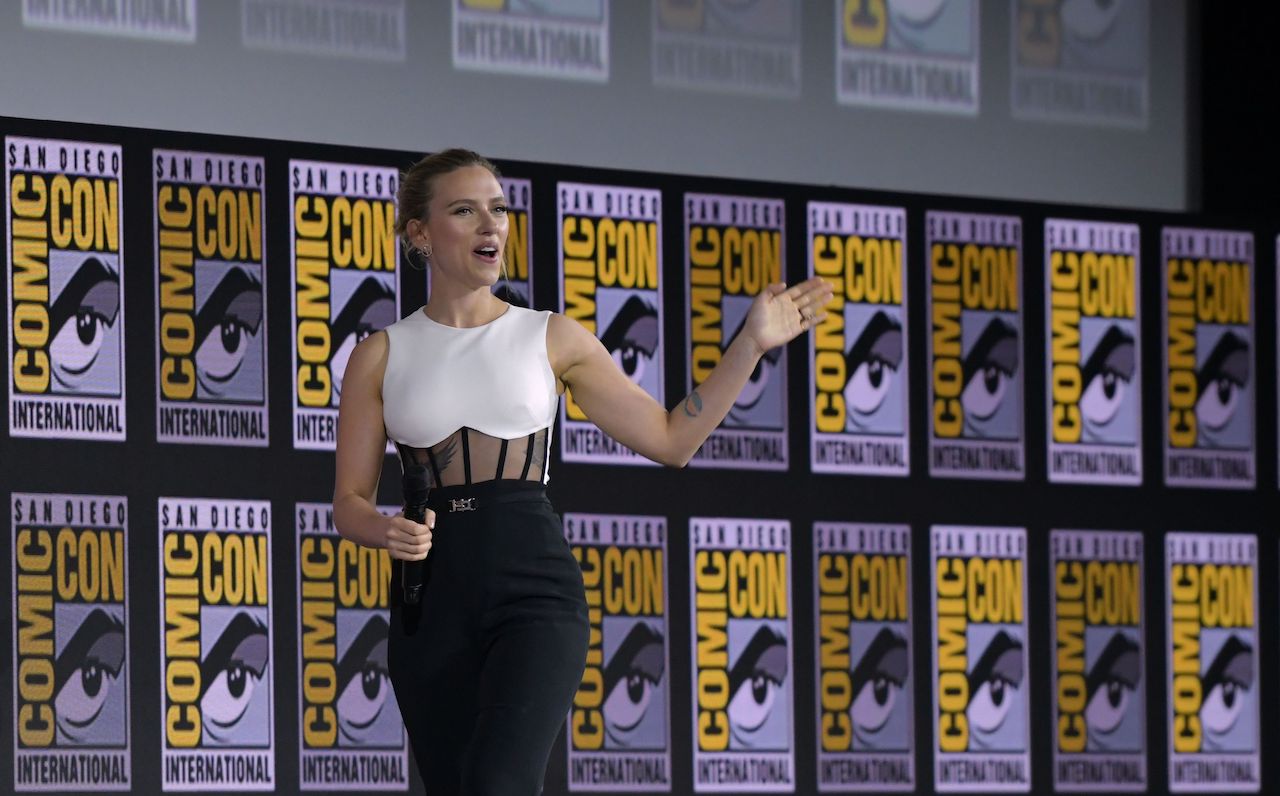 Black Widow is significantly different from previous Marvel works, which mostly have not revolved around female characters. Johansson discussed the long journey to making the film during a recent interview with ExtraTV.
"It's been a really rewarding process, and I have to say that 10 years, in some ways, it's not a long time. In other ways it is, and it's been a very progressive 10 years," Johansson said. "I don't think we could've made this movie a decade ago."
'Avengers' star says 'Black Widow' would've been a missed opportunity if it didn't discuss female empowerment
In recent years, several movements have arisen to spotlight the gender inequities women in society face. One of the most notable was the #MeToo movement, which placed an onus on the abusive behavior women in Hollywood frequently face.
As a result of increased awareness, more film studios have been investing in creating movies that focus on women's stories. Black Widow is one of the first Marvel films — outside of Captain Marvel — to revolve around female leads and their unique experiences in the world. Johansson feels the timing of the movie is perfect. 
"We're talking about issues like the subjugation of women in this film, and that was not a subject that would've been broached by most studios a decade ago. It was another time," Johansson said. "It would've been a missed opportunity if this film didn't reflect what's going on in the zeitgeist, and that is female empowerment and women lifting other women up. And finding a place for self-forgiveness through that process. Understanding what you have been a part of unwillingly."
Scarlett Johansson thinks 'Black Widow' came out at the perfect time
Johansson emphasized how the movie syncs up with conversations people are having about human rights, societal values, and personal growth. 
"All of these women have experienced huge amounts of trauma and are coming out the other side because of one another," she said. "And it's a really powerful message, and I'm so grateful that we were able to make this movie at this time. It just feels right. I think it's really coming out at a time where people are really re-evaluating what's most important to them. And this film is also about family and family you choose. I think there's just a lot of powerful messages in it."
RELATED: 'Black Widow': Scarlett Johansson Says 'Iron Man 2' 'Hypersexualized' Natasha Romanoff