Scarlett Johansson Thinks Florence Pugh Would Do a Great Job Taking Over as Marvel's Black Widow
In an interview with Total Film, Scarlett Johansson revealed she thinks Florence Pugh will do a great job taking over the mantle of Black Widow in the MCU.
Black Widow may be delayed until 2021, but Scarlett Johansson is already thinking about the movie's future with Florence Pugh. The prequel film will show Natasha Romanoff (Johansson) following the events of 2016's Captain America: Civil War. Pugh plays Yelena Belova, who trained as a Black Widow in the Red Room with Natasha. Going forward, Johannson thinks Pugh will excel as the Marvel Cinematic Universe's future Black Widow.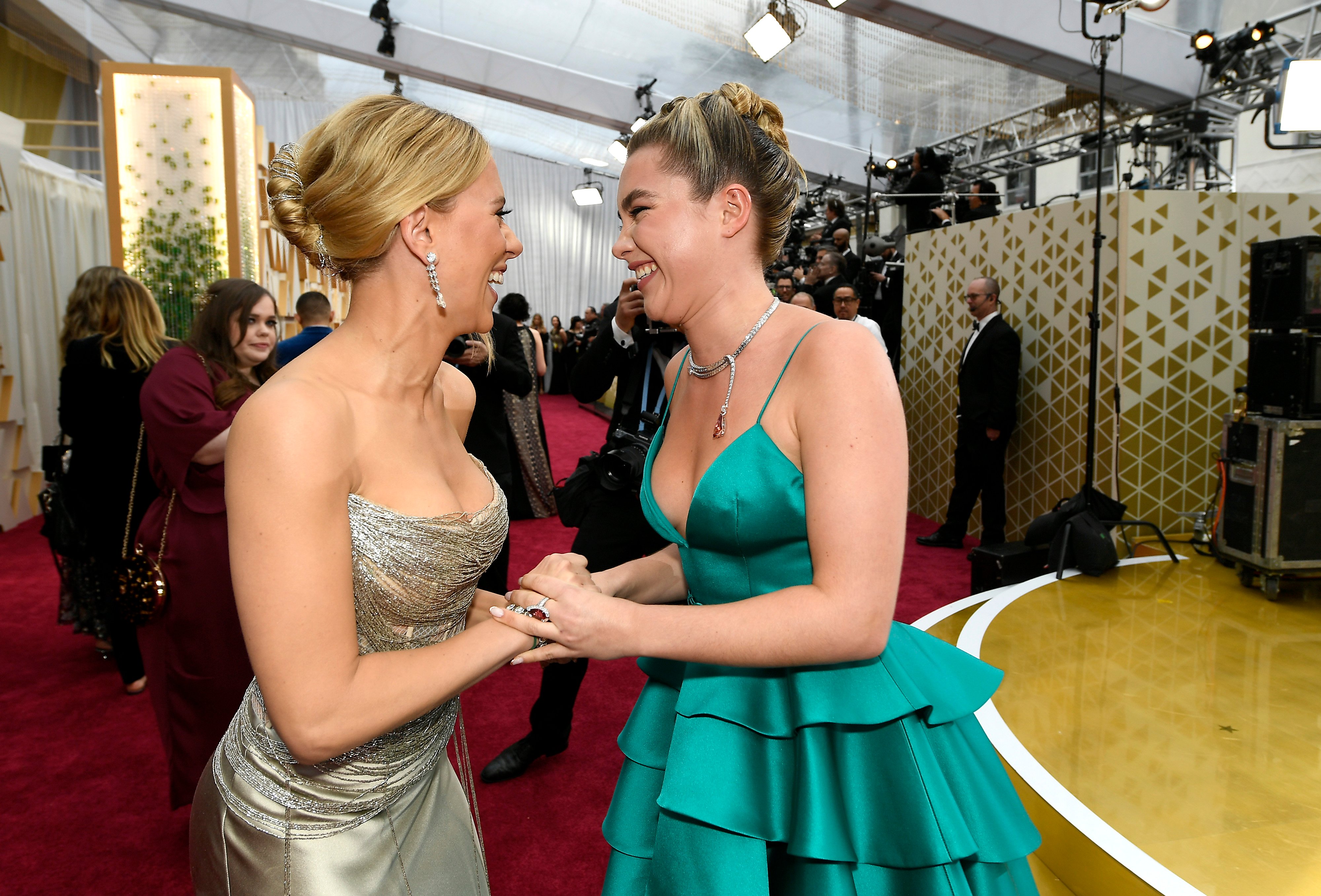 Florence Pugh will be the next Black Widow
In 2019's Avengers: Endgame, Natasha sacrificed herself so that Clint Barton could obtain the Soul Stone. Because Black Widow is a prequel, Johansson was able to come back and play Natasha one more time in the MCU. According to director Cate Shortland, Pugh's character Yelena will be Black Widow once Natasha's arc is completed in Black Widow.
"[Kevin Feige] realised that the audience would expect an origin story so, of course, we went in the opposite direction," Shortland told Empire. "And we didn't know how great Florence Pugh would be. We knew she would be great, but we didn't know how great. Scarlett is so gracious, like, 'Oh, I'm handing her the baton.' So it's going to propel another female storyline."
Shortland also thinks Black Widow will help Marvel fans come to terms with Natasha's death in Avengers: Endgame.
"In Endgame, the fans were upset that Natasha did not have a funeral. Whereas Scarlett, when I spoke to her about it, said Natasha wouldn't have wanted a funeral," she said. "She's too private, and anyway, people don't really know who she is. So what we did in this film was allow the ending to be the grief the individuals felt, rather than a big public outpouring. I think that's a fitting ending for her."
RELATED: 'Black Widow' Will Reportedly Finally Explain 1 of the Biggest Mysteries in the Marvel Cinematic Universe
Scarlett Johansson thinks Florence Pugh will be a great Black Widow
In an interview with Total Film, Johansson spoke highly about Pugh's acting and her character Yelena.
"I definitely felt that way from the very beginning," Johansson said about Yelena as the next Black Widow. "She stands completely on her own. She's strong and different. She's so different to Natasha."
She continued, "You also see the generational difference, too, in how they react to things, and what they're careful about, or what they're careless about… It's so fresh, what she does. It's very representative, also, of who she is as a person. She's unapologetic, and confident in herself, and curious, and brave, and emotionally brave – far more than I ever was. And that stuff all comes through. It's wonderful to feel like you're witnessing something great happening."
RELATED: 'Black Widow' Officially Delayed Until 2021 — What Does This Mean for the Rest of Marvel Phase 4?
How Florence Pugh feels about her future in the MCU
While Johansson is enthusiastic about Pugh taking on the mantle of Black Widow, Pugh took a more hesitant approach when describing her future in the franchise to Total Film.
"If you get asked to be in a Marvel film, and it was so thrilling and fun and exciting to be in, then of course, your head goes: 'Oh my God. If this is what it's like, then what else is next?' If that happens and I am lucky enough that people appreciate my character, that's an exciting road to go on," Pugh told Total Film. "I would be silly to not be excited by it. I think that being part of the Marvel club is a great honour. But we'll just see if people like Yelena first."
Black Widow is scheduled to be released on May 7, 2021.