Scarlett Johansson Details Why Mark Ruffalo Was the Ideal Actor For Her Romantic Interest in the MCU
Scarlett Johansson and Mark Ruffalo portray Black Widow and the Hulk in the Marvel Cinematic Universe, respectively. While most of the Infinity Saga left much to be desired when it came to providing these two with a narratively satisfying romantic plotline, Age of Ultron took the reigns concerning the sexual tension existing between the jade giant and the former Soviet spy.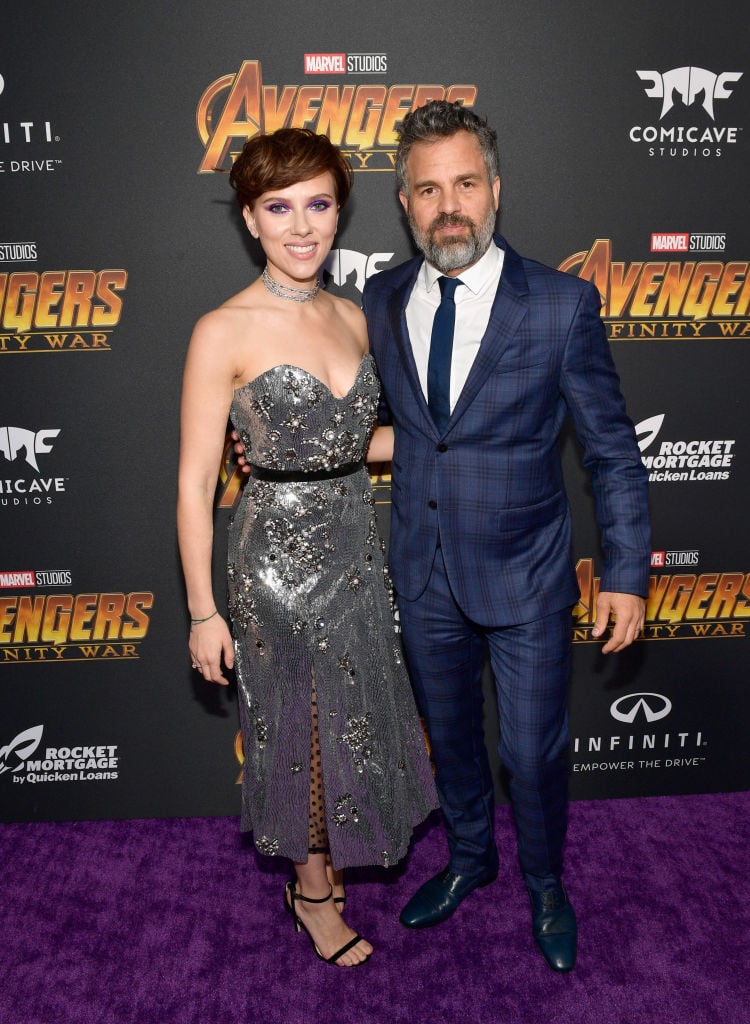 In Age of Ultron, the writers honed in on the relationship between Natasha and Bruce – from a stolen kiss in a time of crisis and playful banter to prolonged gazing into each other's eyes — many assumed that Infinity War and Endgame would tie a bow on this dynamic. Still, the writers chose to leave this relationship arc unfinished, hovering over fans forever as a "could-have-been." 
During a recent interview — on the press junket for the soon-to-be-released prequel Black Widow — Johansson explained why Ruffalo, out of all the Avengers actors she could have had to act romantically across, was the ideal guy. Entertainment Weekly asked Scarlett Johansson to revisit her previous turns as Natasha, and discuss each movie as an individual piece in the character's journey. 
Scarlett Johansson talks Mark Ruffalo and 'Avengers: Age of Ultron'
When discussing Age of Ultron and her work across from Mark Ruffalo, Johansson explained the following:
If I had to be vulnerable with any one of those actors, you know, Mark [Ruffalo] is such a wonderful scene partner to do that with, because he is so open himself. And, ironic, because I was also really pregnant at the time when we were shooting it. So, I guess Mark had to really suspend his disbelief because it was just below here [points to her torso] was this giant pregnant belly. 

Entertainment Weekly
Though it's hard to imagine anyone struggling to find romantic tension with Scarlett Johansson — no matter how pregnant — we'll take her word for it. And, Ruffalo's talent should not be denied, as he's one of Hollywood's greats. 
Mark Ruffalo, heavy roles, and missed opportunities in the MCU 
As Johansson explains, Mark Ruffalo is an "open" man by nature, which should come as no surprise, as he often selects emotionally stirring roles, in which individuals come up against harsh internal conflicts, as well as a larger threatening forces. 
From Dark Waters to Spotlight and Zodiac, Ruffalo does not shy away from the heavy hitters, which primed him for greatness when it came to playing a character who loved Natasha, but battled his own inner demons when it came to his worthiness for love. 
While many fans hoped to see Natasha and Bruce finally come to grips with their love, and have that one satisfying scene in Endgame, it was one narrative too many when it came to the final chapter. And, considering Ultron was really the only film to substantially build this arc, some felt it appropriate that it was the sacrificed story — despite the missed opportunity for a moment of magic.