Scheana From 'Vanderpump Rules' Has Spoken to Lala Kent Almost Every Day Since Her Rumored Breakup and Defends Brock Davies
Scheana Shay from Vanderpump Rules said she speaks to Lala Kent almost every day amid her rumored breakup from Randall Emmett.
Her remarks come as a surprise after the latest episode when Kent blasted Shay for staying with fiancé Brock Davies after she learned about his domestic violence charge. But she's supporting Kent through this challenging time and also addressed Davies' domestic violence timeline.
Scheana Shay from 'Vanderpump Rules' talks to Lala Kent almost every day
Shay and Davies appeared on Watch What Happens Live with Andy Cohen, which was when a fan asked her to comment on Kent's recent breakup and Emmett's rumored financial problems. She refused to comment but host Andy Cohen wondered if Shay felt a little satisfied seeing that Kent was having difficulties in her relationship after she came for Shay and Davies.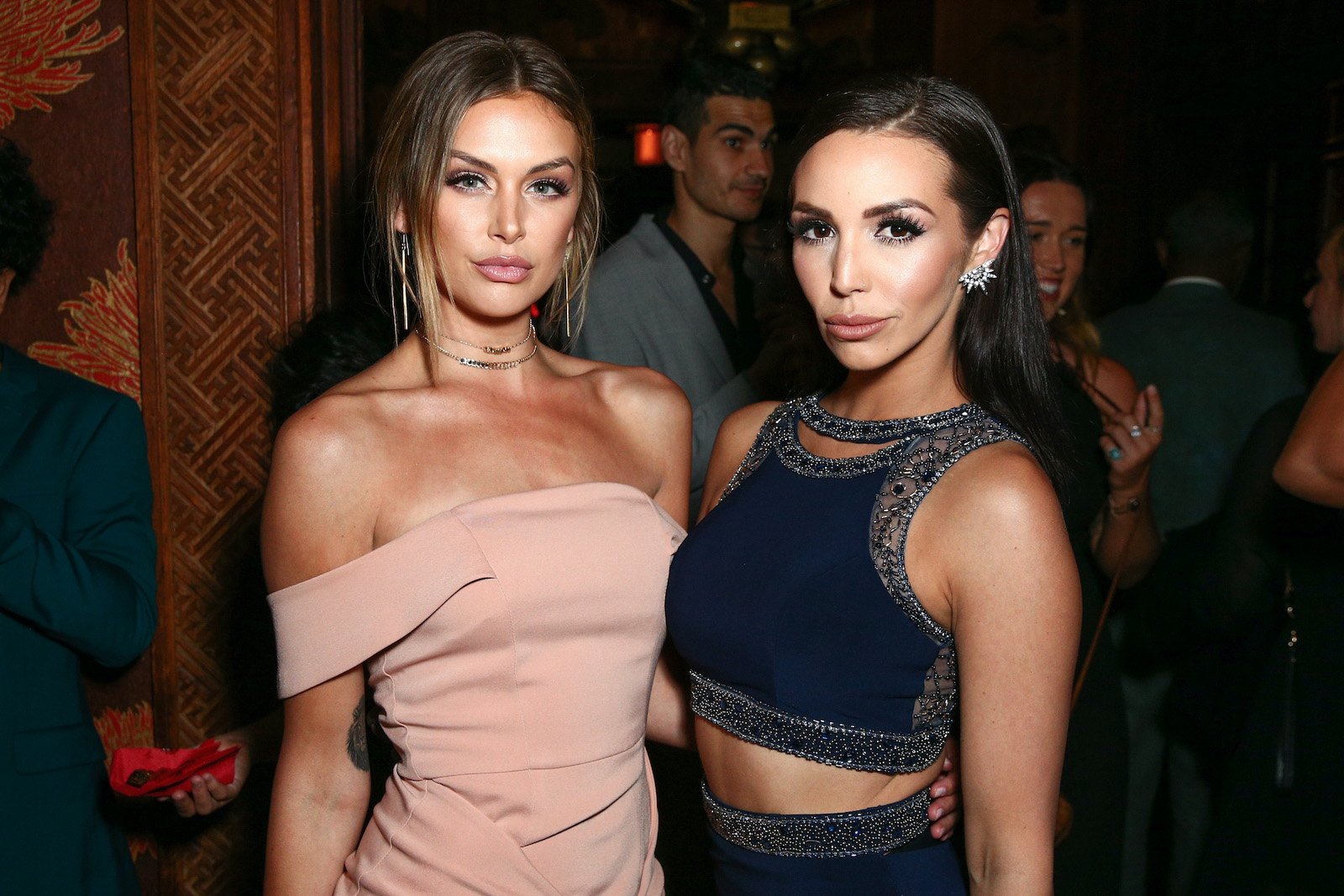 "No," Shay said. "I don't like seeing her go through any of this. I talk to Lala almost every day." She added, "I check in on her a lot. She's doing good."
Kent lashed out at Shay and Davies during a dinner party held at Lisa Vanderpump in an episode that aired only moments before Davies and Shay appeared on WWHL. She expressed intense concern for Shay, worried that Shay wasn't taking Davies' past domestic violence charge seriously. Kent left the dinner party in tears after battling with Tom Sandoval.
Scheana Shay offered more insight into the domestic violence timeline
Davies also gave Vanderpump a few more details about the charge, admitting he slapped his ex-wife during an argument. "The person I am today isn't that person I was 10 years ago," he said to Vanderpump during the episode. "I tried to have a brief conversation with Lala. Look, it's more complicated than me kicking in the front door and seeing my kids. The situation between me and my ex was toxic, and yeah, there was an instance one time. And I did slap my partner. I did. I'm not proud of that."
Shay addressed the domestic violence timeline on Twitter. "Also, just to clear things up bc Brock is terrible with timelines and unfortunately suffers from dyslexia but the DVO was only in place for about 5 months back in 2013. Idk why he said 4 years ago," Shay tweeted after the episode. "The kids came to America and saw him way after that was lifted too. Just FYI."
Davies also took to Instagram and shared he had dyslexia and that he was charged with domestic violence in March 2013 and it was dropped in August 2013.
She also addressed the 'red flags' covered in 'glitter' remark
Shay also addressed Katie Maloney-Schwartz's comment that she was ignoring the red flags associated with Davies and covering it in "glitter." She replied, "You know that's just Katie. It doesn't even surprise me," she said during the WWHL After Show.
In an earlier interview with Showbiz Cheat Sheet, Shay said she was done playing nice and she was going to get real on the show. "I think I'm the most relatable I've ever been on the show and the most real and vulnerable and just open," Shay said. "Like normally I like to paint a pretty picture, act like everything's perfect, we never fight yada, yada, yada. But this season it's like I mean, we definitely got into it, but it was because [fiancé Brock Davies] just wanted the best for me. And I wasn't standing up for myself. And yeah, I think I think you'll definitely see my confidence is up."