Scheana Shay From 'Vanderpump Rules' Reveals Why She Didn't Hookup With Shep Rose From 'Southern Charm' at Jax and Brittany's Wedding
Scheana Shay from Vanderpump Rules says she and Shep Rose from Southern Charm planned to hook up at Jax Taylor and Brittany Cartwright's wedding, but their intentions fell a little flat. Or drunk.
Shay dished about getting cozy in the past with Rose and cast members from other shows like Summer House and The Bachelor. But she said Rose, in particular, kept things pretty PG-13 and revealed the reason why she thinks they haven't taken their romance any further.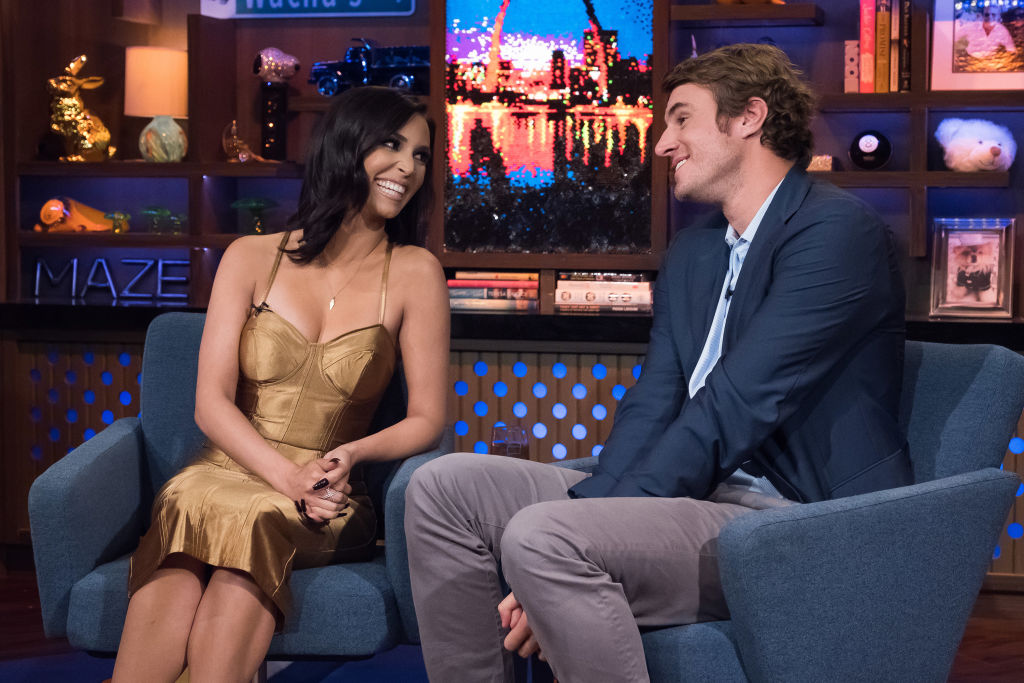 "Summer House, Southern Charm and Vanderpump Rules cross at times," Shay explained during the Vanderpump Rules After Show. "Because we're all genuinely friends with them." Shay seemed to be more than friends with Rose, however, why haven't they taken their romance to the next level?
Alcohol has a lot to do with why they have only kissed
Shay makes it clear she did not hook up with Rose at Taylor and Cartwright's wedding. "That was definitely an intention," she says. "We hooked up like a year before that. Never had sex. Did not sleep together."
Then Shay tries to clarify using a baseball analogy. "He's not the best at rounding all the bases," she hints. "By the time he gets to second, going onto to third base he's too drunk to remember what he's doing."
RELATED: Who Does Shep Rose From 'Southern Charm' Want to Be His Date for Brittany Cartwright and Jax Taylor's Wedding?
"So at the wedding, it was like a bunt to first, and then the start of a drunken makeout," she describes. "But I was … I can't, I can't do it. It was so sloppy. I love Shep and he's a sweetheart and we have so much fun together. Honestly, he's one of the funniest people I've ever met in my life. But as far as like a dating companion … out of the men I've met and made out with, he's up there on funny."
Shay says Rose was so drunk he was 'walking into oncoming traffic'
Shay continues by saying it was too sloppy and silly at that point to even try to make out. "I mean the guy was walking into oncoming traffic in Lexington," she exclaims. "We all went out and he was so drunk. He was walking into oncoming traffic."
RELATED: 'Vanderpump Rules': Why Did Jax Taylor Say Shep Rose Was the Worst Wedding Guest?
She said the group kept screaming at him to be careful too. But he seemed to be in his own world. "I was like 'I can't I can't.' No amount of alcohol was going to make this OK tonight. And the next day at the wedding, I was like, 'Hello Shep.' And I go to the groomsman over here who was a little more sober. Boy crazy Scheana had to get some that night so … "
The groomsman in question not only stood up at Taylor's wedding but also Tom Schwartz's 2016 wedding too. "That was a huge deal," Taylor about the hookup on Watch What Happens Live with Andy Cohen. "He was so petrified about that, oh my god."
Schwartz added,  "He's such a good guy. He just was really drunk. Yeah, he felt terrible about that."