'Schitt's Creek': 5 of the Best Quotes From the Rose Family
"Ew, David!" If you read that in Alexis Rose's (Annie Murphy) tone of voice, you're in the right place. Schitt's Creek may have ended in April 2020, but the show, its characters, and their memorable lines live on in fans' hearts. These are five of the best Schitt's Creek quotes delivered by members of the Rose Family.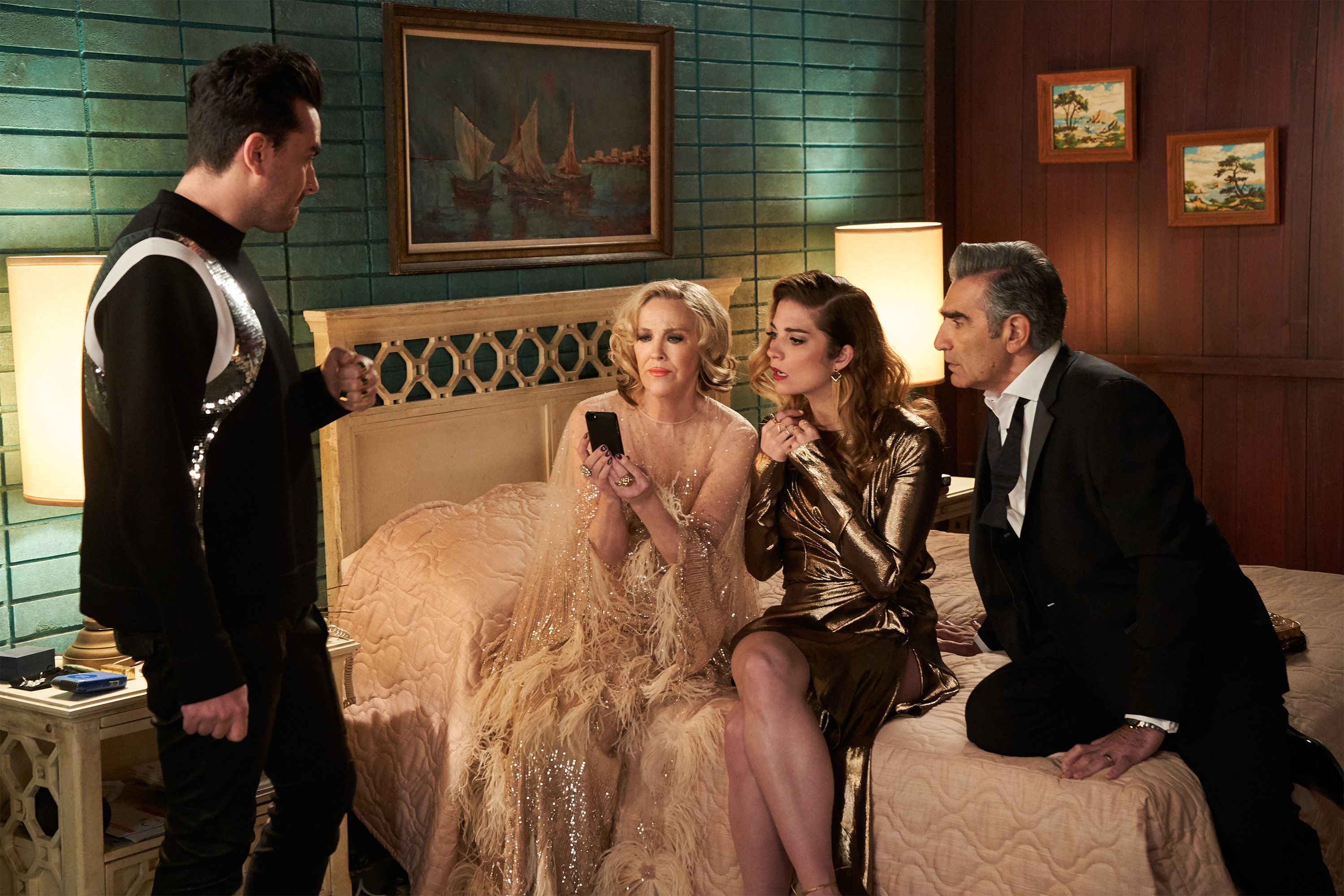 'Ew, David' — Alexis Rose
Alexis Rose's "Ew, David" holds a special place in many Schitt's Creek fan's hearts. But the reality is she only said the iconic phrase three times throughout the entire series. 
Alexis has several other catchphrases that incorporate her brother's name, like "Burn, David," "You're like a big dirty raccoon, David!" and "Snap, David!" Perhaps fans are influenced by some Mandela effect to think Alexis utters "Ew, David" more than three times in Schitt's Creek. It's likely because she does say David's name hundreds of times. 
While "Ew, David" might be a fan favorite quote from Alexis, David's Dan Levy feels otherwise. "It's resulted in a sort of tagline that I think will haunt me for the rest of my life," Levy said on Jimmy Kimmel Live. "'Ew' is not necessarily something you want screamed at you in your most vulnerable time."
'Fold in the cheese' — Moira Rose
The Rose Family were previously wealthy before uprooting their lives and moving to Schitt's Creek — Johnny's (Eugene Levy) sole remaining asset. Their life of privilege often meant hiring people to do things, including simple tasks like cooking. 
In the season 2 episode "Family Dinner," Moira (Catherine O'Hara) offers to teach David how to make her family enchilada recipe to prove she knows how to cook. "Is this not your mother's recipe?" David asks Moira, who seems confused.
When she reaches the step that says "fold in the cheese," the two are perplexed in a hilarious moment. To date, Schitt's Creek fans quote "fold in the cheese" in all kinds of situations, whether they're cooking or in a state of confusion. Another runner-up for best quote from this scene is: "What does burning smell like?" 
'I have never heard someone say so many wrong things, one after the other, consecutively, in a row' — David Rose
This line has seen a resurgence in popularity thanks to TikTok. This Schitt's Creek quote is from when Moira tells Alexis about seeing Ted (Dustin Milligan) at the cafe with his new girlfriend. After describing Ted as seemingly happy with his latest, "striking" girlfriend, Alexis leaves to go for a jog in her day dress. 
Alone with Moira, David delivers the memorable line: "I have never heard someone say so many wrong things, one after the other, consecutively, in a row." It's the best way he knows how to criticize what his mother just did.
'I don't wanna be taken advantage of because I'm overdressed' — Johnny Rose
In Schitt's Creek Season 3, the Roses have finally saved enough money to buy a used car. Moira and Johnny concoct a plan to get the best deal. She opts for a cockney accent and leans into an exaggerated story of their poverty. Meanwhile, Johnny decides to dress down with clothes from Roland's (Chris Elliot) closet instead of donning one of his sensible suits. 
He believes if he's overdressed, the car salesman will take advantage of him. In the end, Johnny's plan wins.
'You're my Mariah Carey' — Patrick Brewer
Patrick (Noah Reid) married into the Rose family, so we're counting him as a Rose. For many, David's relationship with Patrick is one of the best parts of Schitt's Creek. When Patrick professes his love to David in the Rose Apothecary, he adds the greatest compliment David could ever receive: "You're my Mariah Carey." 
RELATED: Schitt's Creek': Britney Spears Inspired Alexis Rose's Song 'A Little Bit Alexis'
Mariah remains a theme in the couple's relationship. Patrick sings the lyrics from "Always Be My Baby" to David during his wedding vows. 
Watch every episode of Schitt's Creek on Netflix.