'Schitt's Creek': Annie Murphy Dishes on Her First Post-Alexis Role
When Annie Murphy was cast in the Canadian comedy series, Schitt's Creek, she had no idea how much the show would impact her career. But, much like her infamous character, Alexis Rose, Murphy has become a "Hollywood star." After winning an Emmy award for her performances in Season 6 of Schitt's Creek, Murphy's acting career has never been so promising. In fact, she is already filming for her new role in an upcoming TV show.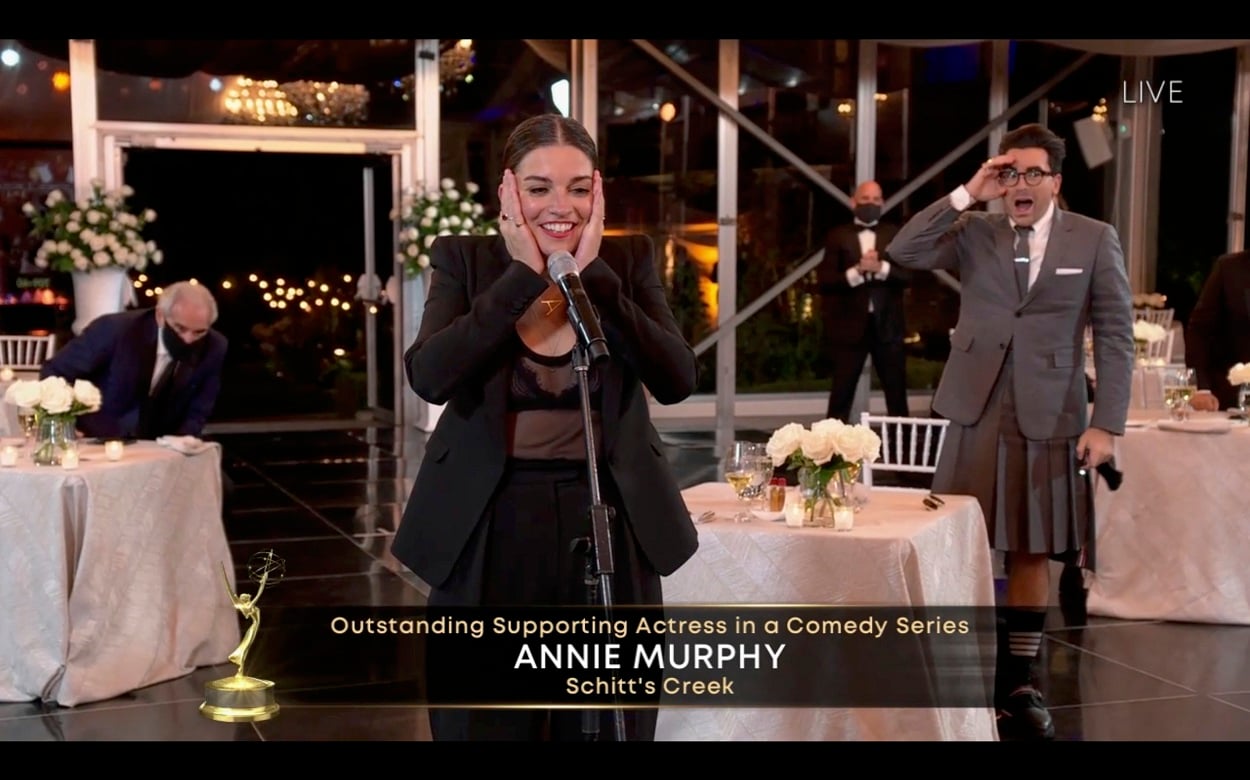 Like everyone, Murphy has been impacted by the pandemic. For the first part of the pandemic, she was quarantined in Toronto, Canada, but she has since relocated to the states to begin filming a new project. In an interview with Refinery29, the Schitt's Creek alum revealed that while the pandemic has certainly thrown a wrench in some of her plans, she feels very fortunate to be working during this very uncertain and difficult time.
Annie Murphy is getting right back to work post-'Schitt's Creek'
"Well of course it would have been great to go to the actual Emmys, but there are far larger problems and I feel very lucky," the Schitt's Creek star shared. "I booked a job right before everything shut down, so I felt some sense of having something to move onto. I have been in Quincy, MA, near Boston, filming. That's where I am right now."
RELATED: 'Schitt's Creek': Daniel Levy Was 'Ready to End' The Show After Season 5
But what exactly is Murphy working on? Schitt's Creek fans will be glad to hear that Murphy has been cast in yet another comedy series. However, the new show, which will air on AMC, has a darker edge than the more family-friendly Canadian show that Murphy is known for.
Murphy is joining a new cast as a lead
"It's called Kevin Can Fu*k Himself," Murphy revealed, sharing her first post-Schitt's Creek project. "The premise is like — you know the sitcoms that are about this schlubby, beer-drinking, sports-loving gom of a man, who has his group of friends and then he has his wife to wag her finger and be the butt of his jokes." Murphy declared, likely referencing sitcoms like King of Queens.
"So this show, instead of following the schlubby husband, we follow the wife and into this secret life that she's living when she's not, like, making sandwiches," Murphy reveals. "It's really cool. When she's with her husband it's like 'sitcom world' so it's canned laughter, really bright sets, and then when she's by herself it's this really beautiful, gritty, single-cam world. I'm super excited and proud of it.
When will 'Kevin Can F*ck Himself' premiere?
The premise of the show certainly sounds quite intriguing. It will be interesting to take a familiar setup and flip it on its head. Murphy will be playing the lead role of housewife, Allison, and viewers will get a firsthand look into her secret life. We're sure fans of Schitt's Creek are pleased that they'll get to see Murphy back in action so soon. While there hasn't been a release date set for the show yet, we'd be surprised if it didn't premiere by sometime in 2022.