'Schitt's Creek': Which Cast Member Also Starred in 'Home Alone'?
The cast of Schitt's Creek certainly went out with a bang. After wrapping their sixth and final season, they famously swept the Emmys, dominating in a number of categories. In fact, all four main cast members actually took home an Emmy for their work on the show. Now that old fans are rewatching the show and new fans are binging for the first time, more people than ever are beginning to realize that one of the actors is actually the star of the hit film, Home Alone.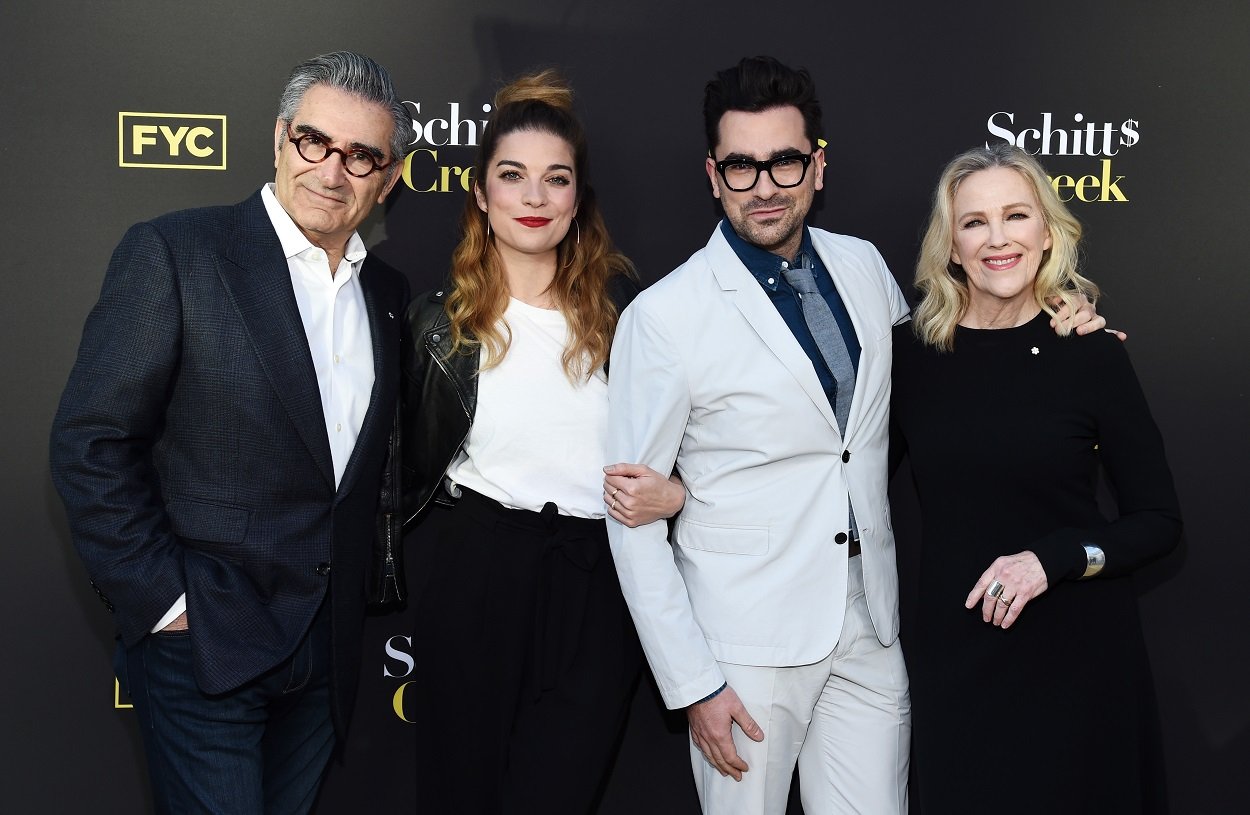 Pemiering back in 1990, Home Alone has become a cult Christmas classic. The movie follows 8-year-old Kevin McCallister (played brilliantly by Macaulay Culkin) who is accidentally left behind in his Chicago suburb home when his entire family takes a trip to Paris. With the holidays looming and the phone lines down, Kevin is forced to fend for himself. Things escalate when two burglars, making their rounds, mark Kevin's home as their ultimate target. When Kevin learns of their plans, he makes a plan of his own and hilarity ensures. The film is loved by millions of people and fans of Schitt's Creek may notice a familiar face if they choose to tune in.
'Schitt's Creek' cast member, Catherine O'Hara also starred in 'Home Alone'
What fans of Schitt's Creek and Home Alone might not have noticed is that Catherine O'Hara plays the mom in both projects. In Schitt's Creek, she is cast perfectly as the dramatic, soap opera star, Moira. Meanwhile, in Home Alone, she plays Kate McCallister, a wealthy fashion designer who is willing to do whatever it takes to get home to her son. O'Hara gives hilarious and realistic performances in both projects and is quite fun for fans to watch.
O'Hara reprised her role in 'Home Alone 2: Lost in New York'
O'Hara also reprised her role as Kate McCallister in Home Alone 2: Lost in New York. A year after his first mishap, Kevin manages to make it to the airport with his family. However, when they all board a plane to Florida, he accidentally grabs a plane to New York, NY. Kevin is enjoying his stay in The Big Apple until he runs into the burglars from the previous year who have managed to escape from prison. O'Hara returns as Kevin's harried mother and delivers another hilarious performance while scouring the mean streets of New York for her son.
What made the 'Schitt's Creek' star join the cast of the classic Christmas movie?
But what was it that moved O'Hara to join the cast of Home Alone? In an interview with The Movie Waffler, the Emmy winner shared that she was enamored with the script for the film. She appreciated the perspective that it offered and how it featured many voices.
"Yes, I read the script and had a wonderful meeting with Chris Columbus and John Hughes," the Schitt's Creek star shared. "John Hughes wrote about families in a way that was so far beyond most 'family fare.' He wrote from every character's point of view. It wasn't one voice but it was clearly his unique perception of the joys and heartaches of parenting, growing up, friendship, and work, and of all the stupid, terrible, beautiful, kind, and profound things people who love each other will say and do to each other. And he always made it funny."
'Home Alone' is currently streaming on Disney+
Clearly, O'Hara enjoyed her time working on Home Alone. If you'd like to revisit her performance, the film is currently streaming on Disney+