'Schitt's Creek': Catherine O'Hara Cried 'for an Entire Day' When Filming This Scene
It's no secret that the cast of Schitt's Creek is exceptionally talented. Catherine O'Hara and Eugene Levy, in particular, have devoted decades of their life to developing their comedic talents and honing their crafts. Dan Levy and Annie Murphy have both been very candid about the fact that acting alongside such seasoned professionals allowed them to grow as actors and take risks to further develop their characters for the hit show.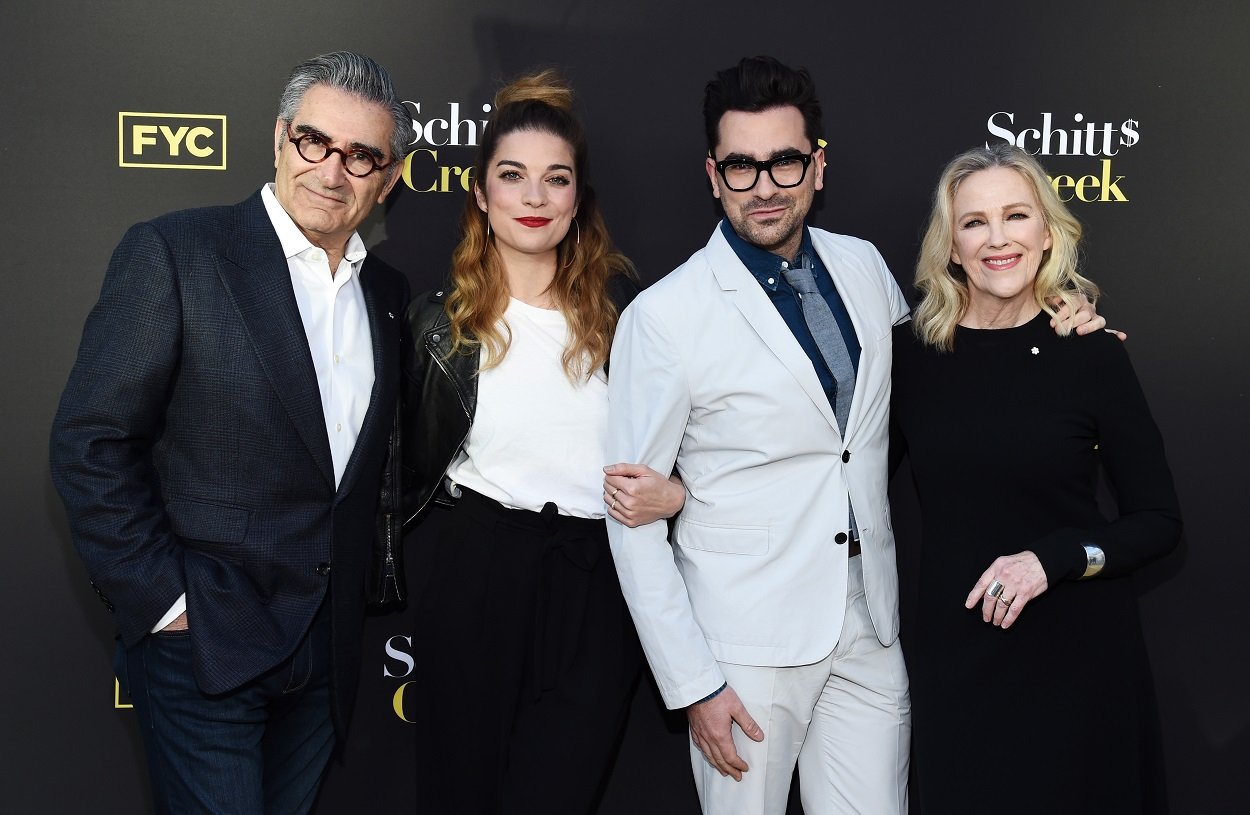 O'Hara and Eugene also helped to create a particularly warm environment on the set of Schitt's Creek. The cast of the show have all shared that everyone got along and genuinely liked each other on set. Furthermore, there were no egos while filming and everyone worked together to make such that the show was the best that it could possibly be.
'Schitt's Creek' co-creator, Daniel Levy, gushes about his castmate Catherine O'Hara
Despite how down to earth O'Hara and Eugene were, the other cast members often found themselves in awe of their talent. In an interview with Gold Derby, Daniel recalled that he was particularly entranced with the work that O'Hara did during the wedding scene of the Schitt's Creek series finale.
"There are millions of moments over the course of shooting this show where I levitated out of my body and just watched her work but that scene in particular… there's a small handful that I cherish because I was able to be in that scene with her and really experience it firsthand," Daniel shared about his fellow cast member.
O'Hara cried for an entire day while filming the show's series finale
The Schitt's Creek co-creator continued on to sing O'Hara's praises and recalled being continuously impressed with the level of commitment that she brought to the role. In fact, Daniel recalled that for the aforementioned wedding scene, O'Hara continuously brought herself to tears so that the rest of the cast could feed off of her energy and give their best performances. Daniel also shared that the scene was a moment where the character, Moria Rose, was content not to be the center of attention so as not to overshadow David's big day.
"The work that she did was so extraordinary and the fact that her character, even though she is dressed to the nines, never took away from David's moment even though that's in her DNA to do, it took such skill and such finesse on Catherine's part to ride that line and cry for an entire day," Daniel shared about the series finale of Schitt's Creek. "And she did. She literally cried through every take because she wanted everybody in that room to get the same kind of performance so that they could do the best work. I think that speaks volumes to her work ethic and unbelievable skill."
Considering the sheer amount of takes that are filmed for just one scene, it's impressive that O'Hara was able to move herself to tears every single time. Clearly, her hard work paid off because many fans of the show are positively enamored with the wedding scene. Give O'Hara's consistency and dedication to her craft, we look forward to seeing what she chooses to do next.