'Schitt's Creek': Chris Elliot Made Eugene Levy Break Character and Laugh During Scenes All the Time—'He Does It Intentionally'
Chris Elliot had a habit of making Eugene Levy break character on the show.
There have been many popular TV shows to emerge over the past few years, but few are more beloved than Schitt's Creek. The series, which details the misadventures of a wealthy family who loses its fortune and is forced to relocate to a small rural town called Schitt's Creek, first aired in 2015. It became wildly popular with fans of all ages and earned multiple awards. Although Schitt's Creek has been off the air for some time now, fans still love learning what they can about the show—and hearing how much fun the cast had behind the scenes. 
'Schitt's Creek' ran from 2015 to 2020
Schitt's Creek debuted in 2015. The brainchild of Dan Levy, the son of comedy icon Eugene Levy, Schitt's Creek is at times hilarious and touching, as viewers watch the privileged Rose family struggle with life in the rural community of Schitt's Creek. Starring Eugene Levy, Dan Levy, Catherine O'Hara, and Annie Murphy, Schitt's Creek received renewed attention in 2017 after the third season premiered on Netflix.
Schitt's Creek ran for three more seasons before the series finale aired in April 2020. Now considered to be one of the all-time great comedy shows of the past few decades, Schitt's Creek is a staple – a hilarious show that pokes fun at the wealthy, all while emphasizing the importance of family and community. 
What did Eugene Levy say about Chris Elliot causing him to break character?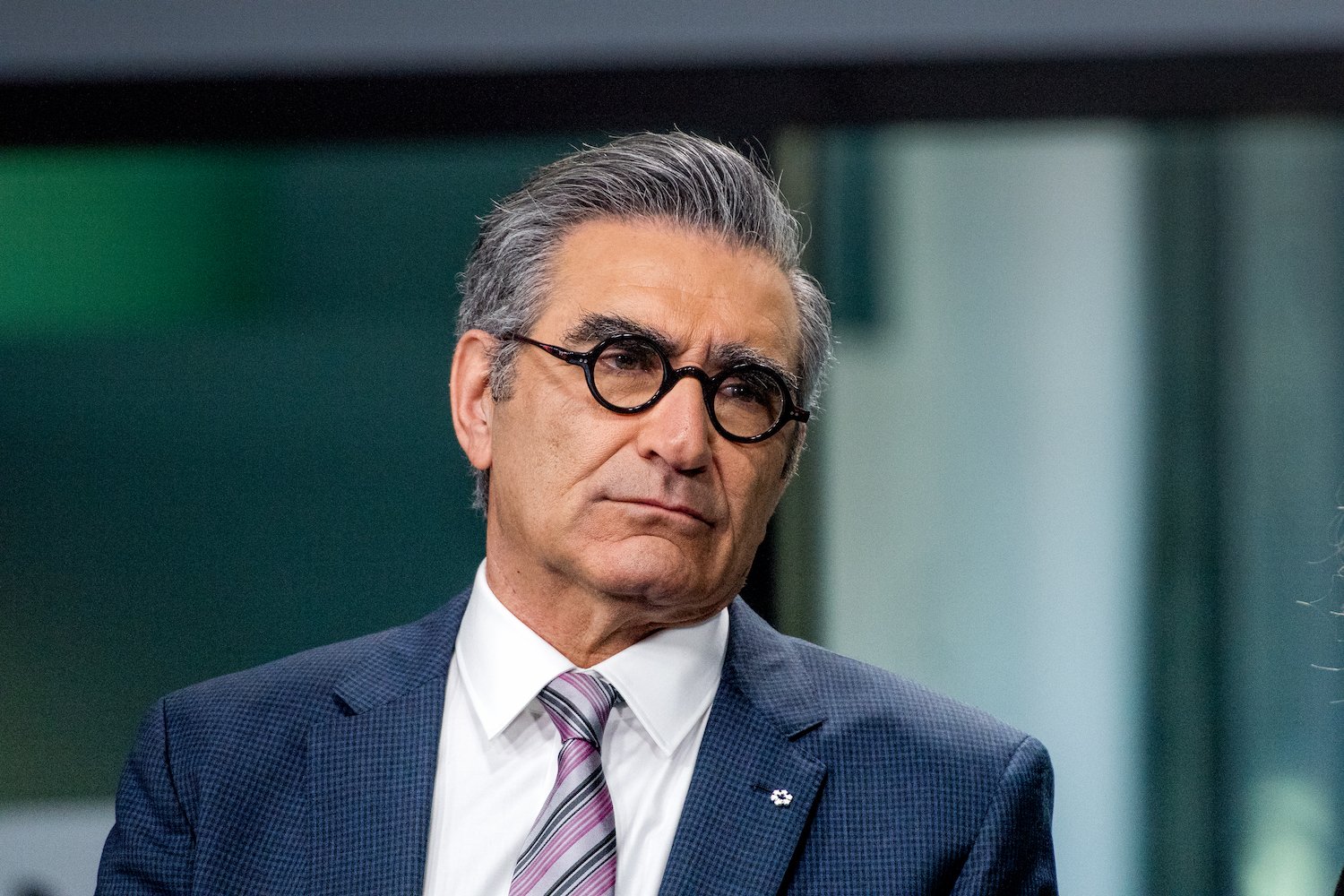 The cast of Schitt's Creek had just as much filming the show as audiences did watching it. Although the show was a true family affair, with Eugene Levy and two of his children heavily involved in the show's production, other actors made a huge impact on the finished product. One of these fan-favorite performers was Chris Elliot, who played the dimwitted mayor of Schitt's Creek, Roland Schitt.
As Levy revealed in a 2017 interview, Elliot made him laugh constantly. As reported by Insider, Levy said: "He's got my number. He's constantly making me laugh on set … He does it intentionally, of course, and he actually succeeds."
Levy recalled one of the times that Elliot made him crack up, noting "(Chris) gets in kind of behind me, trying to show me how to hold a (golf) club properly…That's one of the times I think I laughed the hardest in the three seasons, was trying to get through that scene." Mental Floss reports that Levy had such a hard time getting it together that the director of the episode had to admonish the comedy veteran – although they did eventually get the scene just right. 
Chris Elliot and Eugene Levy both earned acclaim for their roles on 'Schitt's Creek' 
While every member of the cast received special acclaim for their work in Schitt's Creek, Levy really managed to make an impact, with his role as family patriarch Johnny Rose sparking a career resurgence for the iconic comedy star. In 2019 and 2020, Levy was nominated for the Primetime Emmy Award for Outstanding Lead Actor in a Comedy Series, which he won in the year 2020. 
As for Elliot, an actor who has been a staple presence in pop culture since the '80s, Schitt's Creek also helped to reinvigorate his career, introducing him to a whole new generation of fans. He also received critical acclaim for the role, winning Best Performance by an Actor in a Featured Supporting Role or Guest Role in a Comedic Series in 2016 at the Canadian Screen Awards. For fans, Schitt's Creek simply wouldn't be the same show without his contributions.