'Schitt's Creek': Dan Levy Jokes That 'Moira Got Her Emmy' After Catherine O'Hara Wins Best Lead Comedy Actress
Schitt's Creek ruled the 2020 Emmy Awards. The show won Best Comedy Series, officially sweeping all of the major comedy categories. Eugene Levy, Dan Levy, Catherine O'Hara, and Annie Murphy all won the comedy acting awards. Dan also won Outstanding Directing For a Comedy Series with Andrew Cividino and Outstanding Writing For a Comedy Series. After O'Hara's win, Dan joked that "Moira got her Emmy," referencing O'Hara's character from Schitt's Creek.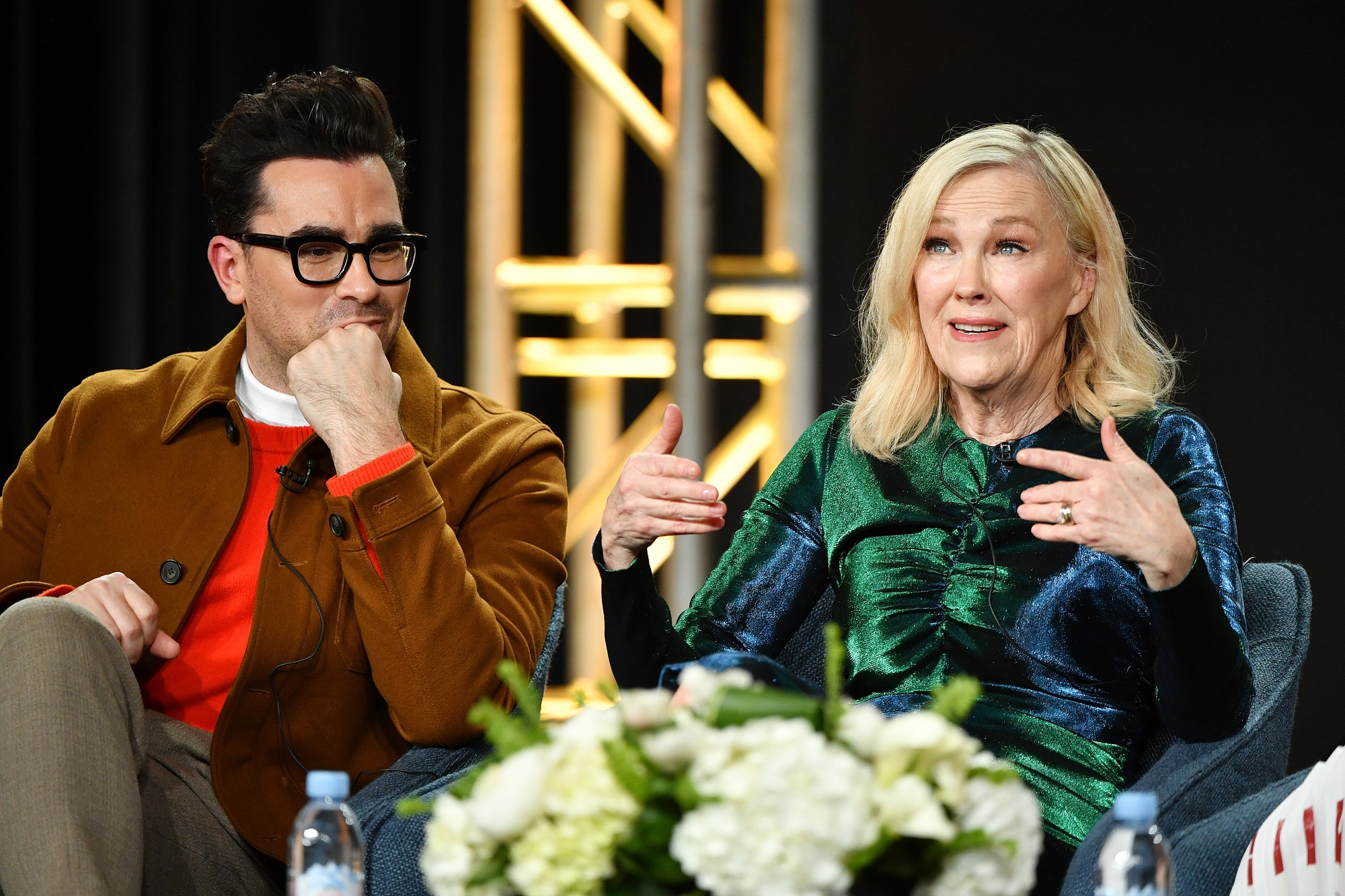 Catherine O'Hara played Moira Rose in 'Schitt's Creek'
The matriarch of the Rose family, Moira became a staple of comedy television because of O'Hara's portrayal. In Schitt's Creek, Moira is a former soap opera star who played Vivian Blake on the fictional Sunrise Bay. While incredibly famous for her soap opera days, a running joke in Schitt's Creek was that Moira was the "most projected nominee to have never actually been nominated" for a Daytime People's Choice Awards.
In the show, Moira is very prideful and eccentric. Her acting career is revived when she is cast in the film The Crows Have Eyes III: The Crowening as ornithologist Dr. Clara Mandrake. By the end of the series, Moira returns to a rebooted Sunrise Bay.
Part of what made Moira so legendary was the accent O'Hara chose to incorporate when playing her.
"I now describe it as result of Moria and Johnny's world travels when they had money. Being the serious artist that she is, who observes people and culture and takes it all in, she then wants to share with the world," O'Hara, told Variety about the accent.
RELATED: The 'Schitt's Creek' Scene That Had Catherine O'Hara Laughing the Hardest
Catherine O'Hara won her first Emmy Award
On Sept. 20, O'Hara won her first Emmy Award for her portrayal of Moira Rose in Schitt's Creek. Because of the coronavirus (COVID-19) pandemic, the awards show was virtual, and the Schitt's Creek team held their own socially-distanced party adhering to public health guidelines.
"I will forever be grateful to Eugene and Daniel Levy for the opportunity to play a woman of a certain age, my age, who gets to fully be herself," she said in her acceptance speech. "May I please wish you all a sound mind and a sound body, and though these are the strangest of days, may you have as much joy being holed up in a room with your family."
After she won, Dan tweeted, "Well…Moira got her Emmy."
Where Moira Rose would be now
O'Hara has her Emmy award now, so where would Moira Rose be? The series finale of Schitt's Creek aired in April, and back in June O'Hara explained what she thought happened to Moira in an interview with Vanity Fair.
"I think we'd go back and visit…I don't know if [Moira] would admit it right away, but she was really fortunate to have had the time in that town that she will not say," O'Hara said.
In the sixth season of Schitt's Creek, the reboot of Sunrise Bay was a primetime show, meaning Moira would be eligible for a primetime Emmy Award. Perhaps, just like O'Hara, Moira Rose will win an Emmy Award one day too.