'Schitt's Creek': Dan Levy Just Proclaimed His Love for 'Below Deck Med'
Actor Dan Levy from Schitt's Creek gushed about BelowDeck Mediterranean, suggesting perhaps he should take chief stew Hannah Ferrier's yachting class.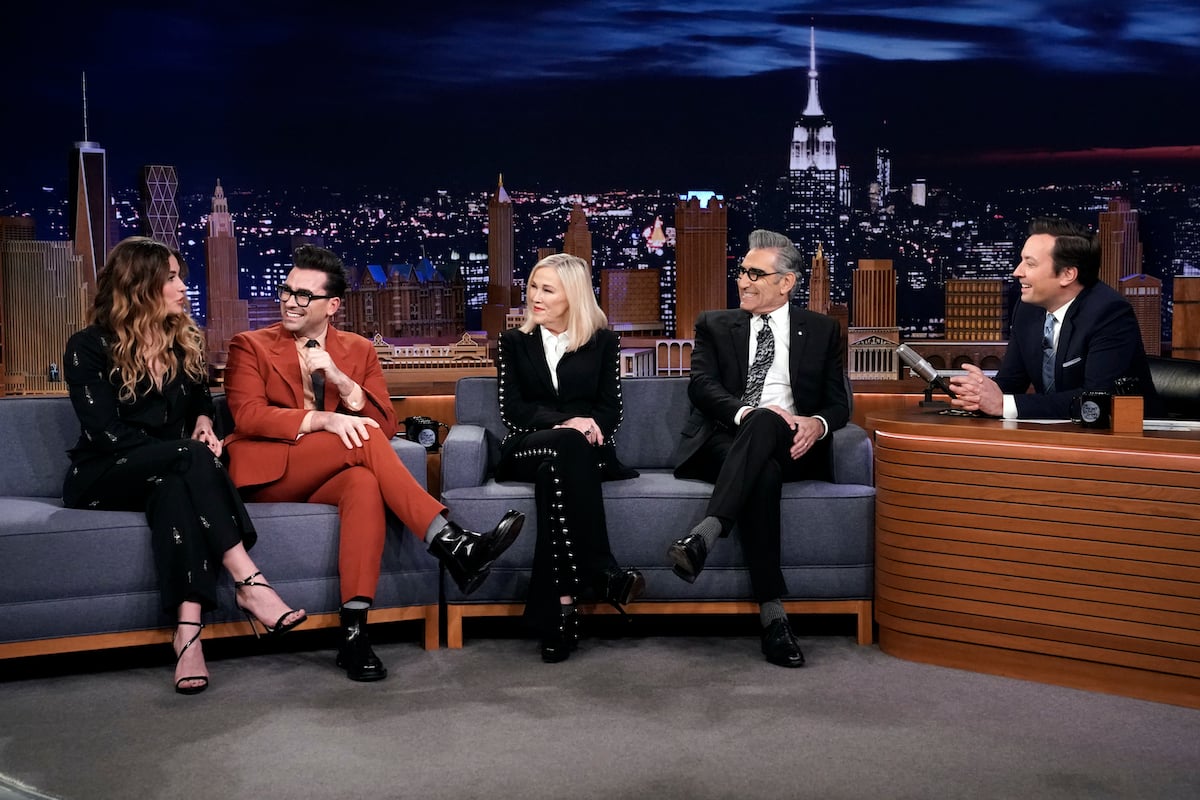 Late-night talk show host Jimmy Fallon was floored when Levy discussed the drama from the latest season. "Have you caught up though," Levy said to Fallon in an Instagram clip Ferrier shared. "Captain Sandy. The drama that happens on the season of Below Deck Mediterranean, is earth-shattering."
Fallon adds that he is a fan of Ferrier. "I have many times thought about vacationing to Australia to take Hannah's yachting course," Levy said. That's when Fallon suggested they both take the course. "Should we go?" Levy asked.
"Definitely, I'm there," Fallon replied. "Are you kidding me? The whole drama with Hannah was like what is going on?"
"I would last 25 seconds on that show," Levy insisted.
Dan Levy joins a growing list of celebrity fans
Celebrities like Jerry O'Connell, John Legend, and Chrissy Teigen have been longtime fans of the series. In fact, O'Connell and wife Rebecca Romijn plunged into the entire franchise. The couple dished about Below Deck Sailing Yacht, sharing that deckhand Parker McCown made them laugh. "I want to say also in the workplace, there's always a Parker," he said. "Someone who complains a little bit, but I love working with Parkers. Parkers make me laugh."
New fans like comedian Leslie Jones made a habit out of watching and tweeting about Below Deck Season 7. Her commentary became legendary as she sounded off on the bru crew.
RELATED: Jimmy Fallon Is Ready to Join the 'Below Deck Med' Crew
Related post url: 
"Ok This show," she tweeted along with a video. "Ugh the behavior of the men is terrible but I can not stop watching . And Aston I'm about to come find you and whoop your ass Over @Kate_Chastain she is high ranked and y'all coming at her. And to get you are children seriously!!"
Jimmy Fallon is a longtime 'Below Deck' stan
Fallon loved that Levy was into the series because he said that was his "jam." He's discussed the series on The Tonight Show and even teased about joining the crew. "On the next episode of Below Deck Med..," he shared on Instagram wearing a Sirocco uniform.
He and Jones tested their Below Deck knowledge when she appeared on his show. Fallon and Jones squared off when he wondered how Jones could defend deckhand Rhylee Gerber.
RELATED: 'Below Deck' Superfans Leslie Jones and Jimmy Fallon Test Their Season 7 Knowledge
Related post url: 
"What is wrong with you?" she said. "You know, it's like they are straight gas-lighting this poor girl, and we don't know how they're cutting it. I'm not saying that Rhylee don't have an attitude. But if you are approaching three men who already don't like you and you are getting that energy … I'm gonna approach you like that, too!"
Most recently Fallon compared Donald Trump to a terrible Below Deck charter guest. "Right now Americans are looking at each other like the Below Deck crew after a crazy guest finally gets off the boat," he said during his evening monologue once the election was finally over. "Not even a good tip! Nothing! Meanwhile, the IRS is like 'We just finished his audit on his taxes."