'Schitt's Creek': What Did Eugene Levy and Dan Levy Argue About Most?
When Dan Levy decided to quit his longtime job at MTV Canada, he had no idea what was next. However, leaving his job as a host would prove to be one of the best decisions he ever made. Not too long after he left, he had the idea to tell a riches to rags story. The idea, of course, would eventually turn into the beloved sitcom, Schitt's Creek.
Of course, riches to rags stories had been done before. But Dan had the idea to center the show around a family. This would allow for richer viewpoints and perspectives. Furthermore, incorporating family dynamics would foster outstanding situational and character comedy. In an interview with GQ, Dan explained how the idea for Schitt's Creek came about.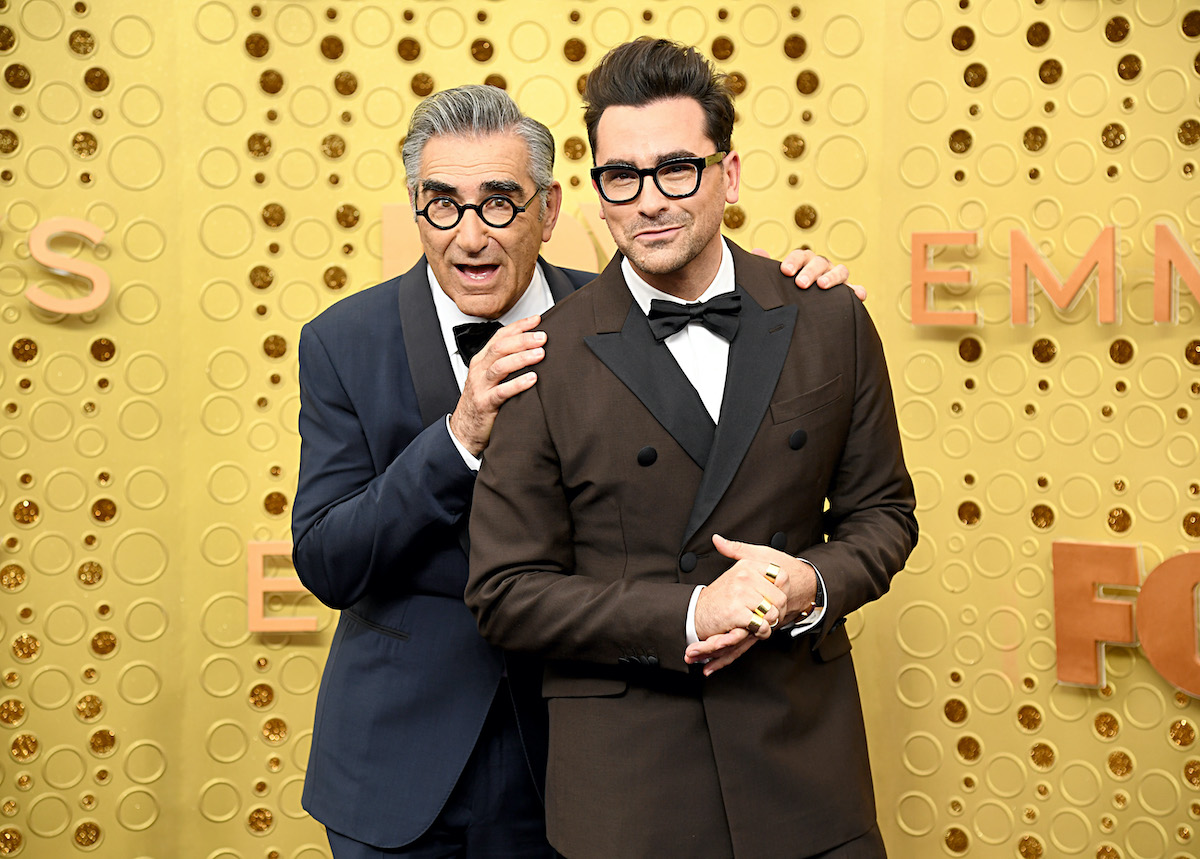 Dan Levy on how he came up with the concept for 'Schitt's Creek'
"I knew I had the emotional nugget of the show," Dan explained about the initial inspiration for Schitt's Creek. "I knew I wanted it to be about a wealthy family that didn't know each other, that were very far away from each other in their lives and that had to be brought back together because they lost their money, and what would that look like?"
RELATED: 'Schitt's Creek': Which TV Couple Dated in Real Life?
Dan may have had the premise for Schitt's Creek in his mind, but he had no idea how to execute a TV show. Fortunately, he knew someone who was very knowledgeable. Dan smartly tapped his father, Eugene Levy, to co-create the comedy series with him. The pair turned out to be an excellent team, but working together wasn't without its challenges.
Dan and Eugene Levy argued about one vital aspect of the show
Like any father and son, Eugene and Dan didn't always see eye to eye. For example, when they were first dreaming up Schitt's Creek, Dan was a bit antsy about how much time Eugene wanted to spend on the Rose Family's backstory. Eventually, however, the Happiest Season actor understood the importance of getting extremely granular about his characters.
RELATED: 'Schitt's Creek': 1 Cast Member Wore Paper Towels Under Their Armpits
One thing that the Levys argued about the most when they were dreaming up Schitt's Creek was the tone of the show. "In the early days, it came down to tone," Dan shared. "What I was writing initially was more performative." Continuing on, Dan revealed he initially wanted the comedy of the show to be more subtle. "The jokes weren't necessarily on the page," he added. "It was how a character was going to perform the line that would make it funny."
The father and son duo compromised on the comedic tone of 'Schitt's Creek'
In the end, Eugene and Dan compromised on the tone of Schitt's Creek. Dan wrote a few more jokes to put on the page to appease his dad. This choice, helped the show seem more palatable when they were pitching it to TV stations. "How do you convince someone that what's on the page is eventually going to be funny?" Dan questioned. "So, you know, there needs to be a certain amount of jokes on the page for it to read as funny."
The tone of Schitt's Creek is so unique because it takes into account the comedic desires of both Dan and Eugene. The Levys may have had a few squabbles when they were dreaming up the show. However, their compromise is what allowed the show to be so special.
RELATED: 'Schitt's Creek': Catherine O'Hara Cried 'for an Entire Day' When Filming This Scene