'Schitt's Creek': Fans Can Own the Ultimate Series Souvenir for $15 Million
Schitt's Creek is a Canadian sitcom that has become a cult classic. The series, which is full of over-the-top physical comedy and hilarious situations, is also full of heart, and lessons about the importance of love and family.
Schitt's Creek has introduced fan-favorite characters like David and Moira Rose into pop culture, and even though the series is now off the air, it seems likely that the show will only grow more popular over time. For diehard fans, there is a way to recreate the opulent lifestyle of the Rose family (pre-move to the country), although it comes with a hefty price tag — $15 million, to be exact. 
When did 'Schitt's Creek' debut on television?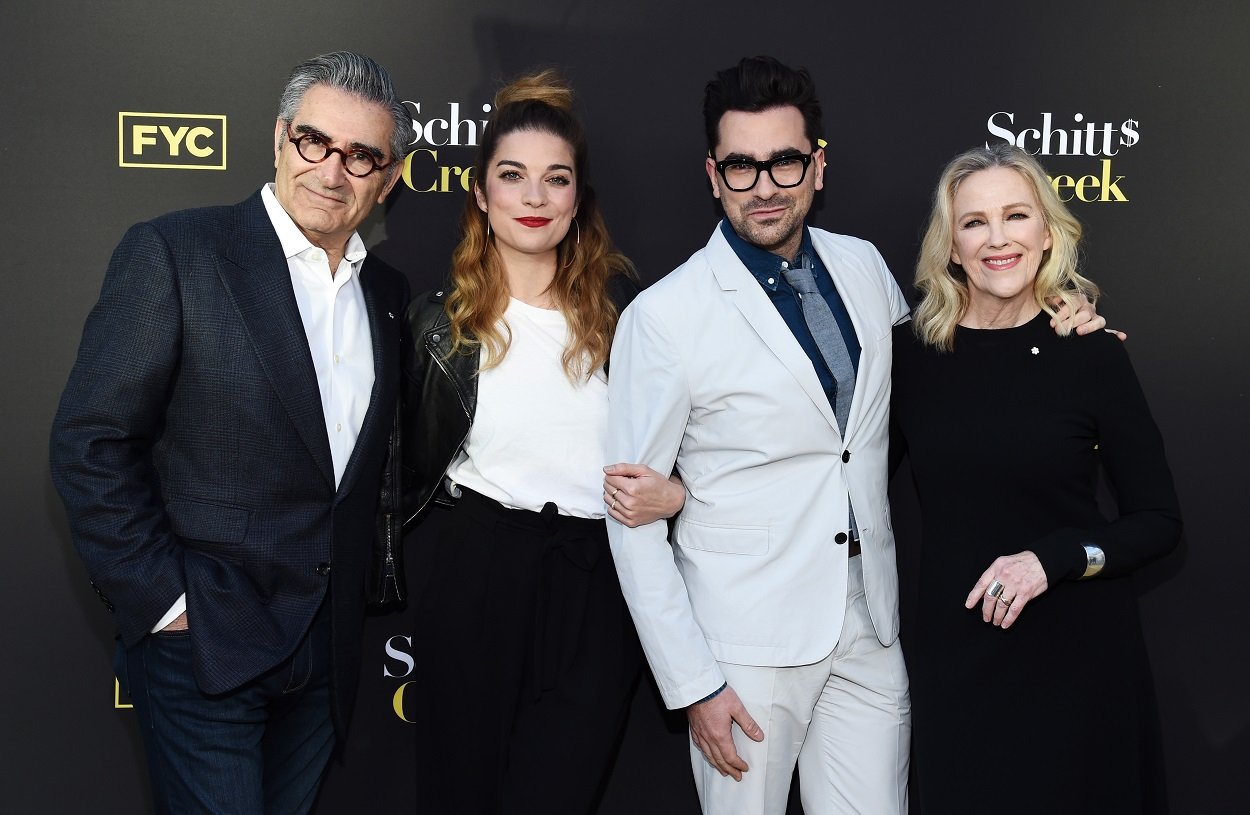 RELATED: 'Schitt's Creek': Moira Rose's Tips for Social Distancing
Schitt's Creek started running on television in 2015. The brainchild of Eugene Levy and his son, Dan Levy, the series follows the exploits of the formerly wealthy Rose family.
The Rose family is forced to start their lives all over again when their business manager embezzles the family business: Rose Video. The Roses are forced to move to the tiny, backward hamlet of Schitt's Creek, where they take up residence in a cheap motel as they plot their next moves.
Although Schitt's Creek was slow to gain traction, once the series was picked up by Netflix around the third season, it experienced a massive boost in popularity. Fans loved the outrageous antics of the characters and the way that they dealt with everyday situations — and Schitt's Creek became a cultural phenomenon.
When did 'Schitt's Creek' go off the air?
RELATED: 'Schitt's Creek's' Greatest Moments: We Loved That Journey For Them
Schitt's Creek has been praised by critics, not only for the acting and the writing but for the way that the series portrays LGBTQ people with empathy and understanding. Over the past few years, the series has received a slew of awards and honors, including all seven major Emmy Awards at the 72nd Primetime Emmy Awards.
Schitt's Creek's final season aired in early 2020. While fans were dismayed that there would be no new episodes, the reruns have remained intensely popular, earning new fans with each passing week. In particular, Dan Levy, who played the fashion-forward and sassy David Rose, has become a fan-favorite, and with a bright future ahead of him in the entertainment space, it seems likely that fans will be seeing a lot more of him in the years to come.
Fans can own the iconic 'Schitt's Creek' mansion
RELATED: When Will 'Schitt's Creek' Season 6 Be Available On Netflix?
Many fans are missing Schitt's Creek, but for particularly wealthy viewers, there is a way to be forever close to the Rose family. According to a recent Buzzfeed report, the mega-mansion where the Roses lived before hastily decamping to Schitt's Creek is up for sale.
The opulent estate, which was used for filming the show, is located in Toronto, Canada, and 12 bedrooms and 16 bathrooms, over a staggering 24,000 square feet. With impressive vaulted ceilings, a home theater with seating for eight, and a game room with a golf simulation system, this mansion is perfect for discovering the inner Rose in you.
That kind of lifestyle doesn't come cheap though — the home will set you back a cool $15 million. Additionally, it doesn't come with the iconic Rose family portrait that featured so prominently in the series. Still, for avid fans of Schitt's Creek, living in the lap of luxury might just be worth it.