'Schitt's Creek: Which Star (Not Dan Levy) Couldn't Get Through 'Simply the Best' Without Crying?
If you're a Schitt's Creek fan you know how important the song "Simply the Best" is to the show. The song helps tell Patrick and David's love
If you're a fan of Schitt's Creek you know how important the song "Simply the Best" is to the show. The song helps tell the love story between Patrick and David and fans are very moved by the tune. And it seems that fans aren't the only ones who got emotional during the episode where Partick first serenades David. The Schitt's Creek cast was also very touched by the moment.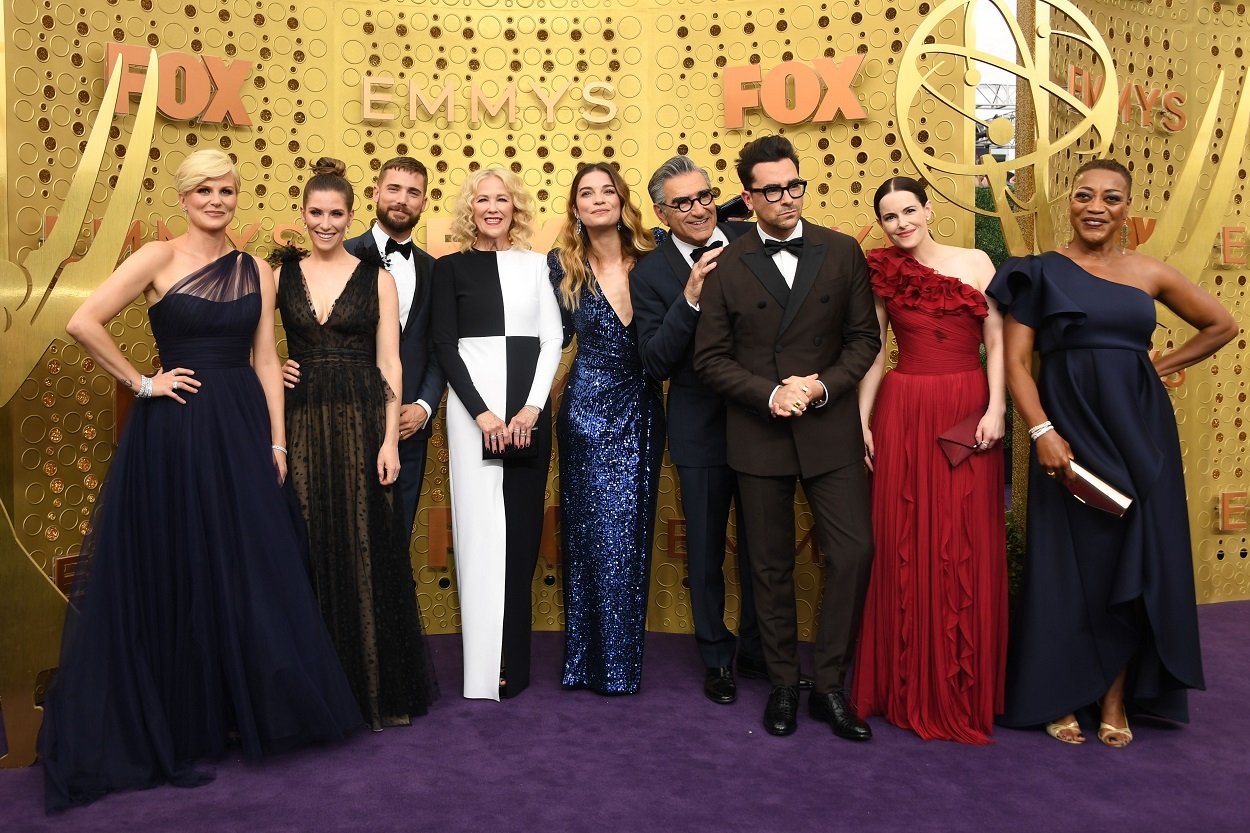 "Simply The Best" is, of course, a cover of the iconic song "The Best" by Tina Turner. In an interview with Entermentaint Weekly, Dan Levy, who co-created and starred in the show, shared that he's always been entranced by Turner's tune because of the beautiful lyrics. Once he discovered that Noah Reid, who plays Patrick in the Schitt's Creek cast, was a talented musician, he knew that he wanted to write it into the show.
Noah Reid reimagined 'Simply the Best' for 'Schitt's Creek'
When it came time to reimagine the song for Schitt's Creek, Levy offered to have someone brought in to interpret the song. However, Reid requested to sit with the lyrics for a bit to come up with something on his own. The result, which he first sent in a voice memo to Levy, was a slowed-down, romantic, and sweet rendition of Turner's song. Levy recalled that Reid's cover instantly struck a chord in him and he knew that song would give the scene he'd written the emotional weight it deserved.
But what was it like to film the scene where Patrick is serenading David with "Simply the Best"? Levy revealed that he had an easy time filming because it wasn't hard for him to pretend to be moved because he actually was. However, Levy shared that another member of the Schitt's Creek cast had a harder time with the scene because her personal reaction wasn't exactly in line with what fans expected from her character. It turns out that Catherine O'Hara, who played Moira Rose, was moved to tears throughout the scene.
Dan Levy reveals his fellow cast member was moved to tears
"It came time to shooting it and we just got to sit back and listen to him sing," Levy revealed about the infamous Schitt's Creek scene. "And Catherine [O'Hara] was so moved by it that she couldn't get through the episode; she couldn't get through the scene without crying. And, for us, it didn't really serve us well to have Moira cry so we sort of had to like cut around it."
Though viewers don't actually get to see O'Hara cry, they may be able to spot the actor wiping away her tears. "At one point she sort of turns back to reach for a tissue, which was not part of the scene," Levy reveals about his fellow Schitt's Creek cast member. "But it's a funny little — I mean we, we you throw it in because I think sometimes it's nice to show the candidness of television. But it was a lovely moment it was a moment that for me meant a lot because it was a parent supporting their kid."
The song has become an important part of the show
Clearly, the "Simply the Best" scene meant as much to the Schitt's Creek cast as it did to fans. Thought the show has completely wrapped, we have a feeling that viewers will continue to cite the romantic scene for years to come.