'Schitt's Creek' Star Emily Hampshire Has the Most Stevie Budd Collaboration Ever [Exclusive]
Learn more about Emily Hampshire's collaboration with Jim Beam, plus some 'Schitt's Creek' stories from the actor herself.
Emily Hampshire is known by many for her role as Stevie Budd in Schitt's Creek. Now, the actor is collaborating with Jim Beam on a project that makes perfect sense to Stevie Budd fans. Showbiz Cheat Sheet spoke with Hampshire on the phone about the partnership. She explained why it's the perfect collaboration.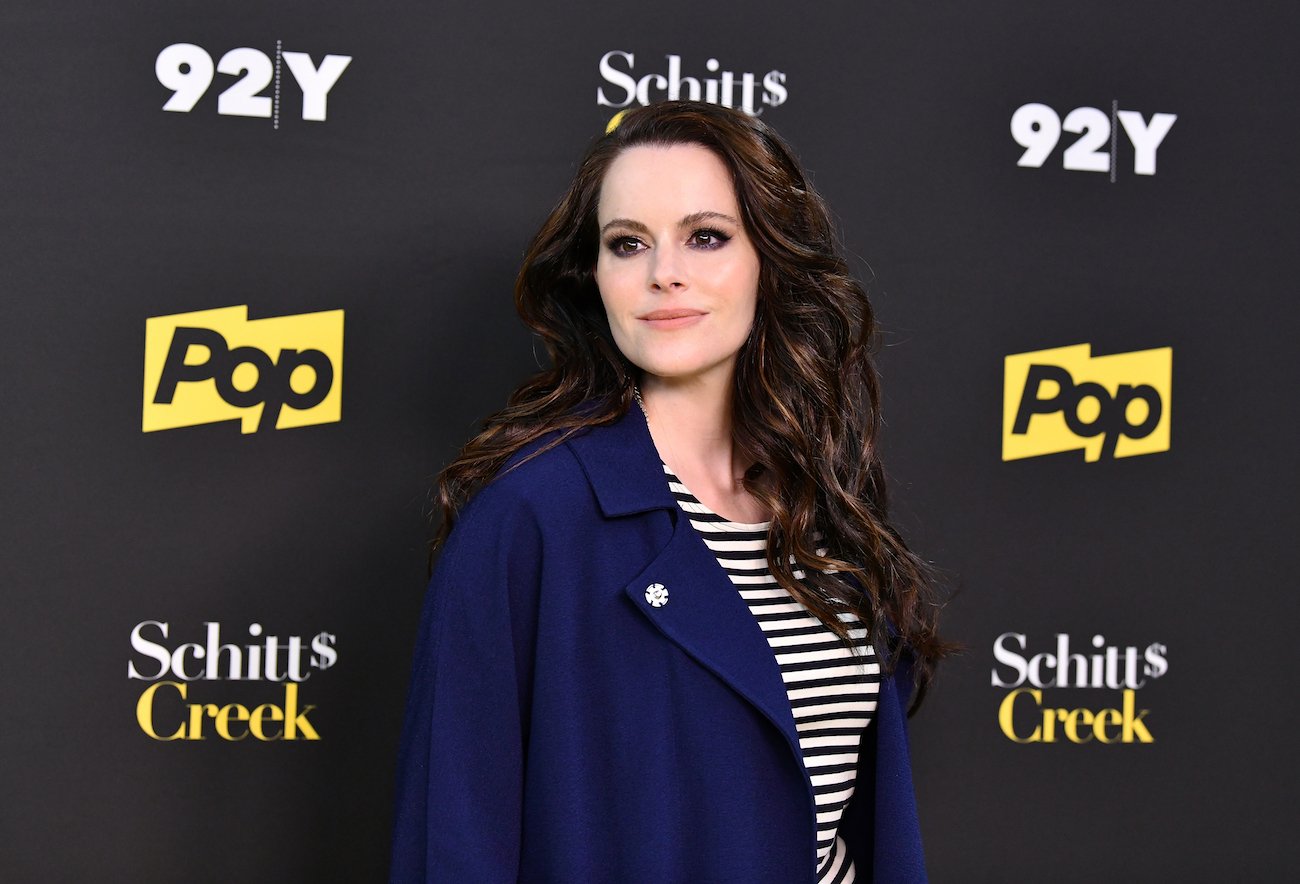 Stevie Budd from 'Schitt's Creek' is a no-frills kind of girl 
Dan Levy's Schitt's Creek introduced the world to Stevie Budd. The manager of the Rosebud Motel lived a quiet life and worked hard to stay hidden in the shadows. Stevie eventually came out of her shell thanks to her relationships with the Rose family, including a musical performance in the Cabaret episode — Hampshire's favorite! 
Throughout six seasons, Stevie quickly became a fan favorite thanks to her anti-social club status, witty comebacks, and relentless ability to follow her heart and do what she wanted. Once again, Hampshire is leaning into those characteristics that made Stevie a lovable character with her latest partnership. 
Emily Hampshire's collaboration with Jim Beam Bourbon Cream 
Hampshire connected with Showbiz to talk about Jim Beam's Bourbon Cream, a festive holiday cocktail. "It's such a handsome drink," Hampshire told us. As someone who doesn't relate to the term "girly," Hampshire couldn't have thought of a better product to stand behind.
Plus, Jim Beam's "Get to the Good Stuff" campaign aligns with Hampshire's values and reminds Schitt's Creek fans of Stevie Budd's no-nonsense approach to life. "It's all about skipping the formalities of the holiday season," Hampshire said, emphasizing spending time with the people you love. 
Jim Beam's "Get to the Good Stuff" kits, including the bourbon cream, are available beginning Dec. 7 on a first-come, first-serve basis to legal-aged consumers. They come with:
The Quickest Wrapping Paper — it's see-through, so you don't have to unwrap it to see what's inside. Hampshire hopes fans tag her in a few videos of perplexed grandmothers opening their visible gifts.
The Shortest Holiday Story so you can spend less time reading holiday stories and more time creating your own with friends and family. Hampshire wants anyone who reads this book to their kids to tag her on social media, too. 
The Fastest Board Game, which is only meant to last a few minutes instead of hours.
Emily Hampshire's shows coming in 2022 
During our conversation, Hampshire also told us about a few projects she has coming out in the new year. She stars in The Rig alongside Game of Thrones star Iain Glen, Emun Elliot, Mark Bonnar, and Rochenda Sandall. 
The Rig is a supernatural drama set on the Kinloch Bravo oil rig. When a mysterious fog rolls through, the crew is cut off from communication with the outside world. As a massive tremor hits the rig, the group must uncover the unknown force causing it, but a major accident forces them to question who they can really trust.
Hampshire is also co-writing a remake of Mary Hartman with Jacob Tierney. As Hampshire told us over the phone, acting is a great joy, but getting involved with the behind-the-scenes aspects of a project, from writing to wardrobe, is where her true passion is. She said she learned how to do it best from her Schitt's Creek co-star Levy.
See more from Hampshire in 2022. And stay tuned to Showbiz Cheat Sheet for updates on what she does next.