'Schitt's Creek': Three Cast Members Thought They'd 'Never Work Again'
Even though 'Schitt's Creek' became wildly popular after its sixth and final season, there was a period of time that the offers weren't rolling in for the talented cast.
It's no secret that Schitt's Creek was a slow burn. Premiering back in 2015, it quietly became a beloved show in Canada. However, when the show hit Netflix, it really started gaining a huge audience. But when the show made history and swept the Emmys after its sixth and final season, it really put the lesser-known members of the cast on the map and made Schitt's Creek a must-see comedy series.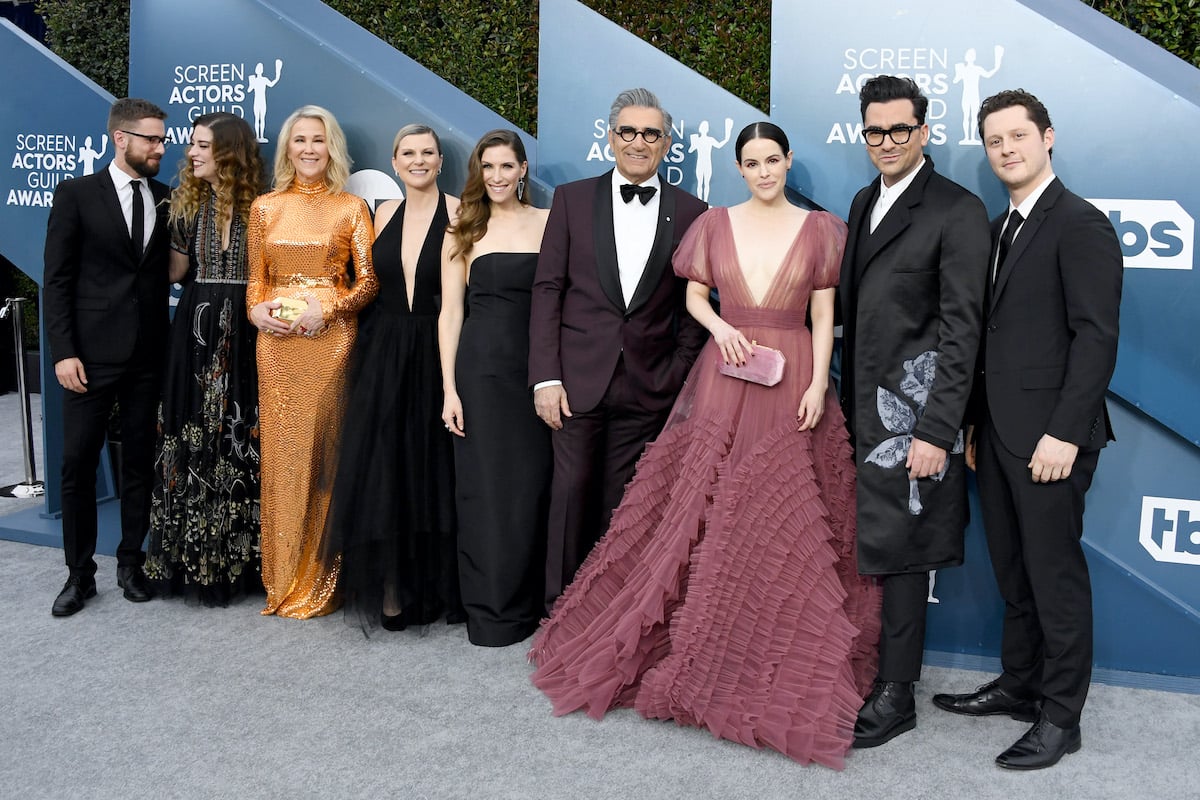 Though plenty of things contributed to the lightning-in-a-bottle success that Schitt's Creek experienced, Annie Murphy (who was cast as Alexis Rose) chalked some of the attention up to the coronavirus (COVID-19) pandemic. The actor felt that people needed something feel-good and lighthearted while they were stuck at home.
Annie Murphy gets candid about the success of 'Schitt's Creek'
"I think we owe the success of the show to Trump and the pandemic," Murphy shared about Schitt's Creek in a conversation with Interview Magazine. "The world was so f—— dark and people needed to not look at that face and hear that voice. They needed something happy, kind, and inclusive. I'm not thanking him, don't get me wrong."
Naturally, the immense success of the show helped Murphy and the rest of the cast in their careers. As the show became more mainstream and received critical acclaim, the actors had offers from people wanting to work with them on new projects. However, there was a time when most of the cast wasn't getting any bites and actually feared for the trajectory of their career. In an interview with ET Canada, Emily Hampshire, who played Stevie Budd in Schitt's Creek, got candid about not having any offers for a period of time.
Why three members of the cast feared they'd never work again
"Me and Annie [Murphy] and Sarah [Levy], when the show had just ended and nobody cared about it we were like 'Oh my God, the show's ending, the offers are going to be rolling in!' And then we'd send like emojis of like tumbleweeds," Hampshire recalled. "And that went on for a really long time until all of a sudden when we were done for a while and very scared we'd never work again, then it happened. So, it was very Schitt's Creek-y"
Is 'Schitt's Creek' Season 7 a possibility?
Fortunately, Murphy, Levy, and Hampshire all found their next projects. However, they've been candid about the fact that they miss working with their Schitt's Creek family. Could that mean that diehard fans might get their wish and get another season of the beloved Canadian comedy? While Hampshire was clear that the show wouldn't get any more seasons, she didn't completely rule out the idea of a reunion.
Emily Hampshire would love a 'Schitt's Creek' reunion
"There's not gonna be more of the show," Hampshire shared about Schitt's Creek. "We're not going back to the show. However, I'm pretty sure we will get together to do something of a reunion show thing of sorts. I can't be quoted that that's a fact. I'm saying, from my personal opinion, we like each other too much to not do that. It's so nice to actually be with a cast that you genuinely love."