Every Easter Egg in the 'Schitt's Creek' Wedding Finale
On April 7, the iconic series Schitt's Creek concluded with a beautiful wedding ceremony between Patrick (Noah Reid) and David Rose (Dan Levy). Show creator Levy included several Easter Eggs in the heartwarming wedding scene — did you catch them all?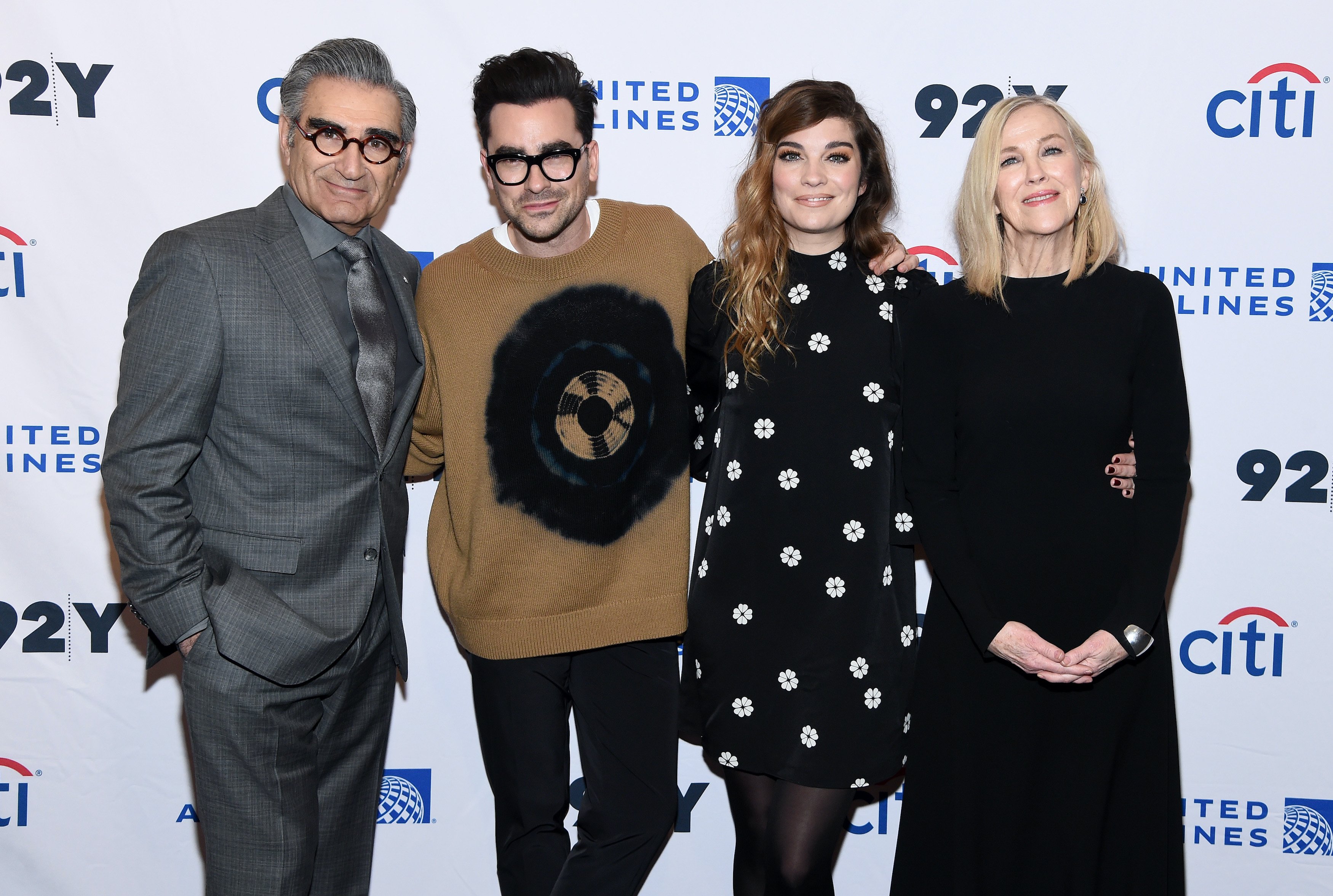 'Schitt's Creek' came to an emotional end
The wedding was far from David's over-the-top dream, but the many mishaps that occurred throughout the day forced the Rose family to once again be there for one another. Doing so made the wedding the perfect conclusion to a series whose essence was rooted in love and acceptance. 
As a show that champions LGBTQ relationships, it was important for Levy to frame the finale around a marriage. However, he didn't want to fall into the usual tropes TV weddings usually do. "When you end a show on a wedding, the big challenge is [doing] something in a way that people haven't seen before," Levy explained to Vanity Fair. He wanted to give fans something fresh, but in a way that they expected — and then some. 
'Don't worry — it's his sister' 
Stevie Budd (Emily Hampshire) and David's sister, Alexis (Annie Murphy), both play big roles in David's special day. Initially, Alexis was to be David's maid of honor. At the last minute, he awards that title to Stevie so as to lessen his wedding's chances of becoming all about his sister. 
Outside of the series, Levy always planned for Alexis to don a bridal gown on the day of David's wedding. Even in her evolved state of a kinder, more grounded human, Alexis in a wedding gown doubled as a fun Easter Egg for fans. "It was just so in line with her character," Levy explained. "But also the double entendre and the callback [to season one, episode three] 'Don't Worry, It's His Sister.' So, a really fun thing to reference the fact that at the very last episode, they walk down the aisle with people potentially thinking they're husband and wife."
Moira's wedding look was an homage to herself
It's no secret that Moira Rose (Catherine O'Hara) is a fashion icon. Levy was worried he wouldn't be able to top the looks Moira sported throughout the show. Fortunately, O'Hara had the brilliant idea of turning Moira into the pope. For Levy, it was all about creating a look that felt timeless and true to the character fans spent six seasons falling in love with. Said O'Hara: "It's amazing to me that we built a character that could actually get away with wearing that darn thing." And get away with it they did.
All of the wedding music highlighted important moments for the Rose family 
David and Patrick's wedding ceremony was full of songs that had been used previously in the series. As David walked down the aisle, the Jazzagals sang James Morrison's "Precious Love" — the same song that was playing in the season 2 episode, "Happy Anniversary" as the Rose family danced together at the barn party.
The wedding wouldn't have been complete without a few lines from Tina Turner's "Simply the Best." After all, it is the song of David and Patrick's relationship. And of course, fans would have felt robbed if the wedding didn't feature any Mariah Carey. Patrick's Mariah-inspired wedding vows, featuring a few lines from "Always Be My Baby," left much of the cast in tears. "All of us, I think, really got quite emotional," Murphy recalled. "Dan was crying. Then I looked back and saw an emotional Eugene Levy." 
Should you decide to watch Schitt's Creek all over again, keep your eyes peeled for Levy's carefully incorporated Easter Eggs.