'Schitt's Creek': Which TV Couple Dated in Real Life?
One of the things that makes Schitt's Creek such an enjoyable show are the relationships that form between the characters. The show explores love in various forms, including familial relationships, friendships, and, of course, romantic relationships. Throughout the hilarious series, fans get to know four main couples: Johnny and Moira, Jocelyn and Roland, Alexis and Ted, and, of course, David and Patrick. But which cast members actually dated in real life?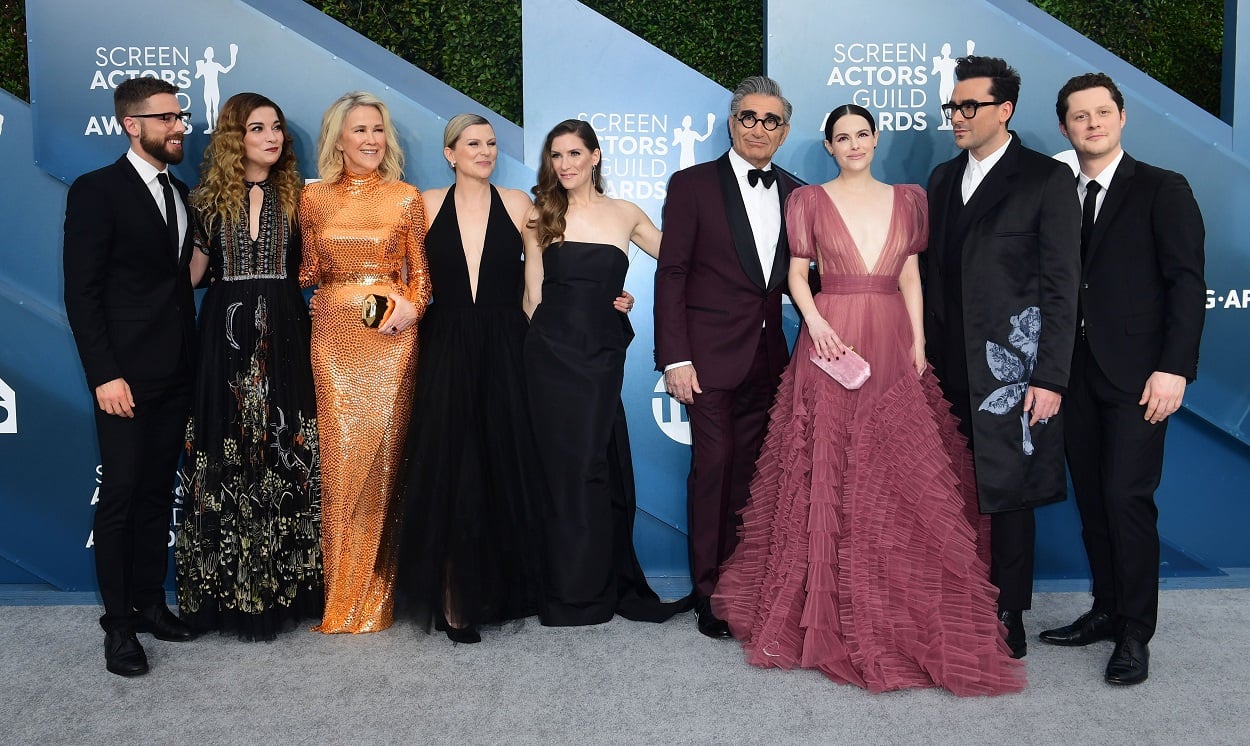 Fans of Schitt's Creek are likely aware that the cast has a pretty close connection with one another. In fact, in many ways, the show is a family affair. The hilarious comedy is the brainchild of Eugene Levy and Dan Levy. The father-son duo co-created the show and then went on to star in it as Johnny and David Rose. Furthermore, they also cast Eugene's other child, Sarah Levy, in the show also, who beautifully depicted Twyla Sands.
Which 'Schitt's Creek' cast members dated in real life?
Eugene also has a long history with his TV wife, Catherine O'Hara. The pair have been friends for decades and worked together a number of times prior to Schitt's Creek. The pair have a natural chemistry that shines on screen and while they consider each other more like family now, there was a time when they tried dating.
RELATED: 'Schitt's Creek': Catherine O'Hara Cried 'for an Entire Day' When Filming This Scene
"We tried dating, actually," O'Hara shared about her long-time castmate, Eugene in an interview with The New Yorker. "There's nothing sexier than making each other laugh. I think everybody tried dating everybody." Obviously, dating didn't work out for the talented actors but the Schitt's Creek alum has shared that she's happy that it didn't because it has led to longevity in their working relationship.
Catherine O'Hara and Eugene Levy have a long history together
"I'm so glad it worked out that way," O'Hara said of her Schitt's Creek husband. "We probably wouldn't be working together if we'd gone longer on the dating. Really, it was, like, one or two dates. That's it. Back then Eugene and I were never really a 'team.' Just somehow we've grown together in these years."
O'Hara and Eugene may not be an official team, but they certainly presented a united front on the set of Schitt's Creek on camera and behind the scenes. In fact, in an interview with Gold Derby, Dan shared that Eugene and O'Hara helped create a very warm and loving environment on set that was built on care and respect.
Dan Levy shares how O'Hara and Euguene set the standard for the 'Schitt's Creek' cast
"That is obviously set by the standards that my dad and Catherine brought to work," Dan expressed about how the cast of Schitt's Creek got to be so close-knit. "Every day they would show up just wanting to make the best possible television. I think when you have the top of a call sheet setting such a professional and respectful and graceful standard for everybody else, nobody can really step out of line. I think what that's done for all of our characters is allowed for a level of freedom to experiment and an ease with performance that you might not get had the set been a little more tense."
Though things didn't work out romantically for O'Hara and Eugene they clearly make a great team. Though Schitt's Creek officially wrapped in 2020, we hope the pair will collaborate on new projects in the future.