Scott Disick and Sofia Richie's Age Difference Really Bothers the Internet
Scott Disick is best known to fans as Kourtney Kardashian's ex-boyfriend, and the father of her three children. He has been a featured player on Keeping Up With the Kardashians ever since the show first premiered in 2007 and even landed his own reality spinoff, Flip It Like Disick. Although Disick has dealt with alcohol addiction and depression over the years, he always manages to land on his feet and make a return to the spotlight. In recent years, Disick has made headlines for his relationship with Lionel Richie's daughter, Sofia Richie — and even though the two have been dating for years, fans still don't know what to make of their romance.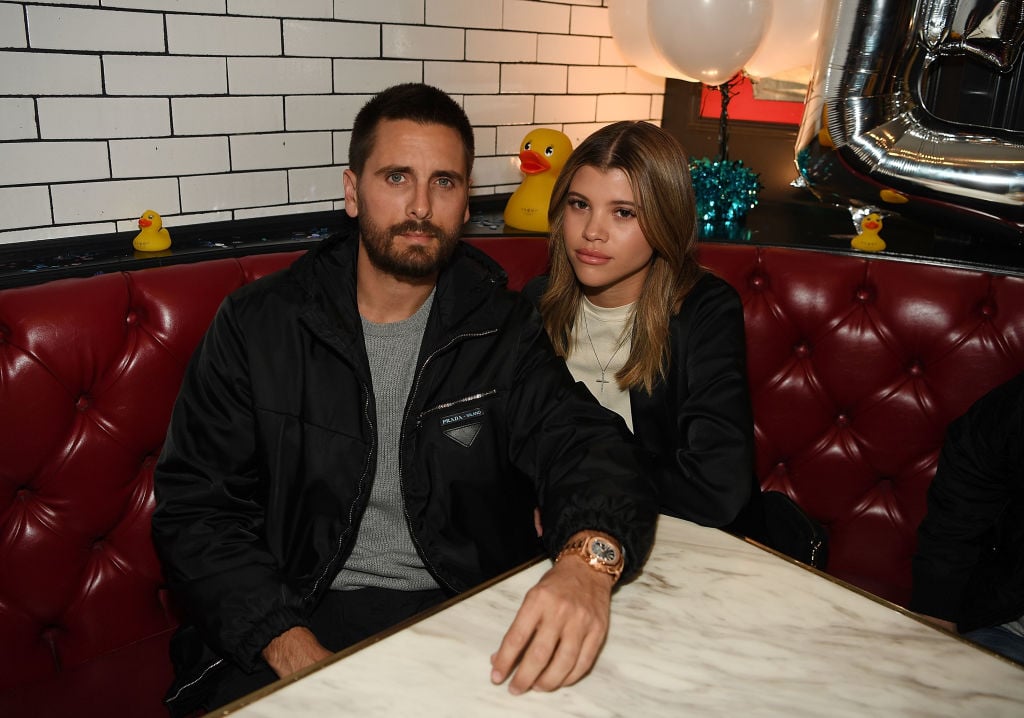 When did Scott Disick start dating Sofia Richie?
After being together for close to 10 years, Scott Disick and Kourtney Kardashian broke up for good in early 2017, Disick didn't stay single for long and was seen partying in the days after the breakup with young starlets like Bella Thorne. In September 2017, Disick posted a picture to Instagram that featured an intimate moment with Sofia Richie, the younger daughter of the famed soul singer Lionel Richie.
In the days after the controversial photo was posted, Disick and Richie were spotted together on multiple occasions, as reported by Cosmopolitan, from luxury vacations to romantic dinner dates. By all intents and purposes, it seemed as though the two had begun a romance. Their relationship raised a lot of eyebrows for several reasons, including for the fact that Richie was only nineteen at the time, to Disick's thirty-three. 
Sofia Richie gets along well with Scott Disick's family
Although many people believed that Scott Disick and Sofia Richie's romance would crash and burn after a short period of time, the two have remained together for nearly three years. Not only has Richie gotten close to Disick's children, but she has established close relationships with many of Disick's family members as well, including Kylie Jenner. Richie even began going on family vacations with Scott Disick, Kourtney Kardashian, and their three children, proving that they had every intention of becoming a well-adjusted, blended family.
In recent weeks, Disick has been going through some trying times. Reportedly, he checked himself into rehab at the beginning of May in order to work on "emotional issues." According to Yahoo, some sources have claimed that Disick and Richie are struggling in the wake of his rehab stint, there has been no confirmed breakup news from either Richie or Disick — so for now, those rumors will have to remain unconfirmed. 
Fans aren't on board with Scott Disick and Sofia Richie's relationship
Recently, TMZ reported that Richie has been spending time with a new man and that Richie and Disick are headed for a breakup. Fans took to Reddit to discuss the rumors, and many didn't find it difficult to believe that the two could be on the outs. A lot of posters pointed to the couple's age gap as a big reason for why they could eventually break up if they haven't done so already. 
One fan stated that "I hope they did or eventually do break up. That age difference seemed so unhealthy for multiple reasons," while another claimed that "she needs to date someone her own age." Other posters chimed in, revealing that they find Disick and Richie's relationship "gross," and stating that they think it is inappropriate for Richie to be dating a man approaching his forties. Certainly, the age difference could lead to problems as their relationship progresses, since they have such drastically different life experiences. Still, it seems like, for now, Sofia Richie and Scott Disick are still together.