Sean Connery's Almost Forgotten 1988 Oscar Win
Sean Connery, the Scottish actor who made James Bond a household name, has died at age 90. Connery, whose real name was Thomas Sean Connery, played the master spy in seven films, but he won an Academy Award for a thoroughly un-Bond role. Here's what we know about the late Connery's Oscar achievement. Sean Connery …
Sean Connery, the Scottish actor who made James Bond a household name, has died at age 90.
Connery, whose real name was Thomas Sean Connery, played the master spy in seven films, but he won an Academy Award for a thoroughly un-Bond role.
Here's what we know about the late Connery's Oscar achievement.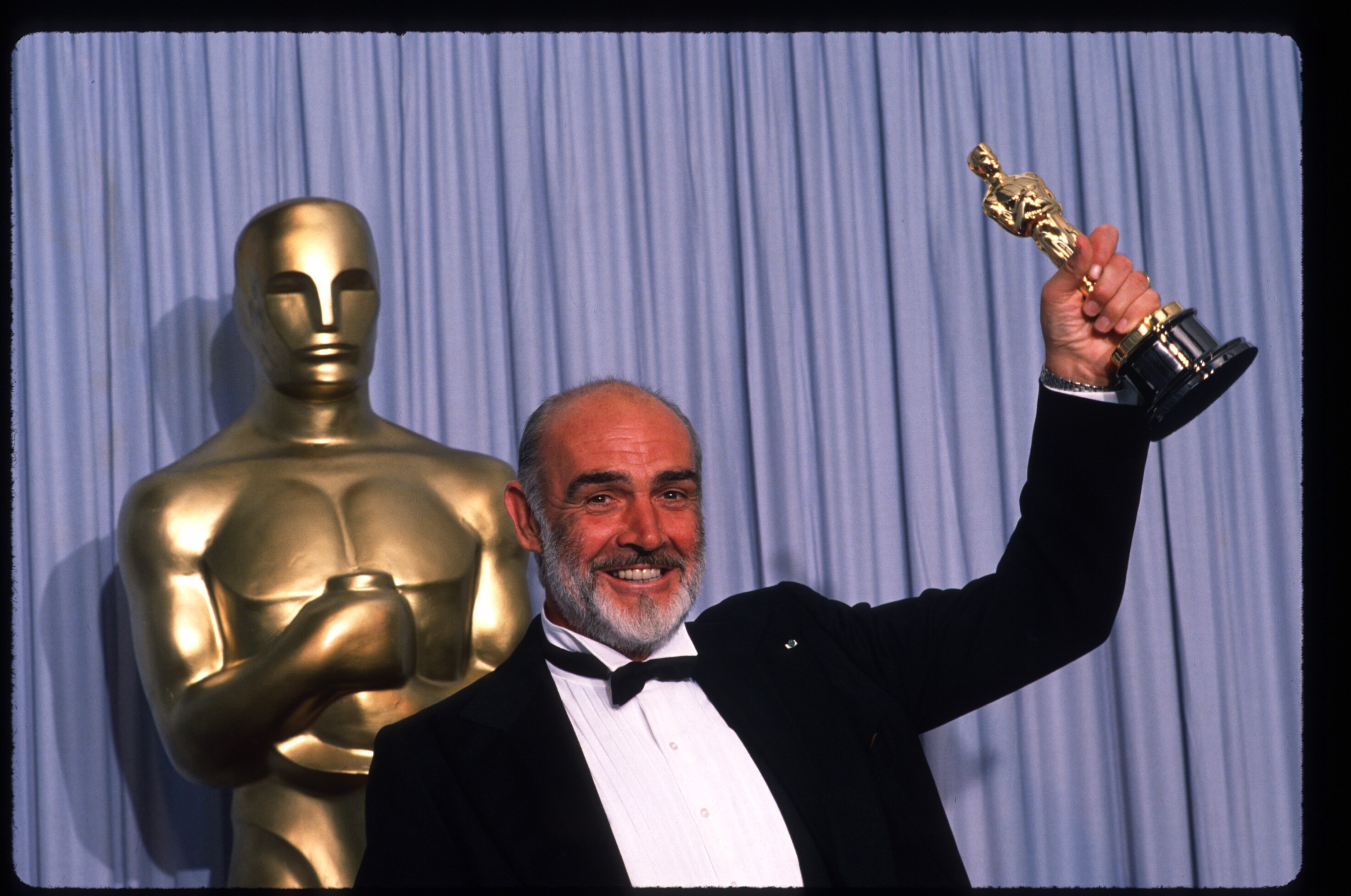 Sean Connery dead at age 90
The actor's death was announced on Oct. 31 by way of the official James Bond Twitter account.
The tweet read, "Sir Sean Connery has died at the age of 90. He was the first actor to play James Bond on the big screen in Dr. No in 1962, From Russia With Love, Goldfinger, Thunderball, You Only Live Twice and Diamonds Are Forever followed."
The franchise's producers Michael G. Wilson and Barbara Broccoli expressed their sorrow at the news and issued a statement saying, "He was and shall always be remembered as the original James Bond whose indelible entrance into cinema history began when he announced those unforgettable words — 'The name's Bond… James Bond.'"
What Connery thought of other Bonds in the iconic spy role
In a 1983 interview, Connery was asked to consider what the difference was between his performance as James Bond and that of Roger Moore's.
"I think it was just a different appetite, that's all. The fundamental difference is that I played Bond with reality, credibility and…some indigenous humor. And anything that happens is possible."
In Connery's view, Roger Moore handled the role almost in a more comical fashion, or as he put it, "as a sort of parody of the character."
"[Moore] would go for the laugh or the humor at whatever the cost of the credibility or the reality," he said. "I think that's just basically the difference."
As for Daniel Craig's portrayal of the Ian Fleming-created character, Connery in 2009 praised the latest Bond's handling of the role, saying simply "I thought he was fantastic, marvelous in the part."
When told that audiences overwhelmingly preferred him over other actors as the MI6 agent, Connery replied, in a most Bond-like manner, "Well, you can't fight intelligence."
Connery's Oscar win
In 1988, Sean Connery was awarded the Academy Award for Best Supporting Actor for his role in 1987 as Irish-American cop Jim Malone in The Untouchables. He starred in the film alongside Robert DeNiro, Kevin Costner, and Andy Garcia.
His costar Andy Garcia, at a 2006 American Film Institute tribute to Connery, shared a humorous anecdote about the actor's work ethic.
"So we got to the set and before we got dressed we were doing a rehearsal and Sean was dressed in his golf clothes in a pair of red polyester golf pants," he recalled.
Garcia went on that the actors discussed with director Brian DePalma several of the scenes and that Connery at one point went off to read the paper and then played several rounds of golf.
"He came back and worked for about five minutes after about 18 holes of golf," he said. "Me and [cast member Charles Martin Smith] grabbed him after his scene and said, 'That was very clever of you, you know, you came in you were already dressed for golf, you didn't even play the scene until the end of the day, you came in, you said one line, you walked off, they get a big close up of you, the scene is over…'
Garcia, imitating Connery's Scottish accent, concluded the story with Connery's airy response, "And he said, 'Well, it's not my first barbecue!'"