Sebastian Stan Is Teaching Anthony Mackie About Instagram and Its Famous DM Feature
Disney+ just released its latest in a string of trailers for The Falcon and the Winter Soldier. Marvel's newest series reunites heroes Sam Wilson and Bucky Barnes in a post-Avengers: Endgame world.  
Fans will get to see the pair join forces for a mission and to face off against Zemo, but off camera, Anthony Mackie and Sebastian Stan are tackling Instagram together.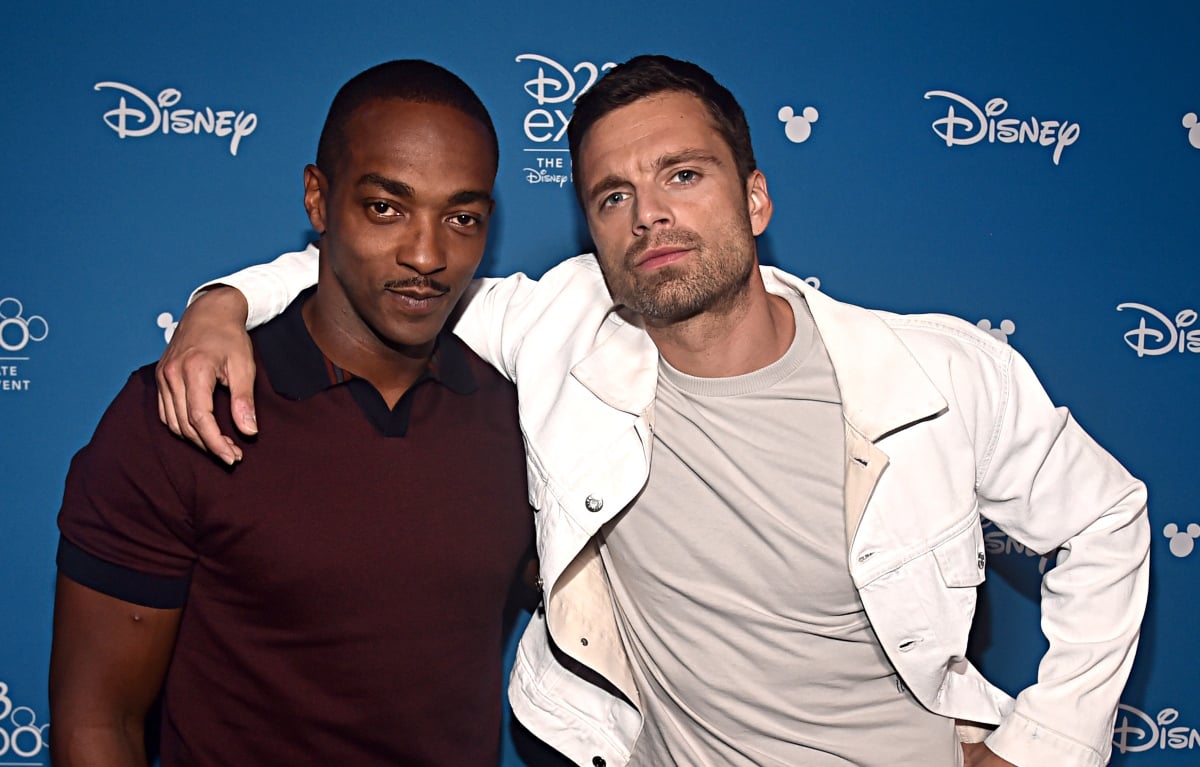 'The Falcon and the Winter Soldier' stars Anthony Mackie and Sebastian Stan are buds
It's been a minute since the dynamic superhero duo Sam and Bucky have been in the headlines, but in real life, Anthony Mackie and Sebastian Stan are friends. Their bromance has been discussed in the past, but for fans who are unaware, it all began with them hurling friendly insults at one another.
While filming Captain America: The Winter Solider, Mackie joked about Stan's wig flying off on its own and Stan made wisecracks about Mackie's calves. Thus, a friendship was born. These days, there's a running gag that Stan will always mention Mackie's thighs during interviews.
Their closeness is well-known, so it should come as no surprise that Stan is coaching Mackie on how to use some of Instagram's special features.
Anthony Mackie reveals what's going down in his DMs
In an interview with Dish Nation's Andrew Freund, Mackie and Stan hilariously discussed what's happening with them on Instagram. Apparently, Mackie is building up a new following and learning the ropes — with some assistance from Stan.
Freund asked what he's learned from his buddy so far, and Mackie replied, "I'm learning how to post. I'm learning what's interesting content. I'm learning what's a DM." Of course, that led to questions about what types of DMs he's receiving.
"I've been asked by more people for prom date requests and senior quotes," said Mackie. He added that Stan can verify his messages because he's seen them, and they're pretty free of thirst traps or marriage proposals.
"That's what I get. I get 16-year-old kids and they're like, 'Yo, can you send me some money to pay for school' or 'Can you give me a senior quote?'"
Mackie said someone invited him to a ninth grade prom, and he joked, "My DMs are un-slidable." At the time of this writing, he only has two posts on his Instagram account.
Fans can prepare for 'The Falcon and the Winter Soldier' on Disney+
After wrapping up WandaVision on March 5, Disney+ is launching season 1 of The Falcon and the Winter Solider on March 19. Over the course of six episodes, fans will get to see Bucky and Sam figure out their working relationship without Captain America in the picture.
Will they become besties or be standoffish co-workers? More importantly, will the duo cleverly take advantage of social media?
On another note, the series will welcome Emily VanCamp's Sharon Carter back into the story, someone who had a close relationship with Steve Rogers. She'll likely prove to be an asset to this pair of Avengers.
In the words of Sebastian Stan, prepare for "the odd couple."