'See Paris Die': Inside The Disturbing Viral 'House of Wax' Marketing Campaign Featuring Paris Hilton
Hilton thought the death scene was "cool." But the viral campaign may be even more memorable than the movie itself.
Paris Hilton is famous for doing a whole lot of things. But one thing you may have forgotten about is the time the famous hotel heiress died on screen in the 2005 horror movie House of Wax. We're taking a look back at her shockingly outdated, and yet still somehow effective, 2005 viral marketing campaign See Paris Die. 
Paris Hilton was at the top of her game in 2005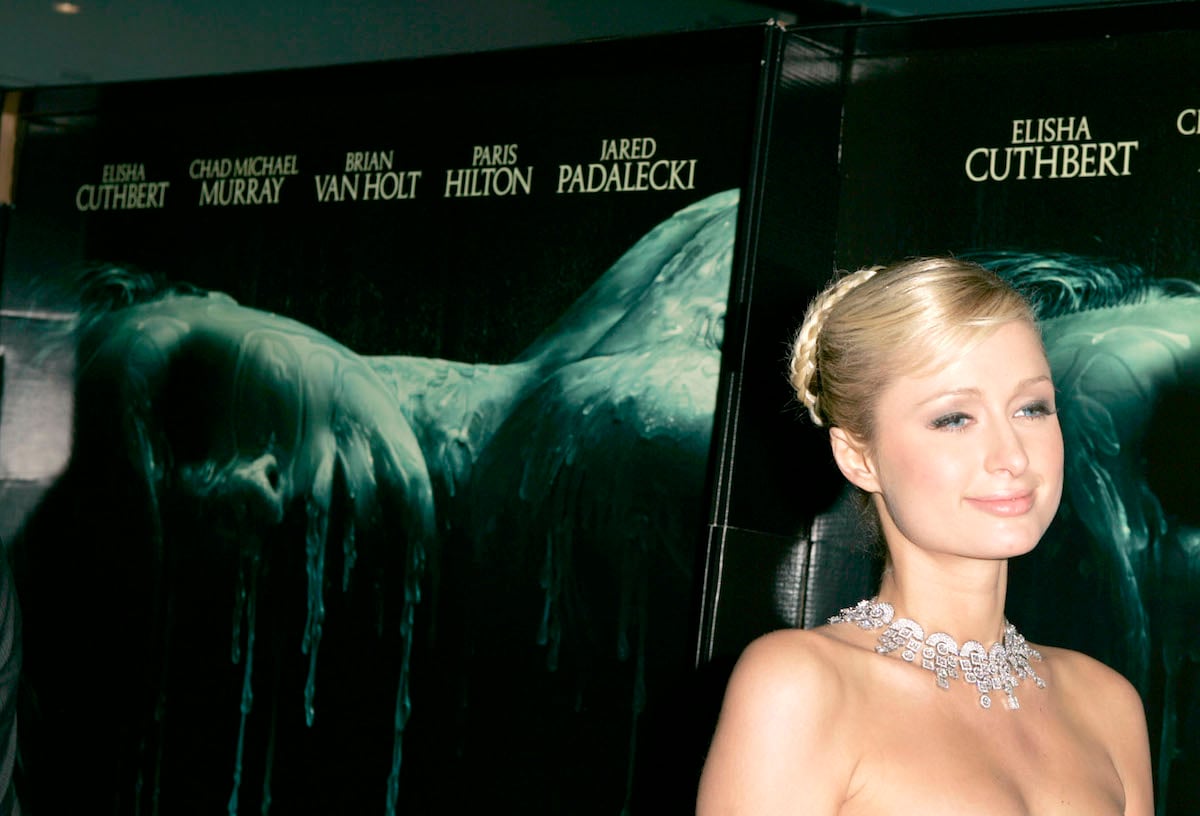 2005 was a big year for entrepreneur, heiress, socialite, and model Paris Hilton. Per her Wikipedia page, she starred in an infamous Paris Car Wash commercial for Carl's Jr. Moreover, she completed her third season of the Fox reality show The Simple Life with co-star Nicole Richie. 
Additionally, she released her second book, Your Heiress Diary: Confess It All to Me. She introduced a new perfume called Just Me. Finally, she hosted Saturday Night Live — an honor reserved for the most iconic pop culture figures. 
So the only logical thing left for her to do was star in a movie. Not surprisingly, she had that covered, as well. Slasher horror movie House of Wax hit theaters on April 26, 2005. Hilton starred alongside an ensemble cast of the hottest talent in the mid-2000s. 
Elisha Cuthbert, Chad Michael Murray, Jared Padalecki, Brian Van Holt, and Robert Ri'chard starred alongside Hilton. 
The 'House of Wax' co-star was a central part of the marketing campaign
The most recognizable and memorable image from the gory 2005 horror movie is that of an unmistakably recognizable Paris Hilton, lying on her side, face covered in dripping wax. Vaguely fetishistic, macabre, and somehow still greenishly beautiful, the image rose threateningly above Hollywood in a massive campaign to make the movie visible. 
The photo showed up in most of the major marketing materials for House of Wax. Furthermore, it remains the cover image you'll see on any DVD copy or poster. 
Paris Hilton's presence in the movie was no accident. Her pop culture relevance at the time was nearly unmatched. And although Twitter and Tik Tok weren't yet "a thing," she became the center of one of the most diabolically ingenious viral marketing campaigns in the history of horror movies. 
See Paris Die was Warner Bros. effort to make the very most of Hilton's time onscreen as Paige Edwards, the unfortunate pregnant teen who's too afraid to tell her boyfriend Blake (Ri'chard) the news. The campaign made the death of Paris Hilton's character the main event. Moreover, she became a part of the living pantheon of horror movie tropes.  
The movie's official tagline of Prey. Slay. Display was also pretty horrifying. And both were effective. The horror movie remake was a success, banking $70 million worldwide against a $40 million budget. Not bad for an early effort by Jungle Cruise director Jaume Collet-Serra. 
Still, it's difficult not to wince when looking back. Was it a misogynist take on the life of a powerful woman? Was it indeed a reflection of what the public wanted it to see? Without question, it was in bad taste. However, it worked because we still remember it. 
Paris Hilton enjoyed the shocking tongue-in-cheek campaign
For her part, Hilton didn't seem to mind the attention the public gave to her stunningly gory death. For the uninitiated, it involves a spear and Paris Hilton's famous head. And surprisingly, the actor said she liked it. 
"I thought it was the coolest death scene," Hilton told Hollywood.com in a May 2005 interview. "It's really awesome. I cheered! It was dope."
But it wasn't all fun and games. Hilton similarly spoke to IndieLondon at the time, admitting that she fears her own death. "Yes, it's scary," she said. "I couldn't see it by myself. And it was a very scary movie to shoot. Part of the set even burnt down at one point. In real life, I'm scared of bugs. And I'm also scared of dying." 
Paris Hilton's laundry list of fears, however, needn't include dying. The recently married star will certainly live on in her memorable 2005 movie campaign for House of Wax.