'Seinfeld' Fans Freak Out Over Sad Reality That Jerry's Apartment Literally Couldn't Exist
The hit NBC sitcom Seinfeld may have been based on real life. However, that doesn't mean it was realistic by any stretch. Most of the events on the long-running comedy were intentionally over the top to draw the maximum number of laughs.
Seinfeld fans were happy to suspend their disbelief for basic storylines on the series. But recently, those same viewers were devastated to realize that Jerry Seinfeld's apartment literally could not exist in real life. Here's why it's a physical impossibility, not to mention financially prohibitive.
Jerry Seinfeld's apartment was a main setting on the sitcom 'Seinfeld'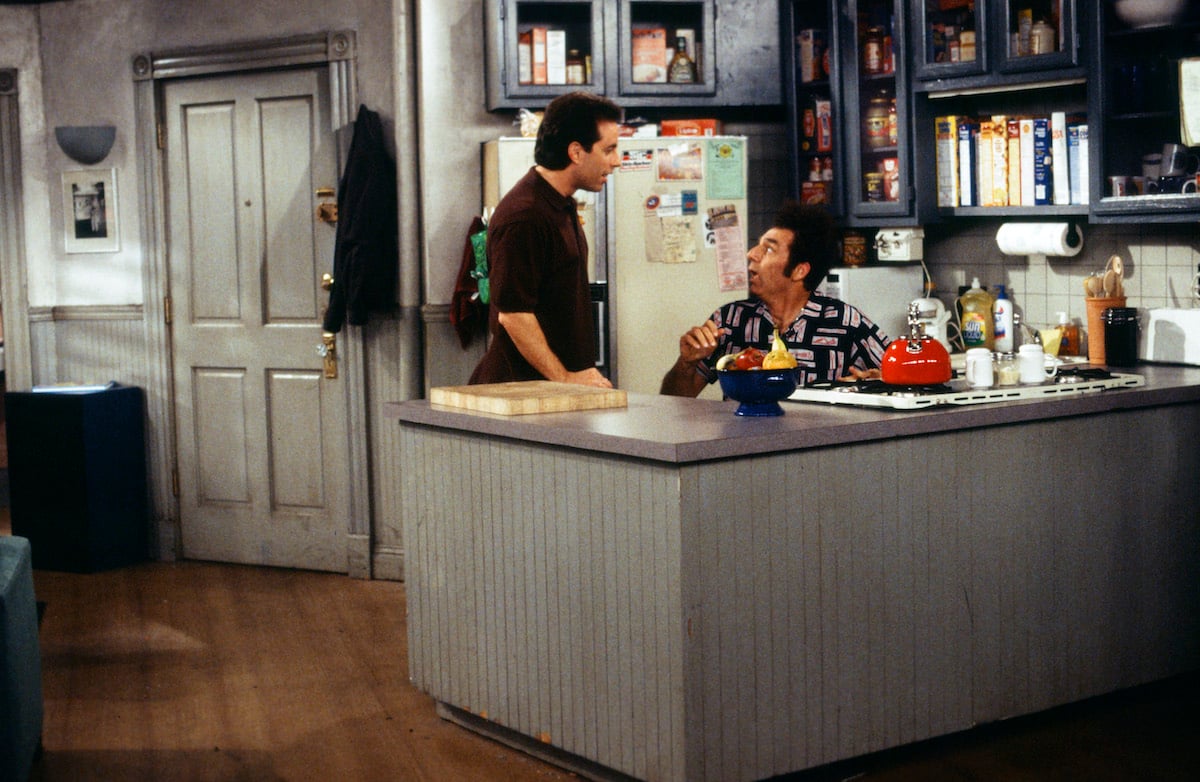 Even casual viewers are familiar with Jerry's apartment on Seinfeld. From the bike hanging on the wall to Kramer's tendency to burst in the door at any moment, his apartment served as a classic backdrop for all the action on the show.
And like with other TV shows, it wasn't realistic that he lived there. Jerry was a stand-up comedian but somehow was able to afford a spacious place with an Upper West Side address. That's saying nothing of Kramer's apartment, which was equally unrealistic from a financial perspective.
Jerry was far from the first fictional character living beyond his means with no logical explanation. That fact has been glossed over for years. Now, fans are especially devastated to learn that the apartment is a physical impossibility as well.
A Reddit user discovered that the 'Seinfeld' apartment couldn't exist
Jerry's apartment wasn't really located in New York — it was constructed as a set in Los Angeles. But based on the angle of the entry door and the hallway location, plus the orientation of the kitchen, it couldn't actually exist as an apartment in real life with that layout. The angle of the hallway would obstruct the kitchen. One Reddit user created an entire thread devoted to discussing this topic.
Set designers undoubtedly built the set that way to create an open floorplan that was perfect for filming Jerry, Elaine, George, and Kramer interacting in various spots throughout the room. They probably didn't count on anyone realizing the apartment was unrealistic from a layout perspective.
The layout wasn't the only weird thing about Seinfeld's apartment
Hallway orientation issues aside, it's unlikely that Jerry would have been able to afford such a nice apartment in the city, even in the '90s.
Esquire reported that a comparable Upper West Side location at that time would cost around $2,560 per month, which is like paying $4,646 in today's money. That's a whole lot to be spending on housing with just a comedian's salary.
And that's saying nothing of Kramer's situation. Jerry's overly familiar across-the-hall neighbor would have been facing similar rent prices and he was even less gainfully employed than Jerry. Overall, the situation on Seinfeld included elements of real life but was never meant to be taken literally.
Fans who got upset about Jerry Seinfeld's apartment should just enjoy the show for the timeless humor and nonstop laughs. Who needs an impractical hallway for that?