'Seinfeld': Julia Louis-Dreyfus Describes the 'Reality Slap' the Cast Got After Going Unrecognized in NYC
Seinfeld remains one of television's most iconic sitcoms. Launching Jerry Seinfeld (Jerry), Julia Louis-Dreyfus (Elaine), Jason Alexander (George), and Michael Richards (Kramer) into stardom, the four cast members are continually seen as their characters despite the show going off the air in 1998.
Though each actor is now a household name, Louis-Dreyfus revealed that they weren't treated with celebrity status one day in New York City.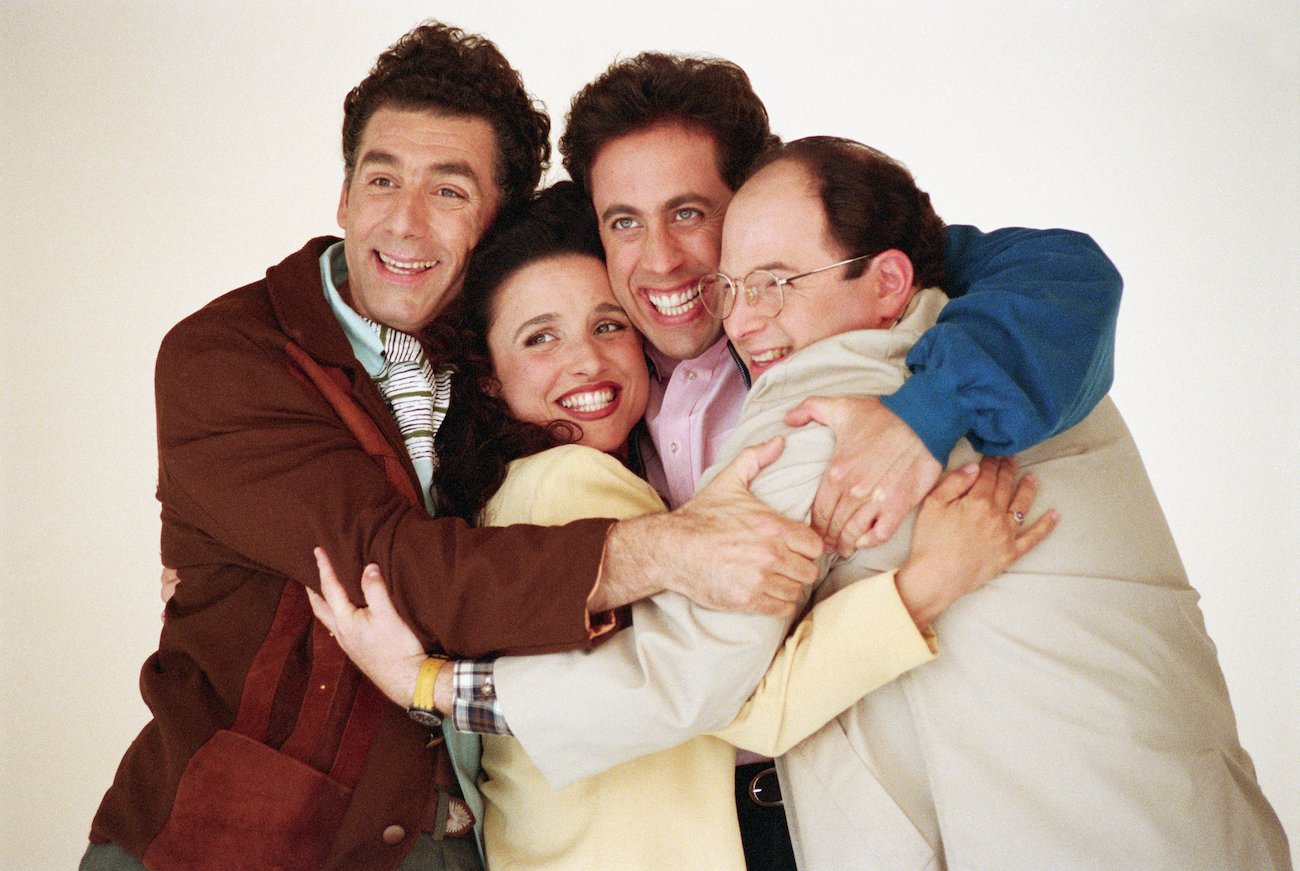 Julia Louis-Dreyfus remembers lots of laughs on 'Seinfeld' set
Apparently viewers weren't the only ones laughing at the many episodes of Seinfeld. According to Louis-Dreyfus, even the show's namesake had a hard time keeping a straight face.
"(The cast) got a huge kick out of it," the multiple Emmy winner said, as reported by Variety. "Jerry's laughing the whole time. I mean he can't act at all and so he's got a huge smile on his face when anyone is saying anything."
The Veep star often blew her lines by laughing during a scene due to its hilarious dialogue. Sometimes even just a facial expression would set Louis-Dreyfus into giggles.
"If I looked at [Seinfeld] and saw him doing that, then I would (crack) up, she revealed. "Anyway, it took a long time to shoot those things because I was ruining all the takes. And so that was my favorite thing."
'Seinfeld' remains a fan favorite
Though the sitcom ended over 20 years ago, Seinfeld is still a top pick on syndication and streaming services. Starring on the show greatly impacted the careers of the four cast members.
"Seinfeld came and opened up this whole new world of recognition, of financial security," Alexander told Variety in 2018. "It opened doors to other opportunities that I might never have gotten … I am welcomed everywhere I have ever been like long-lost family. "
Richards noted how his he is still identified as his Seinfeld character on literally a daily basis.
"Every time I go out – it's every day – I hear about the show, because it's running all over the world and here in this country," the Seinfeld alum shared. "People still watch it. I'm reminded of it every day. … Twenty years goes by, but it's still 'Hi, Kramer!' And it's always a good cheer and a tip of the hat my way for how much they love this character and the show."
New Yorkers don't get starstruck by 'Seinfeld' cast
Louis-Dreyfus was asked in an interview if she ever realized the phenomenon Seinfeld would become. The Emmy winner revealed that while juggling her shooting schedule and two small children during the show's nine-season run, she didn't have much time to consider the legacy Seinfeld would leave.
"I wasn't thinking about how mammoth this thing was that we were creating," Louis-Dreyfus told the Television Academy in 2013. "I think it's all sort of become even more so after it was on the air, because it had sort of a quality to it when it was no more."
The four cast members started making headlines shortly after Seinfeld's debut and even landed a cover on Rolling Stone magazine in 1993. While the co-stars realized they were now on the Hollywood map, Louis-Dreyfus recalled a time in Manhattan when the foursome went surprisingly unnoticed.
"We were all in New York, and it was like post-photo shoot and we decided we'd all go out to eat," she explained. "We went to some restaurant on Columbus, I think, at 81st Street. And we were sitting there, we sat outdoors. We thought, 'This is gonna blow New York's mind because the four of us are just sitting here on Columbus Avenue. People are gonna s*it when they see this.'"
Not so much. Louis-Dreyfus went on to share that the massive majority of New Yorkers walked right by their table, unimpressed. Yet the actor considered the humbling moment as keeping her grounded and reminded her of her good fortune.
"One person came up to us through this whole time we were eating," Louis-Dreyfus said. "A homeless person who had no idea who we were and was just asking for a buck. So, it was a lovely reality slap."