'Seinfeld': Julia Louis-Dreyfus Thought Elaine Was 'Nuts' With a 'Self Esteem Problem'
Actors get the chance to step into someone else's shoes day after day, and in the case of television stars, they may end up playing the same character for years on end. Through this process, many actors gain a deep understanding of their character's motivations, qualities, and flaws. Some grow to love the fictional characters they portray, but others find that getting to know the role so intimately comes with a hatred for the part. 
While it wouldn't be fair to say that Julia Louis-Dreyfus hates Elaine, the actor — who portrayed the character on Seinfeld for its entire 9-season run — definitely saw the flaws.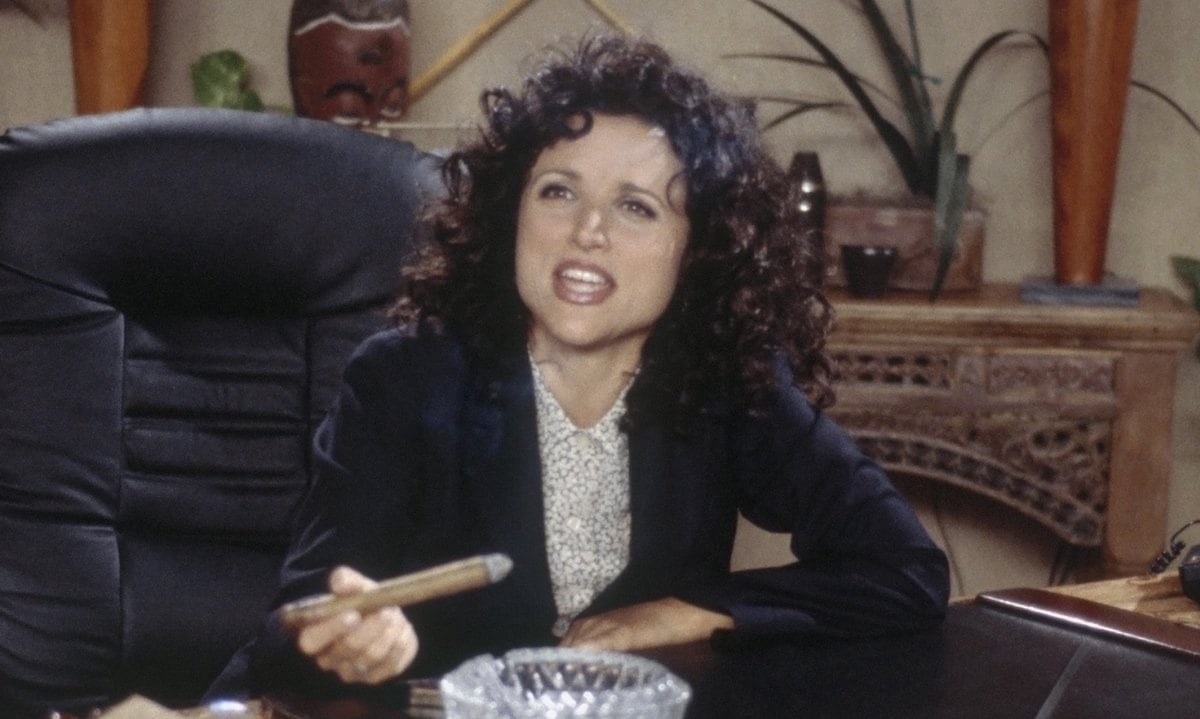 'Seinfeld' remains wildly popular years after its conclusion
Seinfeld premiered in 1989 and baffled audiences with its seemingly non-existent hook. What was the show about? Well, some argue that it is a show about nothing, but creator Jerry Seinfeld takes issue with that interpretation.
Seinfeld — the writer and starring actor from the series — saw the show as a place to build out his stand-up comedy into a sustained universe. He took the situational and the mundane and turned it into humor through witty one-liners and absurd scenarios. 
To do this, Seinfeld centered around the day-to-day lives of four friends living in New York City. Seinfeld plays a fictionalized version of himself, and Jason Alexander plays George Costanza, Jerry's best friend since middle school. Michael Richards shines as Cosmo Kramer, Jerry's neighbor who bafflingly has no means of support and seems to drift from scheme to scheme. 
The character rounding out the comedic quartet is Elaine Benes.
Julia Louis-Dreyfus played Elaine Benes
These days, Louis-Dreyfus is an award-winning comedian known for her influential roles on series like Veep and films like Deconstructing Harry. Louis-Dreyfus got her big break when she was cast as Elaine Benes on Seinfeld.
Prior to the part, Louis-Dreyfus had some small roles in films like Trolls (1986) and Soul Man (1986). Her television work included a recurring arc on Day by Day, a short-lived comedy about a couple who give up their powerful careers to run a daycare. 
Taking on the part of Elaine was a huge boost to Louis-Dreyfus' career, and the role certainly helped define her comedy in the public eye. She's close friends with Jerry, who is actually an ex-boyfriend. The character wasn't in the original pilot for the series, but network executives felt the show was too male-centric and insisted that a female character be added into the mix.
Seinfeld followed instructions, but the woman they added certainly didn't fit any stereotypes of being quiet and reserved. Elaine is loud and in-your-face, and fans loved it. 
Julia Louis-Dreyfus says Elaine is 'nuts'
While Elaine is certainly a fan-favorite character who left a memorable impression on the Seinfeld audience, Louis-Dreyfus had some choice words about her fictional counterpart. Talking to New York Magazine way back in 1998, Louis-Dreyfus had this to say about Elaine: "She's nuts. The woman's nuts."
Louis-Dreyfus did cultivate some empathy for her character, who is notoriously neurotic and quick to anger. "I'm sure it's a self-esteem problem. I mean, she's hanging out with these three guys, in that ratty apartment – where's the self-esteem there?" Louis-Dreyfus continued.
She also had some thoughts on how Elaine could get the help she needed to have more positive interactions with the world: "Elaine should be looking for an analyst, is what she should be looking for."
As for the men who find Elaine's brash and outspoken style alluring, Louis-Dreyfus had some thoughts on them, too. "If you hear a man say he's looking for an Elaine-type woman," Louis-Dreyfus explained, "run in the opposite direction of that man. I am not kidding. Run! That man is a moron."