'Seinfeld': Some of Jerry Seinfeld's Girlfriends Were Terrified to Come on the Show — 'Jerry, I'm So Nervous!'
It wasn't too long ago that every comedy actor dreamed of getting a guest spot on Seinfeld. The award-winning NBC sitcom was a national sensation, with top ratings and tons of bragging rights. Plenty of contemporary actors made cameos on the show. And the women often came on as love interests for Jerry Seinfeld.
Seinfeld was good at telling jokes but didn't have such a fantastic track record with women. His romantic failings meant plenty of actors got the chance to appear opposite him on the series. However, some of these women were often intimidated by the opportunity to appear on Seinfeld.
'Seinfeld' wasn't really a show about nothing
Seinfeld became a hit because it was unlike any other scripted comedy that came before. While most shows relied on elaborate plots, Seinfeld explored everyday situations that seemed too mundane to be turned into episodes.
The idea came to Seinfeld while walking around New York with his friend and fellow comedian, Larry David. It wound up becoming one of the most lucrative decisions of their lives.
"[David] said, 'You should do a show like this,'" Seinfeld recalled. "I go, 'Yeah, that would be fun. Let's do a show like this. Two comedians. Nothing to do. Walking in and out of places in New York. Talking about stuff.' That was it."
Some guest stars were intimidated to appear on 'Seinfeld'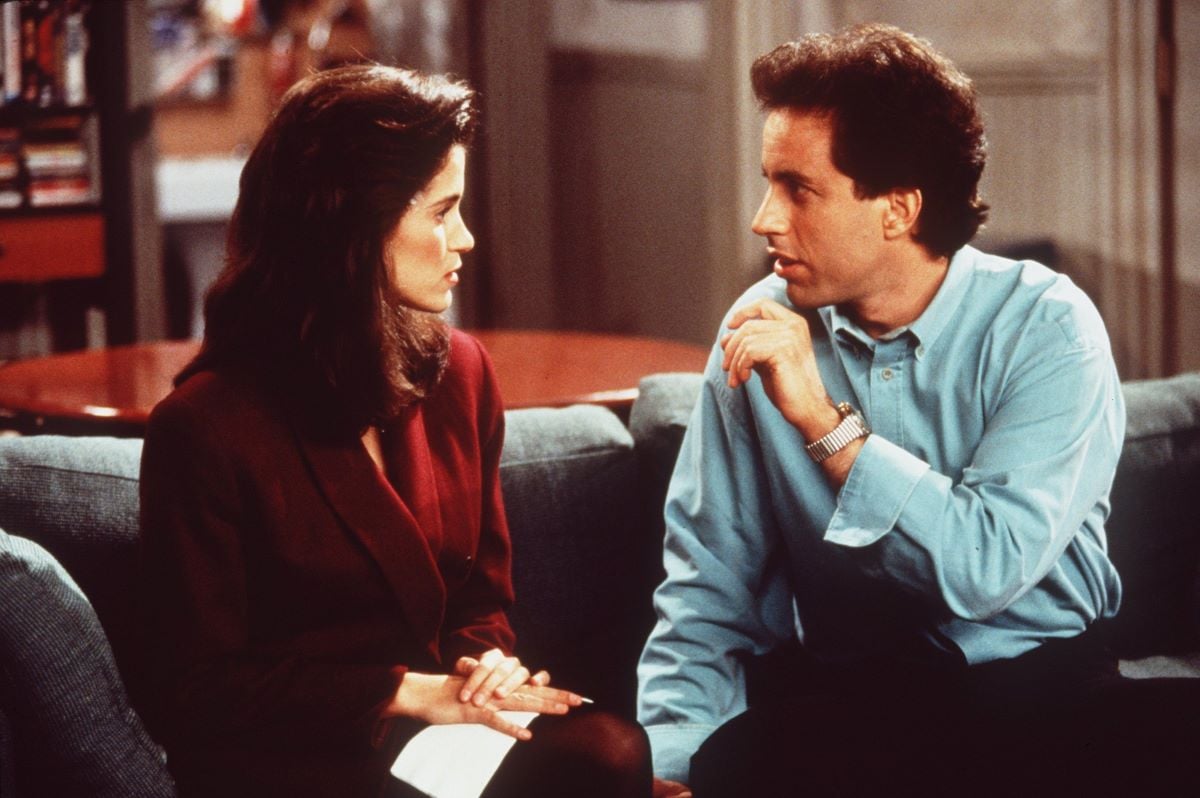 RELATED: 'Seinfeld' Creators Never Thought 'The Contest' Would Get Past Censors But They Omitted 1 Crucial Word
While many actors wanted the chance to appear on Seinfeld, they were also nervous about the prospect. One of the major concerns was performing in front of a live studio audience, which wasn't always the case for pre-recorded sitcoms.
"I'd done theater, I'd done TV, but I'd never done a sitcom where you have a live audience while you're being filmed," actor Kristin Davis explained, according to The Things. "So when we shot a few things without the audience, I was nervous, but I was holding it together relatively well. Then came the day when the audience comes in, and I said, "Jerry, I'm so nervous!'"
As expected, Seinfeld made a joke about it "So when they're about to call action, Jerry just says to me, 'Don't be nervous. There're just 37 million people watching,'" Davis recalled. "Then between every take, he'd whisper, '37 million people!'"
Everyone knew how important 'Seinfeld' was
Jennifer Coolidge remembers preparing for the audition and panicking about her wardrobe. "I didn't even have decent clothes to audition in. I didn't have any flattering outfits," she said. "So I went to this store, and there was a mother and daughter who worked in the store. I said, 'I'm auditioning for Seinfeld tomorrow.' And they were like, 'Oh, honey, you've got to wear better clothes than what you're wearing.'"
She apparently picked the right outfit, because Coolidge got cast in "The Masseuse."
Other guest stars including Janeane Garofalo said the cast helped make everyone feel comfortable, even though they were technically outsiders. "I was terribly nervous, but Jason Alexander was so nice to me. I think he felt my fear," the comedian said.
In the end, starring on Seinfeld was worth the nervousness. It was a great honor for any actor to say they participated in one of the most famous sitcoms ever made.