'Seinfeld': The Iconic 'Puffy Shirt' Sold for a Ridiculous Amount of Money
In a post-Seinfeld world, many of the show's most memorable quotes, scenes, and items are seeing a resurgence. Maybe it's thanks to the coronavirus (COVID-19) pandemic or the fact that Seinfeld never goes out of style, but new fans have only just met the legendary "puffy shirt." Here's what happened to the item when the show ended.
Jerry Seinfeld donated the puffy shirt in 2004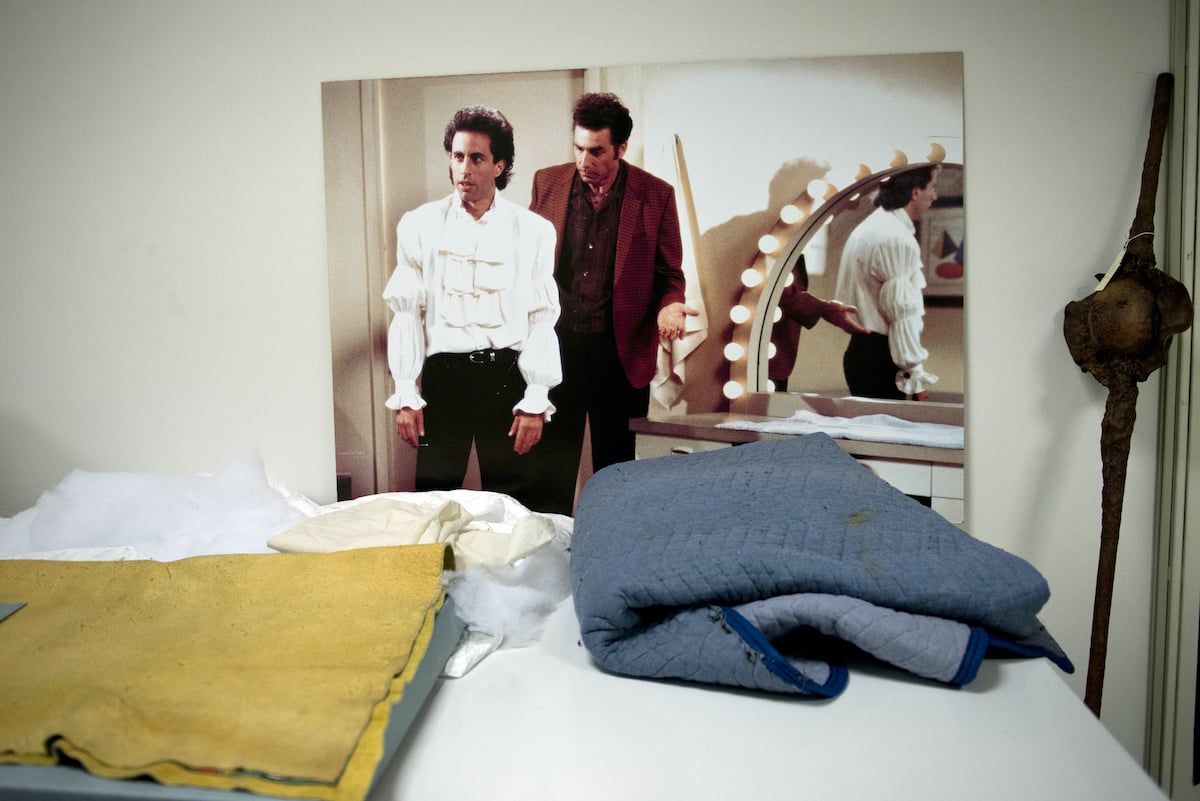 The season 5 of Seinfeld, "The Puffy Shirt," scored co-creator Larry David an Emmy nomination for writing. He lost to the writers of Frasier but the shirt lives on in TV history.
In the episode, Seinfeld agrees to wear the shirt for his appearance on The Today Show. Thanks to Kramer's (Michael Richards) low-talking fashion designer girlfriend, Seinfeld didn't know what he agreed to until it was too late. Many remember him uttering the phrase, "But I don't want to be a pirate!" to Elaine (Julia Louis-Dreyfus).
The show ended in 1998 and has played in syndication ever since. For a show about "nothing," Seinfeld remains eerily relevant. In 2004, Jerry Seinfeld donated the shirt to the Smithsonian Institution in Washington.
Currently, the museum is closed due to COVID-19 and the shirt is not available to view.
The shirt became available for auction and sold for an incredible amount
Years later — in 2017 — the shirt was put up for auction through Profiles in History. The auction also included "hundreds of props, costumes, and other memorabilia from a wide range of Hollywood productions," according to Beckett.com.
"Without question, the "Puffy Shirt" is the most identifiable garment worn in the series. Jerry Seinfeld, himself, recognized its significance and personally donated one of the three shirts to the Smithsonian's National Museum of American History. In production used fine condition. Comes with an LOA from the costume company that rented the shirt to the production," the website described the item.
Bidding began at $10,000 and the shirt sold for $45,000, plus applicable fees and taxes, to a Calabasas, California resident.
The puffy shirt lives on in entertainment history
For an episode to be remembered decades later is quite the feat — let alone, a miscellaneous item from an episode. In 2016, Bryant Gumble revisited "The Puffy Shirt" during a Halloween visit to The Today Show. Former co-anchor Matt Lauer dressed as Seinfeld in a similar-looking shirt.
There are costumes specific to the puffy shirt and everything it represents, proving Seinfeld was more than a TV show — it was a statement.
"The museum collected artifacts from the show Seinfeld because the show was such a defining moment in American TV comedy and American culture," curator Dwight Blocker Bowers said about the shirt's status.
"I remember telling Jerry Seinfeld that the essence of the show was him and his humor. Short of taking him to a taxidermist and having him conserved for the collection, the puffy shirt, of the precious little material culture that remained from the show, gave a sense of the slightly absurd brand of comedy that was featured on the show."