Selena Gomez Teases a Possible Taylor Swift Collaboration
For years, Selenators and Swifties have practically begged Selena Gomez and Taylor Swift to collaborate on a song. And, it may very well be happening...
For years, Selenators and Swifties have practically begged their faves, Selena Gomez and Taylor Swift to collaborate on some music. Now, it seems that the day could come sooner rather than later. The long-time besties have been friends for over a decade and are highly-supportive of each other's music careers. However, to date, they have yet to collaborate. But, that may just be on the horizon.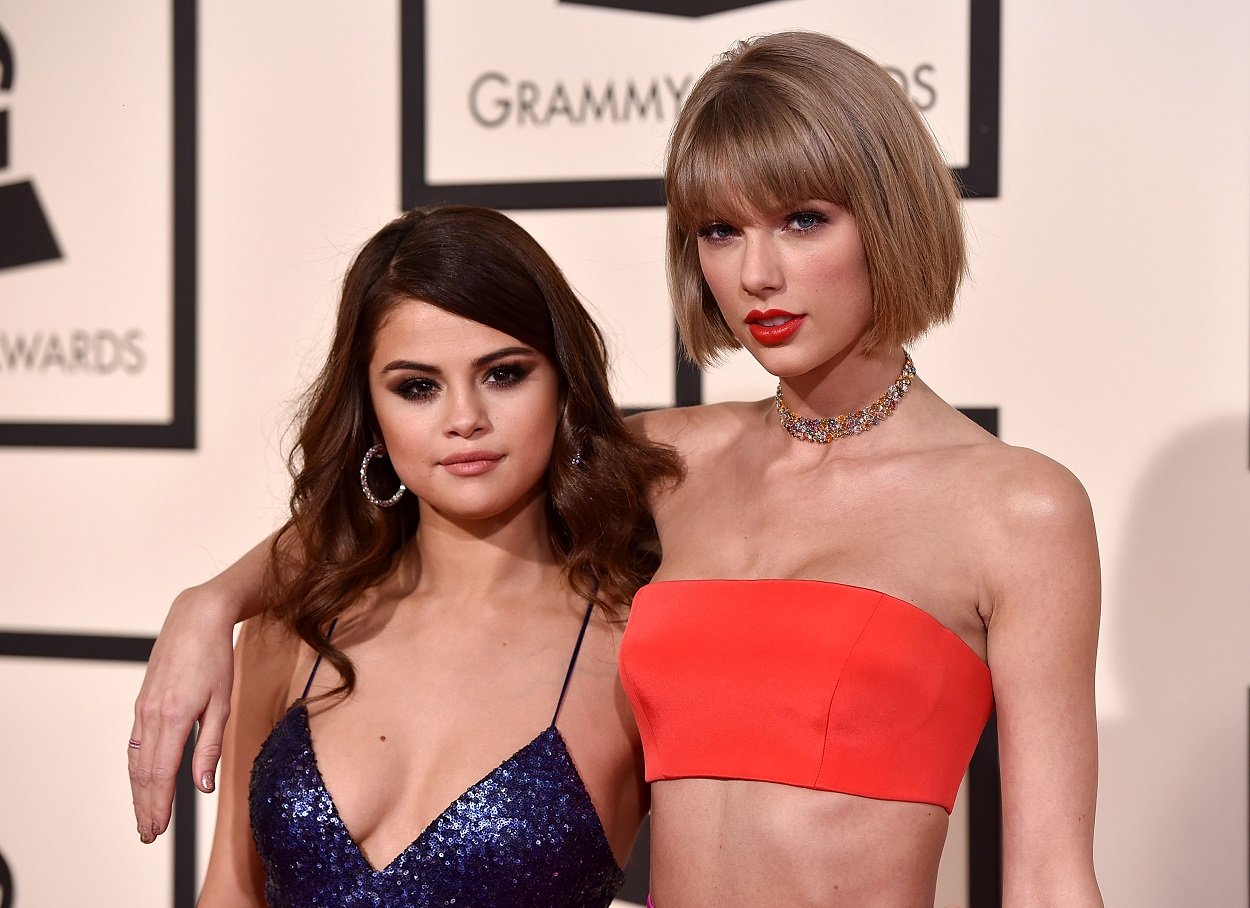 Swift and Gomez first met when they were dating the Jonas Brothers. The "Look At Her Now" singer was dating Nick Jonas whilst the folklore artist was dating his older brother, Joe Jonas. Although those relationships fizzled out, Swift and Gomez formed a strong bond and cultivated a friendship that persists to this day.
Selena Gomez and Taylor Swift have been best friends for years
Gomez and Swift have always supported one another's music ventures. Just recently, the 28-year-old championed Swift's latest album, folklore. Swift also gushed over Gomez's most recent album, Rare. Furthermore, the pair always give each other sneak peeks of their music. Gomez played the "Lose You To Love Me" video for Swift and her mom, Andrea Swift, prior to its release. Gomez was also one of the very first people to hear Swift's sophomore album, Fearless, in its entirety.
Swift and Gomez have even shared the stage together multiple times. Swift has a tradition of surprising her audience by bringing out Gomez for a song or two during one night of her tour. Most recently, the pair performed Gomez's song, "Hands To Myself" during one night of Swift's Reputation tour. Of course, the friendship between the two women extends far beyond career support. In fact, Gomez admits that much of her friendship with Swift isn't publicized.
The 'Rare' singer opens up about her friendship with the 'folklore' artist
"There's so much of my friendship with Taylor that people don't know about because we don't necessarily feel the need to post about everything we do," Gomez shared in an interview with WSJ Magazine. "She has shown [sic] up for me in ways that I would have never expected. Flown in because I was hurt and was going through something. Stuff that was going on with my family. It's been proven year after year and in every moment of my life that she is one of my best friends in the world. We don't agree on everything, but we respect each other with everything," the actor shared.
One thing that the singers can agree on is that they want to collaborate musically. In a recent interview with Animal Talking With Gary Whitta, Gomez revealed that she and Swift have wanted to collaborate for quite some time. "I've always dreamed of doing a song with Taylor," the "Souvenir" singer shared. "We both wanted to do that…. We've talked about it, for sure."
Gomez and Swift want to do a song together
Gomez continued on to stress how close she is to Swift. "It just feels like we're family, I've known her for 13, 14 years now," the actor added. When Whitta implied that a collaboration was bound to happen sooner rather than later, Gomez replied with a coy "You never know…" As Gomez is currently working on new music, we wouldn't be surprised if Swift showed up on a track sooner rather than later. It's clear that both women are capable of surprising and delighting their fans. And if ever there was a need for delightful surprises, 2020 is absolutely the year.