'Selling Sunset': Chrishell Stause Teases 'Messy' Season 4 Drama With Christine Quinn
Chrishell Stause revealed that Netflix's Selling Sunset viewers need to buckle up because her clash with Christine Quinn will get messy during season 4.
She said Quinn thrives on drama, but "I'm the kind of person that [the drama] gives me such anxiety, and I really want to enjoy coming to work," she said on the Not Skinny But Not Fat podcast. Adding, "There's so much stuff that goes on behind the scenes, you know. It's just one of those things that just so much has happened."
Chrishell Stause and Christine Quinn won't be hanging out after 'Selling Sunset' wraps
Stause didn't get specific but hinted, "We're probably not going to be hanging out as soon as the cameras are down," she remarked. Quinn told US Weekly in early June she hadn't "seen Chrishell in a really long time."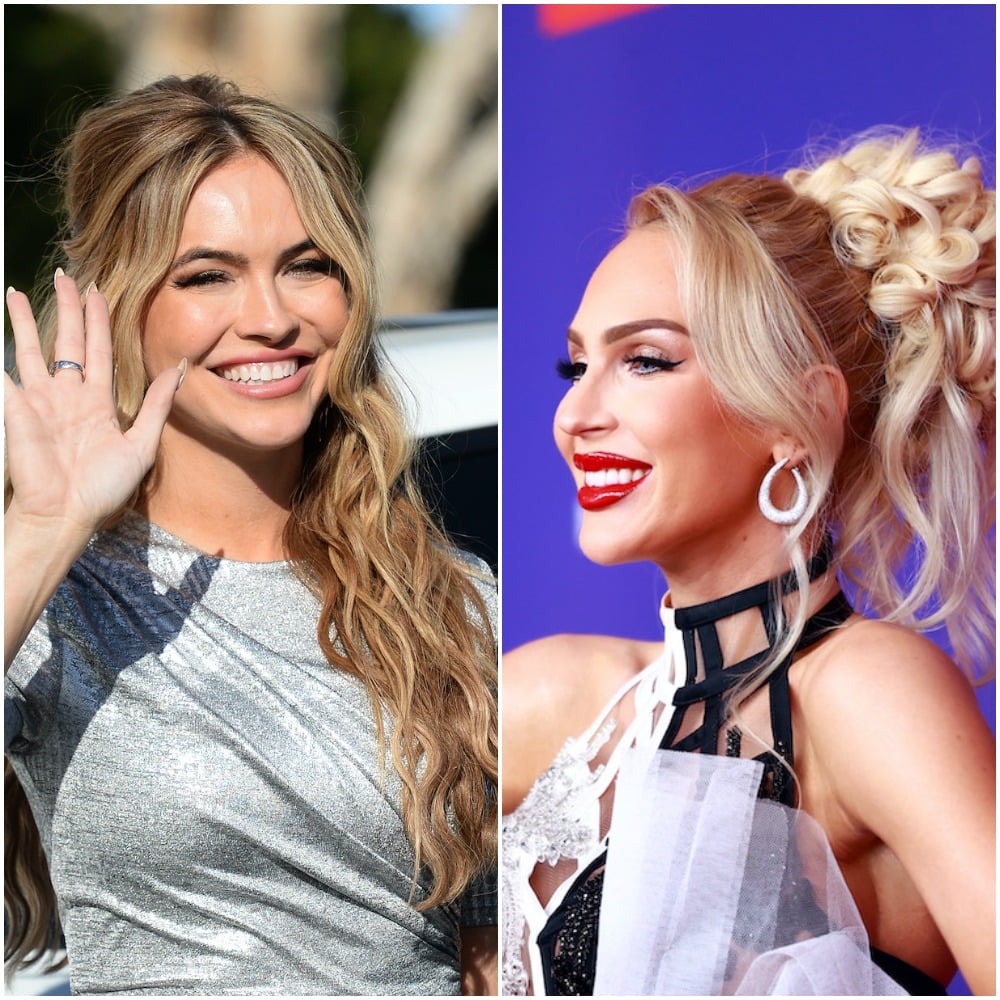 "We don't really talk that much," Quinn said about Stause to E!. "We're, as she would say, we coexist. We coexist in the office. But I have amazing new friends, new cast members on the show, so I'm excited to work with them and film with them." 
Stause also added during her podcast appearance, "I don't know what's making her do some of the stuff she does. Christine has that edge where if anything is given to one person and not her, it's going to be an issue."
Mary Fitzgerald says Chrishell Stause and Christine Quinn simply avoid each other
Mary Fitzgerald, a close friend of Stause, said Quinn and Stause simply go out of their way to avoid one another. Quinn and Stause recently sat close to each other during the 2021 MTV Movie and TV Awards: Unscripted, but they managed to keep it drama free.
RELATED: 'Selling Sunset': Mary Fitzgerald Teases Why RHOC's Braunwyn Windham-Burke Could Be Featured on Season 4 (Exclusive)
"There was some friction, so they probably didn't want to have anything happen," Fitzgerald told Page Six. "It was probably for the best. Chrishell and Christine just try to stay away from each other." She added that drama between the two after Selling Sunset filmed was also easy to avoid. "Unless we made an effort, some of the girls didn't come to the office, so we haven't really had to interact that much since filming," she said. Quinn was pregnant during the pandemic, and some of the brokers didn't visit the office due to coronavirus (COVID-19) protocols.
Christine Quinn also stirred the pot saying Brett Oppenheim was leaving The Oppenheim Group
Fitzgerald also told Showbiz Cheat Sheet that Quinn stirred the pot about Brett Oppenheim leaving The Oppenheim Group to start his own firm. She said the rumor was completely false. "There's not really that much of a split, to be honest," she told Showbiz Cheat Sheet in April. "I think it kind of got taken out of context. I don't know who said it, I think Christine [Quinn] or somebody said that they split up and they're going to move over to [Brett Oppenheim]."
"There was a bunch of stuff and none of that is true," she said. "I'm not really sure of how that came up. But, there was not really much of a split. [Brett Oppenheim] is just hanging his license differently because he's a broker as well. And just for the sake of their relationship, he's just using his own license because they were just having arguments and stuff about like with clients and commissions and stuff like that."
RELATED: 'Selling Sunset' Season 4: Chrishell Stause Reveals Fall Premiere Date, Says New Episodes Will Be Better Than Ever (Exclusive)