'Selling Sunset' Season 4: Chrishell Stause Reveals Fall Premiere Date, Says New Episodes Will Be Better Than Ever (Exclusive)
Chrishell Stause from Selling Sunset spilled about the new season, revealing that season 4 will premiere on Netflix this fall. She dished details about relationships, her new home purchase, why the season took so long to film and why she is turning to IHOP pancakes for support.
"I think I'm allowed to say we're coming to your screens this fall," she laughed during an interview with Showbiz Cheat Sheet. "So people won't have to wait too much longer." She added that while the wait was longer than usual, the new season will be "worth it," adding, "this season is going to be better than any season!"
Why did 'Selling Sunset' take longer to film?
New seasons of Selling Sunset typically stream in the summer, but like many productions, the series paused due to the COVID-19 (coronavirus) pandemic. Stause said the new season will be jam-packed with action, COVID bringing its own kind of drama.
"It was crazy," she said. "We couldn't do open houses anymore, which is something that is such a mainstay in our industry. So it really changed things." Always the optimist, Stause views some changes as being positive.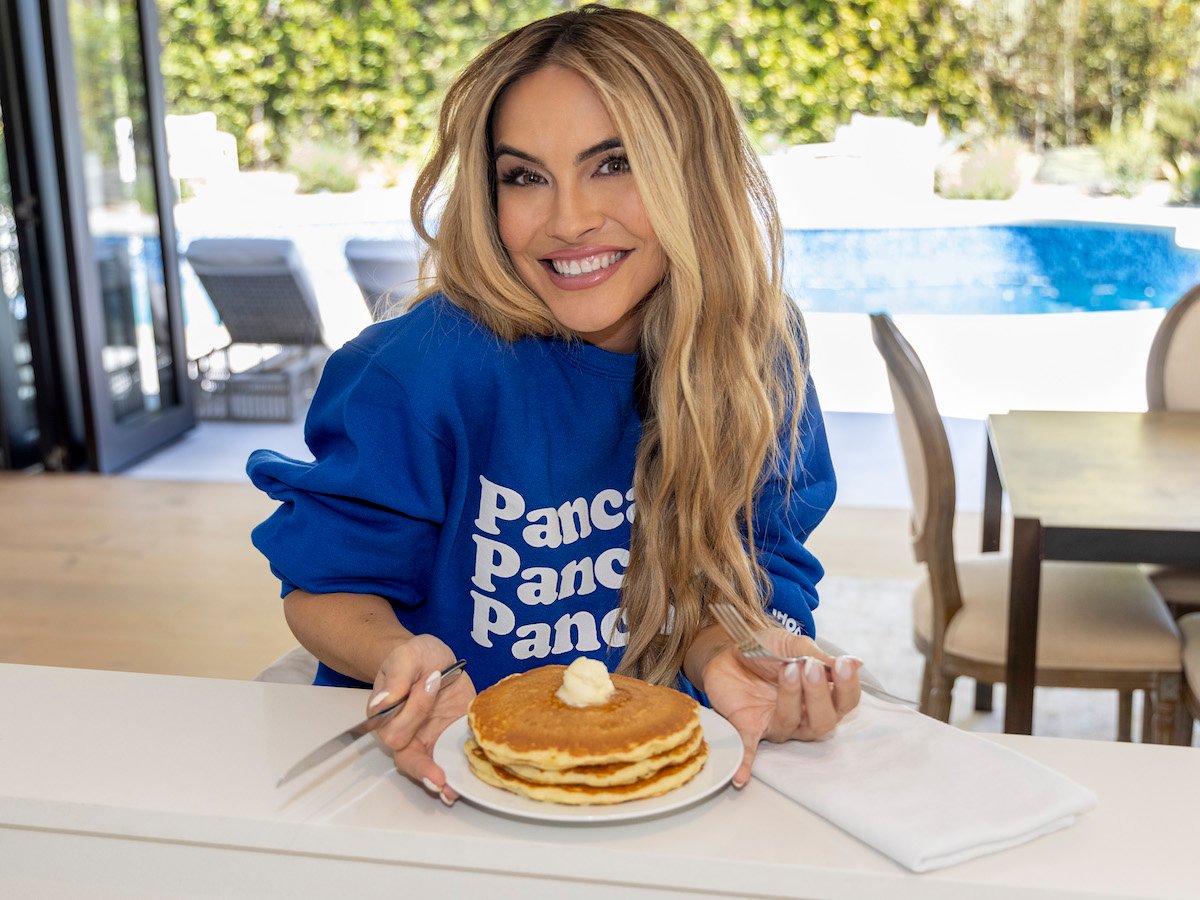 "I think in the high-end luxury market, we found it's nice to do appointment-only showings," she said. She said she liked how she could provide more of a personalized tour and attention to clients instead of being in the middle of a busy open house.
Chrishell Stause teases A-list clients on 'Selling Sunset' Season 4
She also teased that A-list clients will be featured this season. Close friend and Selling Sunset cast member Mary Fitzgerald told Showbiz Cheat Sheet French Montana's listing will be on the show.
Stause hinted about her own A-listers but couldn't reveal who she represented this season. "I also have a couple of clients that I'm super excited about," she dished. "It's sometimes hard because some of my best clients are the ones that don't want to be on TV for contract reasons or whatever."
"So I have two clients," she teased about possibly being on the show this season. "One for sure, and one that I hope [will be featured]. If not, I'm going to need some pancakes." Stause recently partnered with IHOP for the "We Could All Use a Pancake" campaign. She said there's nothing like the comfort of a stack of pancakes, smothered in syrup, to ease life's bumps and bruises. She added that home sales are on fire in L.A. and joked that houses are "selling like hotcakes."
IHOP wants to provide pancake support to consumers and bring a little fluffy brightness to some of their own bumps in the road via their Twitter handle. By tweeting @IHOP with a story about why they need pancake support and tagging #INeedPancakeSupport, consumers can win a little love, pancakes, and merch from the brand!
Did she or Jason Oppenheim broker her new home deal on 'Selling Sunset'?
Stause added that she worked hard on all of her deals, including the purchase of her own $3 million home. She recently negotiated and acted as the broker to purchase the house, which will likely be documented on the show. Originally, the media reported that Stause's boss Jason Oppenheim was responsible for making the sale. She said that wasn't true and was happy reports were corrected.
"I questioned if I should just keep my mouth shut on that," she remarked. "But I put so much hard work into it and it would seem so ridiculous. Sometimes people think that we're not real Realtors, which is not true. And I am and I work so hard and sometimes we can't put things on our social because it's covered on the show."
"So there are so many days I'm doing things that I can't show people," she continued. "And so then to not get the credit on my own house, I just didn't sit right with me. So I had to speak up. And I was so grateful that they ended up correcting the articles because it was just one of those things where it's like, OK, well, if you are going to kind of release the cat out of the bag, you'll get to see that whole process of buying the house, it's really going to be great to kind of let the viewers in on that whole process.
"But, yeah, I was kind of like, OK, well, if you're going to kind of spoil that, well, at least give me credit," she added. "Maybe I'll get a client out of it at the least, you know?"
Is the drama real on 'Selling Sunset'?
Stause also addressed rumors that the show was fake or the drama was fabricated. "I would love to say [the drama] is just for the camera," she admitted. "Unfortunately, that's not the case. For the most part, all of us get along really well and we really kind of gotten a synergy in office. But, you know, it's not always the case 100%. But that being said, maybe it wouldn't be as interesting if it were all copasetic."
"So I think you have to take the good with the bad," she continued. "And hopefully, we can all see the bigger picture. At the end of the day, this is an amazing opportunity for our business and hopefully, I think empowered women empower women. So I think that that's should be always the goal to just kind of put stupid things aside."
Stause joked, "You get in the moments, maybe you need some pancakes when you're in those moments, but then zoom out a little bit, see the bigger picture and at least move on."
RELATED: 'Selling Sunset': Davina Potratz Reveals Most Cast Members Don't Use a Glam Squad