'Selling Sunset' Season 4: Photo Shows Season Finale Filmed at Outdoor Event
Fans of the Oppenheim Group can't wait to hear about what's to come for Selling Sunset Season 4. There's plenty of evidence to suggest the new season will arrive before fans know it, as the cast continues to discuss the future of the show and what we'll see. And a recent photo allegedly shows where the season finale will take place. Here's what we know.
Is 'Selling Sunset' filming season 4? It looks like filming might be wrapping up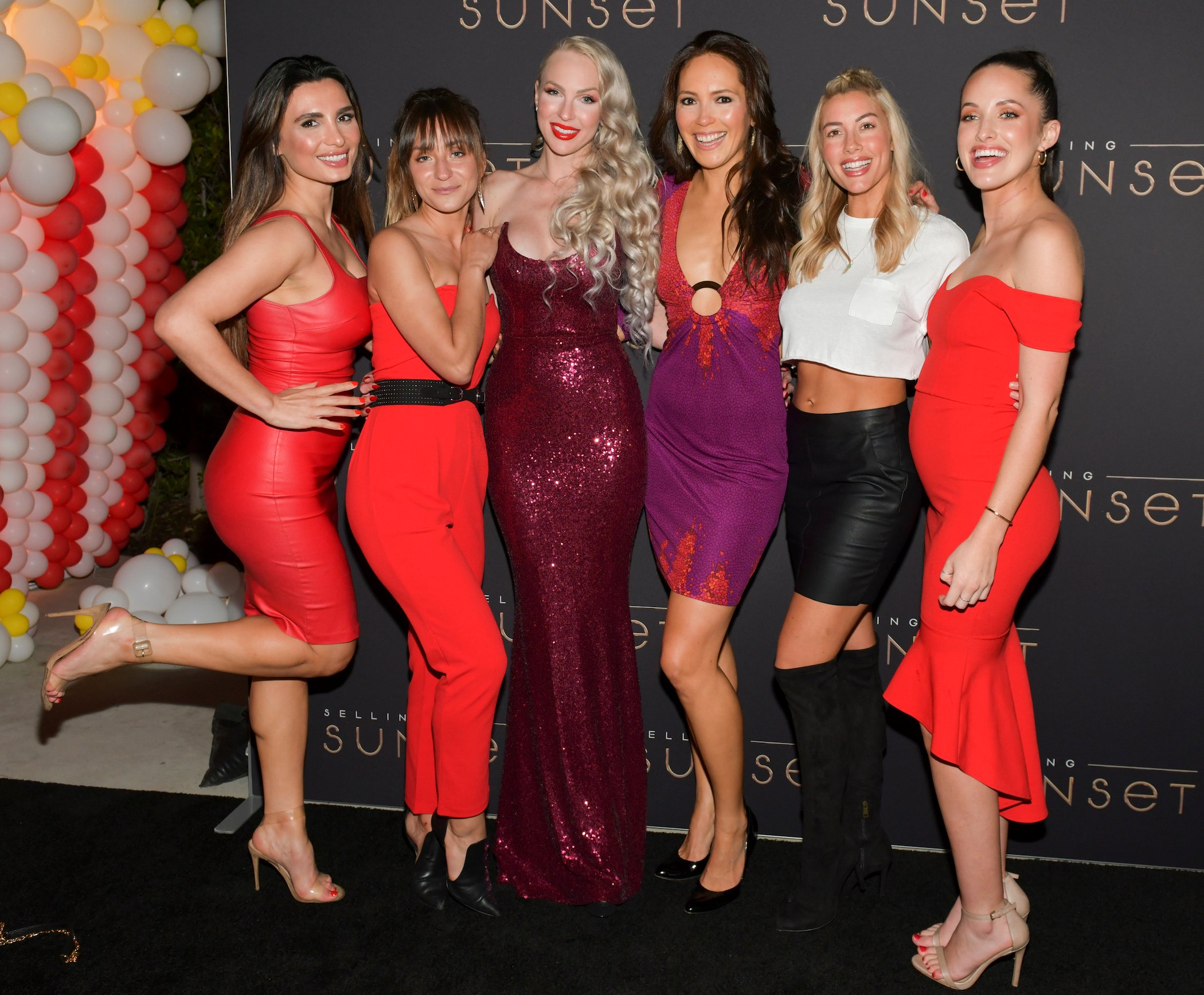 The first three seasons of the infamous Netflix series showed the dynamics within the Oppenheim Group. Now, in Selling Sunset Season 4, fans will get to see their favorite cast members as well as a few newcomers. And it looks like the production crew has been filming for awhile and is now finishing up despite the scheduling delays due to the coronavirus (COVID-19) pandemic.
"It was crazy," fan favorite Chrishell Stause told Showbiz Cheat Sheet in regards to filming this year. "We couldn't do open houses anymore, which is something that is such a mainstay in our industry. So it really changed things."
Fans will see a number of changes within the brokerage, too. While Stause, Christine Quinn, Heather Rae Young, and Mary Fitzgerald remain with the original company, Davina Potratz now works at a rivaling brokerage. Brett Oppenheim also left the Oppenheim Group. Two newcomers to the Oppenheim Group include Vanessa Villela and Emma Hernan.
A photo from the set shows where the finale for season 4 will take place
It looks like fans already found a sneak peek into the ending of Selling Sunset Season 4. A Reddit user found a photo posted by Caroline Pearce, a famous fitness instructor who commented on Jason Oppenheim's Instagram. She added the photo to her Instagram Stories, and it seemed to depict an outdoor event at night. "Netflix #SellingSunset season finale underway," she captioned the photo.
"It seems like they are wrapping up filming!" the Reddit user noted. "This event was part of the finale."
So, where does the finale appear to take place? Reddit users seemed to deduce filming occurred at Jason's house. And fans are gearing up for some drama to take place, though it's unclear what might go down. The drama could surround Davina and her choice to work for an opposing brokerage. Or, the tension between Chrishell and Christine could hit a fever pitch. One fan noted there doesn't seem to be evidence of Christine attending this finale party, though.
"Oooo what is the dramatic thing that will be featured in this finale?" a fan asked. "And while I know Christine just had her baby, I don't think there's any denying she's been less present with Selling Sunset stuff (and has done some things), so it's interesting there's no sign of her at this finale party thingy at Jason's."
When is 'Selling Sunset' Season 4 coming out?
So, when can fans finally see the premiere of Selling Sunset Season 4? Chrishell shared with Showbiz Cheat Sheet fans won't have to wait much longer, as the premiere should hit Netflix by fall 2021.
As for the main themes of season 4, Women's Health notes fans will get to see a lot of Brett starting his own firm and Davina leaving the Oppenheim Group behind. We'll also see plenty more of Christine and Chrishell's feuds. Heather's famous HGTV fiancé, Tarek El Moussa, may also make an appearance, which he's never done in the past. Tarek gave a clue that fans "might be seeing" him in future seasons, as he's a major part of Heather's life. As for Mary, we may see her egg-freezing journey with her husband, Romain Bonnet. And Christine's recent pregnancy will certainly come up in conversation.
We look forward to seeing the cast back in action for a new season!
Check out Showbiz Cheat Sheet on Facebook!