'Selling Tampa': Sharelle Rosado on Running Allure Realty, 'I'm the Boss'
'Selling Tampa' star Sharelle Rosado talks about being the boss at her own brokerage, Allure Realty.
Selling Sunset is focused on The Oppenheim Group, run by Jason and Brett Oppenheim. The spinoff Selling Tampa will focus on a very different type of boss in a new city. Sharelle Rosado revealed what type of boss she is and more about the Netflix show.
The 'Selling Tampa' trailer introduces Sharelle Rosado
The spinoff is focused on Rosado and her brokerage, Allure Realty. The trailer opens with a cast member saying Rosado was killing it two years ago and decided to start her own brokerage. 
Allure Realty is full of Black women focused on luxury real estate. "Sharelle Rosado is a boss-a** b*tch that makes sh*t happen," she says about herself in the trailer. 
She later tells the realtors that she wants to show them that they can get into the luxury market. But there is drama between the realtors. There is another scene where Rosado sits down to talk to one of her employees. She doesn't look happy and tells her that she's wasting people's time. One realtor is even considering going out on her own. It looks like there will be a lot of competition this season.
Some of these themes were shown in Selling Sunset. But it should be interesting to see how the location and this new cast will differ from the first show. Rosado has previously talked about what type of boss she is and why.
Sharelle Rosado on running Allure Realty, 'I'm the boss'
Soon viewers will get to see how Rosado runs her business. But she teased her style of running things with People. 
"Being in the military, it's always taught me to have bearings. I incorporate my military bearings into Allure. They know I'm the boss, and I don't tolerate anything," she claimed. "If it gets out of hand, I don't even have to raise my voice. I give them a look and that stern voice comes on. They know it's a time and a place for everything."
Rosado says she became an open book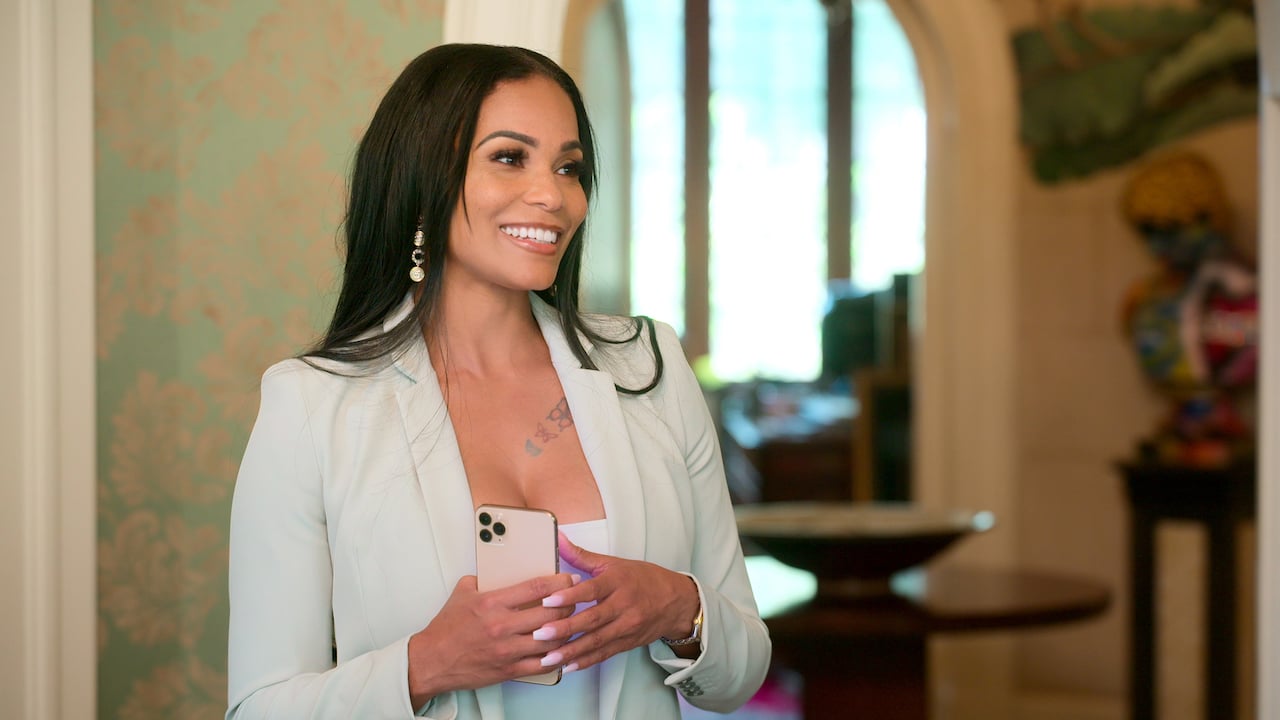 Rosado talked about making the big step into reality TV. "Being in that world, you have to open up. You have to become an open book. I was ready for all that," she said. "… It's OK, we're not perfect human beings. We're not going to be the only one that goes through things that are not pleasing to everybody. It's just a life lesson." This is Rosado's first time on television.
She certainly has a lot of confidence about being ready. Rosado later said she was "born for this." The show might also give viewers a peek into Rosado's personal life. She's currently engaged to Chad Johnson, and they're expecting a child. The new Netflix show will be released on Dec. 15.