Serena Williams Has a Foundation Hack to Get Her Perfect Shade Match That Every Person of Color Should Know
Models can give good makeup tips. But although Kylie Jenner may give good makeup suggestions, is her day filled with the same amount of activity as the average woman? In a recent New York Magazine article, Serena Williams let fans in on all her makeup secrets. If fans want makeup that can go the distance, it makes sense to listen to someone as busy as Williams. She wears her makeup everywhere, from the tennis court to the boardroom. 
Serena Williams knows how to get the perfect match
Williams' makeup isn't top of the line. She's not going for luxury, she needs a high-quality product that's truly waterproof.
Her favorite eyeliner is only $6 on Amazon. The Milani Stay Put Waterproof Eyeliner Pencil does exactly what the name says. It stays put, even on the tennis court. According to "This never wears off or budges, no matter how much I'm sweating. I own it in both brown and black."
That's the kind of practical advice most women need when picking out makeup. Williams is a busy woman. Aside from being one of the best pro tennis players in the game, she's also a mom, and a businesswoman. So she's not wasting time putting on makeup in the morning.
She's found a way to get the perfect foundation match without spending a lot of time in front of the mirror. For Williams, it's all about the brand. The Bobbi Brown Skin Foundation Stick cuts down on time because it's a match to her skin tone.
Before she found Bobbi Brown, Williams had to blend multiple foundations together to get the right color. In fact, she would mix up to three different foundations together to get the perfect match.
Red lipstick is Serena Williams go-to color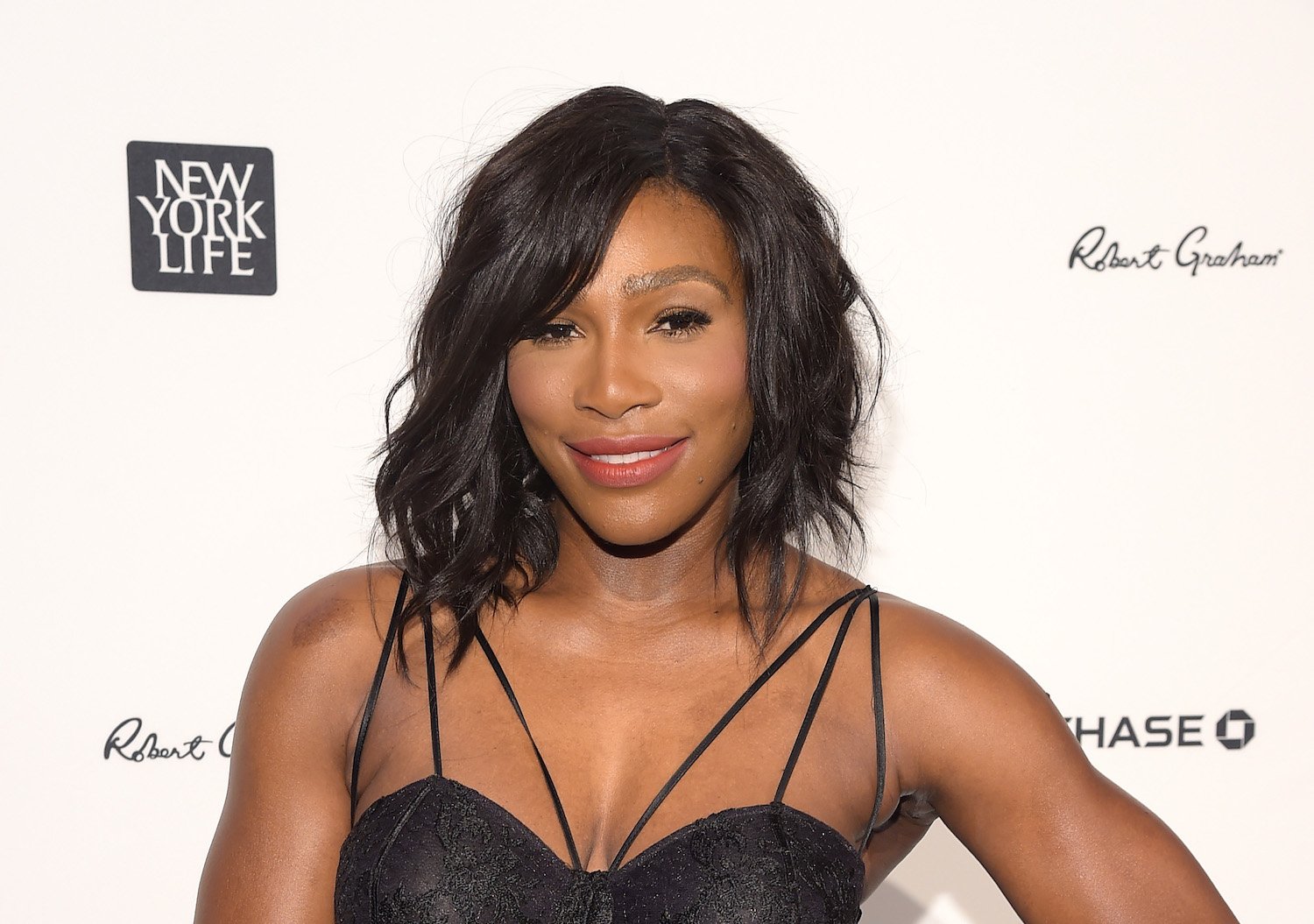 Williams tops off her look with red lipstick. She used Pat McGrath MatteTrance Lipstick in Forbidden Love. She feels the red lipstick is what ties everything together, and makes her feel ready for the day, no matter where she's going. 
Williams has another hack to get her blush to match her lipstick perfectly. She just uses a little lipstick on her cheeks. Fans who want to copy the technique will need to use the right brand. "I feel like the color completes my look. It's just enough to feel 'done up,' and it's also very versatile — if need be, I'll use it as a blush on my cheeks, as well as on my lips." 
Serena Williams always wears jewelry
The last thing Williams needs to get ready in the morning is her jewelry. She always wears something, even if it's simple. "I've worn jewelry every day since I can remember. It's a staple in my life, and I don't feel the same without it on."
Now that she's a designer herself, she can make the kinds of pieces she would want to wear. Her favorite kinds of accessories are ones with engraved messages on them. It's like an affirmation that she can carry around with her.
For example, Williams has a "Queen" message necklace as part of her line. The message helps Williams remember that she's a queen, even when she forgets.
"I try to emulate a powerful, confident persona, like a queen, as much as I can, but I'm not perfect," shares Williams. So jewelry pieces with messages like this can help women be confident throughout the day.
According to Williams: "That's why I really like the engraved messages on my jewelry, because they're a reminder to give yourself love and admiration. Even when you may not feel like a queen, the jewelry is there to remind you that you are one."