Seth Rogen's Podcast Is '1 of the Most Acclaimed Things [He's] Ever Done,' According to Seth Rogen
Like many other actors, Seth Rogen has a podcast. The famed writer-producer started his career in standup comedy before transitioning to acting, appearing in the cult-classic show Freaks and Geeks. These days, fans know Rogen not only for his work in Hollywood but for his connection to cannabis culture and his high-profile celebrity friendships with people like Judd Apatow and James Franco. 
In a 2022 interview, Rogen opened up about his foray into podcasting. And he joked it was more well-liked than his other projects.
What is Seth Rogen's podcast?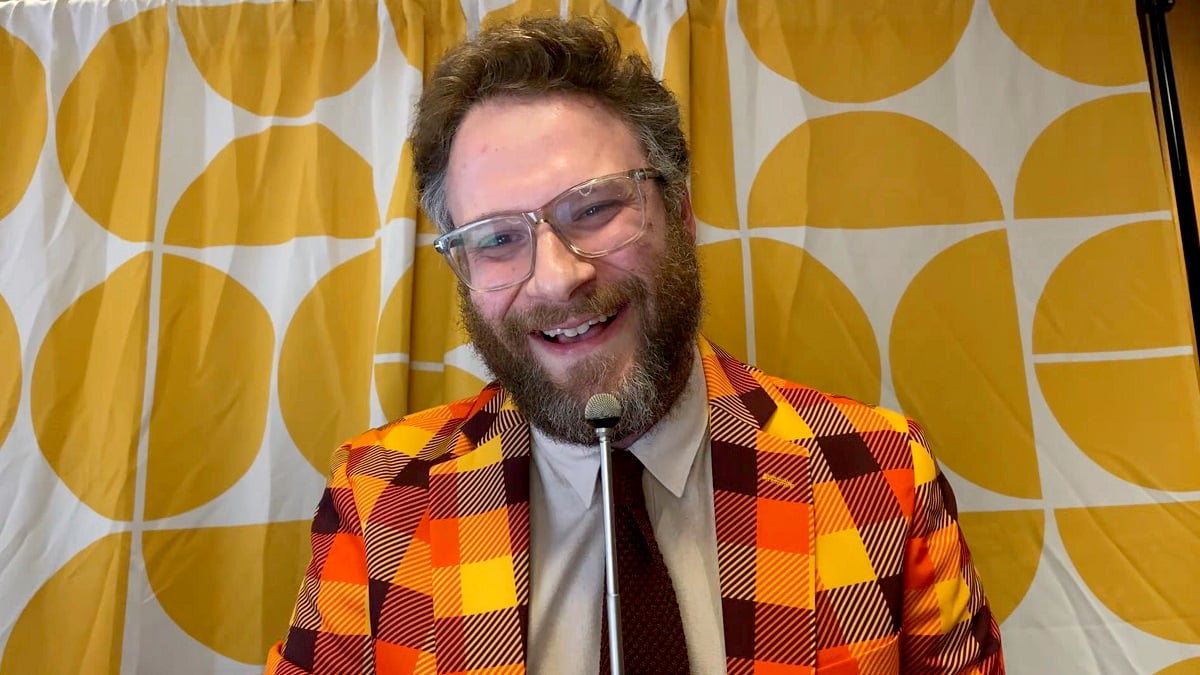 In 2021, Rogen launched his Earwolf podcast, Storytime with Seth Rogen. It features the actor and a guest, who tells a unique story. "Each episode plays like a little audio documentary, with supporting interviews and archival tape women into each story with a rhythmic editing style," reads the description. Past guests include filmmaker Ava DuVernay and frequent collaborator Paul Rudd.
While doing the Wired Autocomplete Interview, Rogen addressed the podcast. "It's one of the most acclaimed things I've ever done," Rogen said. "Which is not saying much, but people do seem to enjoy it."
Though certainly it's garnered a positive reception, he's clearly downplaying his other accomplishments. In the past, Rogen has done everything from curating upscale home accessories for cannabis smokers to co-writing successful movies with his collaborators.
Rogen is best known for movies like 'Knocked Up' and 'Sausage Party'
Rogen's movie career began in 2001, with his first film role in Donnie Darko. He began receiving more attention in 2005, with a part in The 40-Year-Old Virgin opposite Steve Carell. The comedy kicked off a string of successful collaborations with Apatow. Over the years, Rogen has worked with Apatow on movies such as Knocked Up and Funny People.
In addition to his work in comedies, Rogen has appeared in some dramatic roles. He notably starred in the 2015 biopic Steve Jobs. He has lent his voice to animated movies, including Shrek the Third, the Kung Fu Panda films, Sausage Party, Paul, and the 2019 version of Disney's The Lion King. Over the years, he's earned numerous awards and nominations, such as the 2014 American Comedy Award for Funniest Motion Picture for his movie This Is the End.
Celebrity podcasts are the hot new trend
Storytime with Seth Rogen is a relatively new addition to the podcast space, but it's already receiving critical acclaim. According to Podcast Review, the podcast is entirely free of pretentiousness, allowing Rogen's guests to tell their stories in an engaging, immersive way. The report praises Rogen's podcast, saying it features "an undercurrent of heart, charm, and unexpected human connection." 
Celebrity podcasts took off partly due to the coronavirus (COVID-19) pandemic. Podcasts became an easy way for fans to stay in touch with their favorite stars. Over the past few years, celebrities such as Jonathan Van Ness, Alec Baldwin, Dax Shepard, Conan O'Brien, and Jameela Jamil have launched podcast projects. Many of them feature stars interviewing their friends, inviting them to share stories and bits of wisdom with their listeners. 
Even stage and screen legend Julie Andrews debuted a podcast during the early days of coronavirus. Julie's Library features Andrews reading children's stories.
RELATED: Seth Rogen Admitted to Being High Almost '100%' of the Time in His Movies