SEVENTEEN Renew Contracts With Pledis Entertainment
SEVENTEEN debuted with Pledis Entertainment in 2015. The K-pop group has 13 members: S.Coups, Wonwoo, Mingyu, Vernon, Jeonghan, Joshua, Woozi, DK, Seungkwan, Jun, Hoshi, The8, and Dino. On July 19, Pledis Entertainment announced that every member of SEVENTEEN chose to extend their contracts with the company.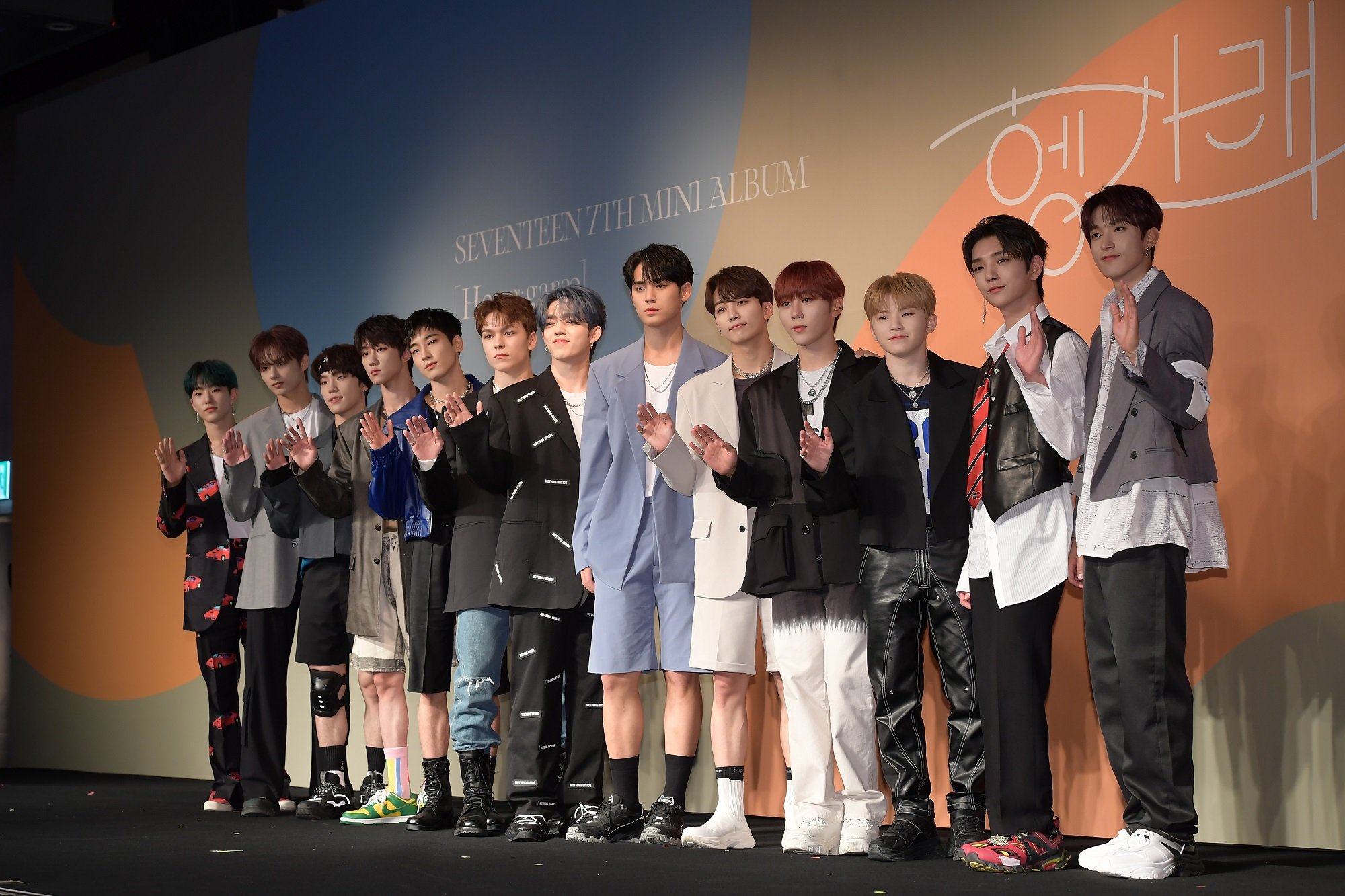 SEVENTEEN decided to renew their contracts 'early on'
After S.Coups, Wonwoo, Mingyu, Vernon, Jeonghan, Joshua, Woozi, DK, Seungkwan, Jun, Hoshi, The8, and Dino decided to renew their contracts as SEVENTEEN, Pledis Entertainment issued a statement.
According to a translation by Soompi, the band members decided to start the contract renewal process "early on."
Based on Soompi's translation, the beginning of the statement reads:
"We inform you that all members of Pledis Entertainment's group SEVENTEEN (S.Coups, Jeonghan, Joshua, Jun, Hoshi, Wonwoo, Woozi, The8, Mingyu, DK, Seungkwan, Vernon, Dino) have renewed their contracts.

For six years since their debut in 2015, SEVENTEEN established themselves as the nation's best artists based on their trust and faith in Pledis Entertainment.

Even ahead of the expiration of the preexisting contracts, the 13 members of SEVENTEEN and the agency discussed the group's future vision in depth and reached an agreement, making it possible to renew the contracts early on."
SEVENTEEN released a statement of their own
As Pledis Entertainment's announcement continues, fans are given an idea about the members' future goals as individuals and in the group.
According to Soompi, the remainder of the statement reads:
"The SEVENTEEN members shared the meaning behind the contract renewal as well as their determination, saying, 'The 13 members all agreed to continue on together through our faith in each other and the strong teamwork we built throughout the years, and we will keep doing our best to show good music and cool performances to our fans all over the world as "one team" SEVENTEEN.'

We will continue to fully support their group promotions as well as their individual activities and do our best to become a solid source of assistance and support. Moreover, we will form more stable, long-term promotion plans for SEVENTEEN both domestically and abroad and grow together with our artists.

We hope fans show unchanging support for SEVENTEEN, and we ask you to watch over the next steps of SEVENTEEN with keen interest and love, as they will advance further with Pledis Entertainment."
The band recently released a new album
In SEVENTEEN, the 13 members are split up into three different sub-units: hip-hop, vocal, and performance. S.Coups is the leader of the K-pop group, and each sub-unit also has its own leader.
S.Coups, Wonwoo, Mingyu, and Vernon make up the hip-hop unit, and S.Coups is also the leader of the sub-unit. Woozi, Jeonghan, Joshua, DK, and Seungkwan are part of the vocal unit, and Woozi is the vocal unit leader. Jun, Hoshi, The8, and Dino form the performance unit, with Hoshi acting as the sub-unit's leader.
The members of the band are known as "self-producing idols" because they frequently write and produce their own music. On June 18, SEVENTEEN released an EP called Your Choice.