SEVENTEEN Wows Fans With 7th EP and 'Left & Right' Music Video
On June 22, SEVENTEEN released their 7th EP Heng:garæ as well as a music video for the EP's title track, "Left & Right." SEVENTEEN's EP features six tracks including "Left & Right," "Fearless," "I wish," "My My," "Kidult," and "Together." In addition to releasing their new album and music video, the K-pop group kicked off album promotions with a stellar Mnet comeback show.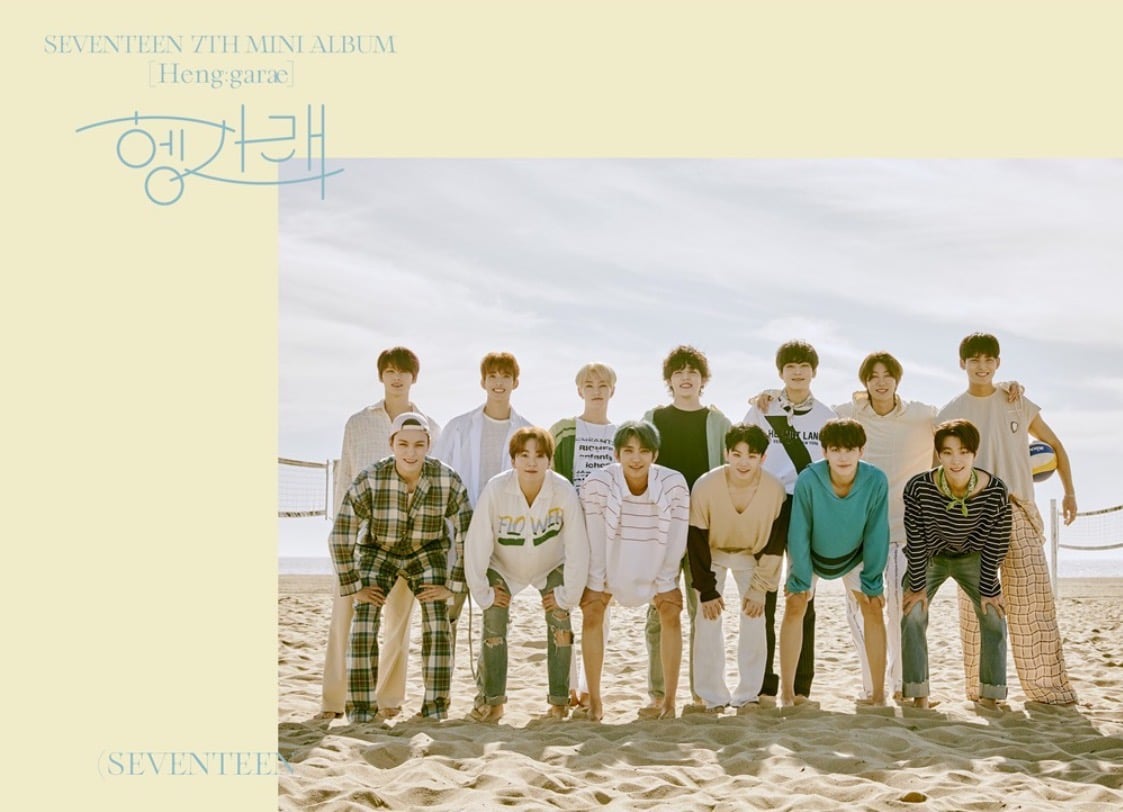 This is SEVENTEEN's first comeback in nine months
SEVENTEEN debuted in 2015 under Pledis Entertainment with their first EP 17 Carat. The group consists of 13 members: S.Coups, Wonwoo, Mingyu, Vernon, Jeonghan, Joshua, Woozi, DK, Seungkwan, Jun, Hoshi, The8, and Dino. The 13 members are split up into three different sub-units: hip-hop, vocal, and performance.
S.Coups is the leader of SEVENTEEN as well as the hip-hop unit leader. Wonwoo, Mingyu, and Vernon are also part of the hip-hop unit. Jeonghan, Joshua, DK, and Seungkwan are members of the vocal unit and Woozi is the vocal unit leader. The performance unit is made up of Jun, Hoshi, The8, and Dino with Hoshi acting as the performance unit leader.
On Sept. 16, 2019, SEVENTEEN released their third studio album titled An Ode. Heng:garæ marks SEVENTEEN's first comeback in nine months and is the band's seventh EP. The album is meant to provide support for youth through positivity and healing.
RELATED: The Surprising Role K-Pop Has Played in the Recent BLM Protests
What the members have to say about the EP
In a press release shared by Big Hit Entertainment, the members of Seventeen discussed Heng:garæ and their new single "Left & Right." SEVENTEEN is considered a self-producing group, and the members are all heavily involved in the composition, production, and release of their music.
When asked about SEVENTEEN's new "Youth" concept, Jun replied, "I think youth is right by our side at this moment while we dream and strive for something."
SEVENTEEN also released a music video for "Left & Right," their EP's title track.
"The title track 'Left & Right' tries to deliver positive energy for young people who are unsure where to go. Through our song, we'd like to say: 'you're already doing well, don't worry, you can do this,'" Wonwoo said of the song.
Vernon added, "I hope you can think of this song when you have two choices but are unsure which choice to take."
SEVENTEEN performed a comeback special
A few hours after the release of Heng:garae and "Left & Right," SEVENTEEN performed a comeback show that was broadcast on Mnet and M2. During the show, SEVENTEEN performed "Left & Right," "Fearless," and "My My" for the first time. The K-pop band also performed their classic songs "HIT" and "MANSAE" with new choreography, taking fans back through their discography.
"SEVENTEEN PERFORMED MANSAE AGAIN ON MNET STAGE AFTER ALMOST FIVE YEARS," a fan tweeted.
"THE CHOREO FOR FEARLESS IS CRAZY!!!!!!! SEVENTEEN IS REALLY KINGS OF CONCEPTS!!!!!!! #Henggarae #SEVENTEEN @pledis_17," wrote a Twitter user.
"never understood the phrase 'the best thing since sliced bread' until Left & Right – 세븐틴(SEVENTEEN) Stage 200622 like yes this group of 13 boys in this specific 6 minute long performance is better than the revolutionary convenience of bread being presliced," tweeted one fan.