'Sex and the City': What Would Carrie Bradshaw's Apartment Be Worth Today?
Every 'Sex and the City' fans knows Carrie Bradshaw couldn't afford her Upper East Side pad and her shoe addiction, but what would the apartment cost today?
Anyone who has ever dreamed of living in Manhattan knows the desirable locale comes with a massive price tag attached. Carrie Bradshaw, the main character from Sex and the City made living in Manhattan look effortless. Everyone already knows that the blonde sex columnist couldn't have kept a roof over her head and shoes on her feet with her fictional salary, but what would it really cost to live in Carrie's apartment, both as a renter and then as an owner?
Carrie claimed to be paying $700 in rent when she lived in her Upper East Side flat
Carrie, faced with the impossible task of moving in Manhattan, tells a real estate agent that she's paying $750 a month for a much bigger abode. The agent tells her to stay put, or consider moving to New Jersey because she's not going to find a similar place at the price point she's interested in.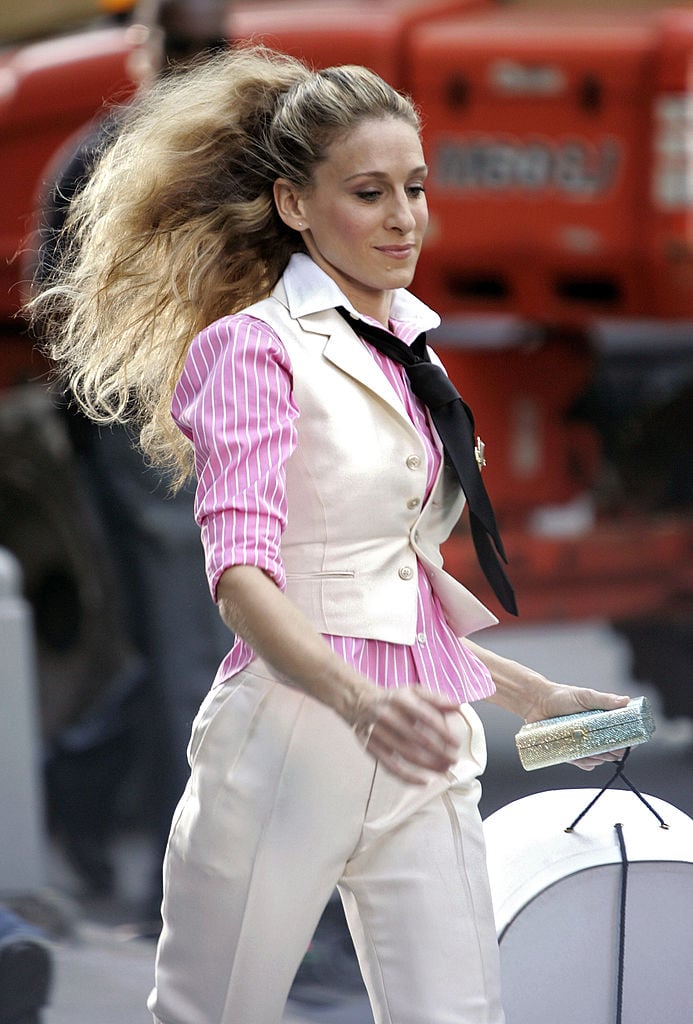 The real estate agent wasn't wrong. Writers needed to explain away Carrie's ability to afford rent and her signature cosmopolitan, so they used an exhausted trope. They alleged that Carrie was living in a rent-controlled pad. While rent-controlled apartments in Manhattan do exist, they are not nearly as common as Hollywood writers would have us believe.
According to Curbed, only about 1% of Manhattans rental properties are eligible for rent-control. An apartment like Carrie's on the Upper East Side would have likely cost her around $1,700 back in 2000, a couple of years after the show's premiere. Today, 19 years later, the same size pad would be priced around $3000 per month.
If Carrie's building really did go co-op what would her apartment have cost?
The entire reason Carrie was searching for a new place to live was that her building went co-op, and her disastrous relationship with Aidan left her with two options; buy the place from him or move out so he could sell the property. Carrie, without a dollar to her name, has no idea where to come up with the down payment. Miranda tells her she has about $40,000 worth of shoes in her closet, and that's where her down payment went. There is a little problem with Miranda's math, though.
According to Street Easy, the average down payment on a co-op in New York City is 20% of the agreed-upon price. If Carrie's down payment needed to be $40,000 then Aidan was asking for no more than $200,000 for the apartment. Not even in the year 2002 would Carrie's one-bedroom have gone for $200,000. Today, a similarly sized unit in the neighborhood has an average price of $1.25 million. Back in 2002, when Carrie would have purchased her apartment, she still would have paid over $500,000 for the apartment.  
The exterior used in Sex and the City gives way to a much larger living space
The exterior of Carrie's building is among the most iconic landmark from the show. Located on Perry Street in Manhattan, the Brownstone was chosen for its iconic steps, regardless of the fact that it's clear across town from Carrie's fictitious address. The interior of the location, however, was never used, because Carrie's apartment building isn't actually a building. Instead, the Brownstone is a single-family residence complete with a garden.
In fact, many of the townhomes on the tree-lined street are single-family dwellings. The home that stood in as Carrie's residence reportedly boasts five bedrooms and three bedrooms spread across about 4,000 square feet. It was initially constructed in 1866 and was designed by famed architect Robert Mook.
While the famed brownstone is a single-family home that could change hands anytime, don't expect it to go up for sale anytime soon. The longstanding residence has only had three owners in its history, with it selling most recently in 2013 for more than $13 million. It's garden, and location makes it a much-coveted property.