Shakira Tells '60 Minutes' Why She'll Never Get Married
Shakira appeared on 60 Minutes last night, about one month out from her (and Jennifer Lopez's, of course) much-anticipated Super Bowl halftime show performance.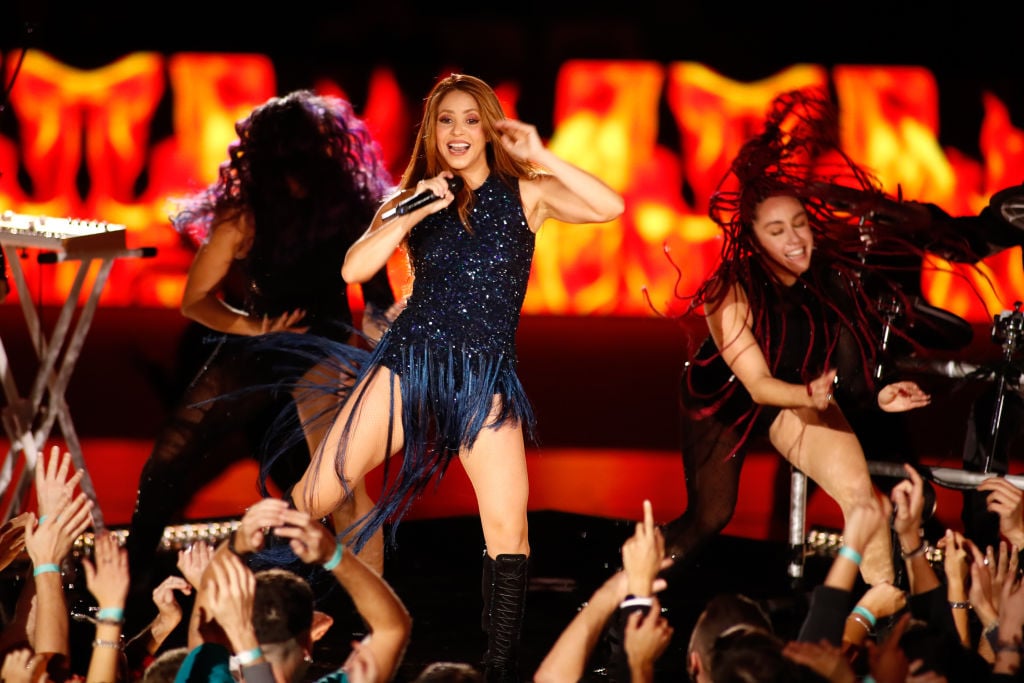 She opened up to correspondent Bill Whitaker about what drives her, how anthropology, of all things, plays a role in her music, and why she can't get married.
Here's what the 42-year-old had to say about these and other topics.
Shakira's perfectionistic streak
The Colombian songstress opened up to Whitaker about her quest for perfection and her inability, like so many artists, to reach contentment with her performances and her work. Despite her incredible work ethic and demanding the same of her dancers and musicians, Shakira just isn't satisfied.
"I can be really hard on myself, wanting it be 100% perfect," Shakira told Whitaker, "but…I know perfection doesn't exist but it's a lesson I haven't quite learned yet. If it were up to me, I wouldn't be celebrating any of my performances really…There's always something that I wished would have been done differently, and I could've done better."
Her childhood and how anthropology surprisingly led to an unstoppable career
The artist has sold 80 million records globally since her start at the age of 13, writing or co-writing almost of all of her songs, and she shows no signs of slowing down.
Her music, as the news program pointed out, reflects the singer's own ethnic background, and that of her homeland, Barranquilla, Colombia, a coastal city in western Colombia, which boasts indigenous, European, African, and Middle Eastern cultures.
She talked about her songwriting process and how she says her interest in anthropology as a child plays a role even now in her song creation.
"You know, when I was a kid, I wanted to be an anthropologist," the Colombian-Lebanese singer told Whitaker. "I guess somehow, I'm kind of vicariously being one through my music."
Creating music, as Shakira told Whitaker, "saves me a visit to the shrink. It's a therapeutic, cathartic vehicle for me to express my thoughts, my angst. Sometimes I'm just restless and I don't know what it is. Sometimes I just need a piece of paper and a pen or my computer and to start writing."
Meeting her boyfriend and why she simply can't marry him
Shakira and her boyfriend, Spanish soccer star Gerard Piqué, met in 2011 during the filming of her music video for her enormous global hit, Waka Waka, which featured several professional soccer players. The couple fell in love pretty quickly and have been together since then.
Piqué deadpanned to Whitaker, "For me, it was very shocking, I had to dance. I had to do some movement. For me, it was ridiculous."
His girlfriend explained how Piqué caught her eye: "I wasn't a soccer fan, so I didn't know who he was. But when I saw the video, I was like, 'Hmm, that guy's kind of cute!' And then someone decided to introduce us."
Despite the fact that they've been together as long as they have been, that they have two sons, a fortune between them, and a relationship that is clearly committed, the Colombian star flatly refuses to marry Piqué.
"To tell you the truth," Shakira told Whitaker as her partner looked on, "marriage scares the —- out of me. I don't want him to see me as The Wife," she said, with her fingers forming quotation marks.
Read more: This Is Shakira's No. 1 Beauty Secret