Shakira's Post-Super Bowl No. 1 Hit – Almost 20 Years After The Song Was Released
Shakira went into Sunday night's Super Bowl having had just one No. 1 hit in the United States.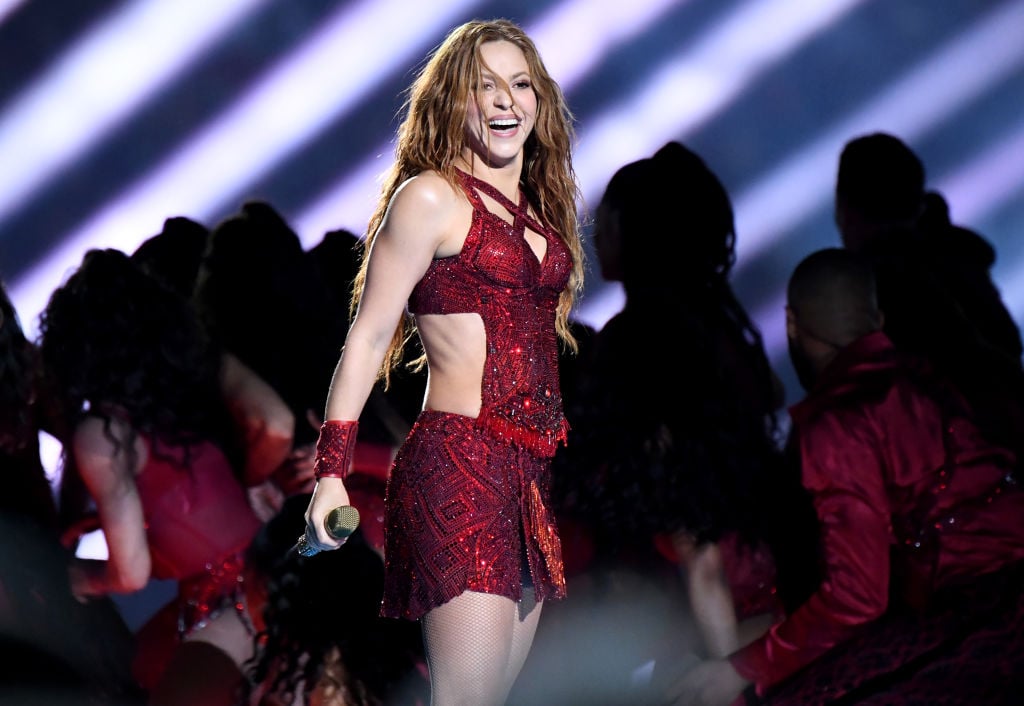 Just 48 hours after her unforgettable Super Bowl halftime show appearance with Jennifer Lopez, she's got another No. 1, with an almost twenty-year-old song.
Shakira has had only one No. 1 hit in the US
While Shakira may be a blockbuster force in South America and much of the rest of the world, as beloved as she is in the United States, she has only had one No. 1 song here.
She was already an established and successful artist in South America when she released her first English-language album, Laundry Service in 2001. The album was a successful crossover for the artist, reaching the No. 3 spot on Billboard's charts at the end of that year.
Whenever, Wherever, the lead single from that multi-platinum album, reached No. 6 on Billboard in 2001, while another track from the album, Hips Don't Lie, went to No. 1 that year.
What the Super Bowl did for Shakira
Artists perform at the Super Bowl for the thrill of it, of course.
As Shakira told Zane Lowe on Apple Music's Beats 1 in 2019, "I've always wanted to perform at the Super Bowl. It's like the holy grail of the entertainment industry. It's a sports event, but it has huge relevance for us artists, and I think it's going to be fantastic. This is going to be an event to celebrate Latin culture and the importance of women also in the industry."
Aside from the showmanship involved in a Super Bowl performance, the artists involved can also depend on reminding viewers of their music catalog, and in surely many cases, introducing a whole new generation of viewers and listeners to their music.
And that's what happened in Shakira's case.
'Whenever, Wherever' went to No. 1
Shakira's Super Bowl appearance looks like it definitely earned her quite a few new fans, or perhaps her established fans' remembered how much they loved her music.
Either way, somehow, Whenever, Wherever from her Laundry Service album shot up the charts, giving the 43-year-old Colombian artist her second No. 1 hit on the iTunes charts.
It was quite the gift for the singer, who celebrated her birthday the same day as the Super Bowl, as she noted on Twitter.
"The best birthday gift has been the support of all my fans and the most amazing and hardworking team an artist could wish for," she tweeted after the show. "We Latinos climbed Kilimanjaro and made history tonight and we couldn't have done it without all of you!"
Shakira thanked her homeland
During the show, the international star sang Whenever, Wherever, plus She Wolf, Empire, Hips Don't Lie and Cardi B's I Like It with Bad Bunny. Towards the end of the program, she sang Let's Get Loud and Waka Waka with Jennifer Lopez.
On Twitter yesterday, the singer thanked her country for giving her its rich tradition in dance that allowed her to shine as she did Sunday night.
"I want to thank Colombia for giving me the Mapalé, the champeta, the salsa and the Afro-Caribbean rhythms that allowed me to create the Super Bowl Halftime Show that I dreamed of more than a decade ago," she tweeted.
Read more: What Is Shakira's Real Name and Where Is She From?