Shakira's Surprisingly Doable Super Bowl 2020 Diet and Workout
Get the full scoop on the diet and exercise regimen Shakira is
With Super Bowl LIV happening in less than four weeks, you know Shakira is in high gear getting into the best shape of her life. For her appearance with Jennifer Lopez in the game's highly anticipated halftime show, the Hips Don't Lie singer knows she has to be on-fire-amazing in just a few short weeks.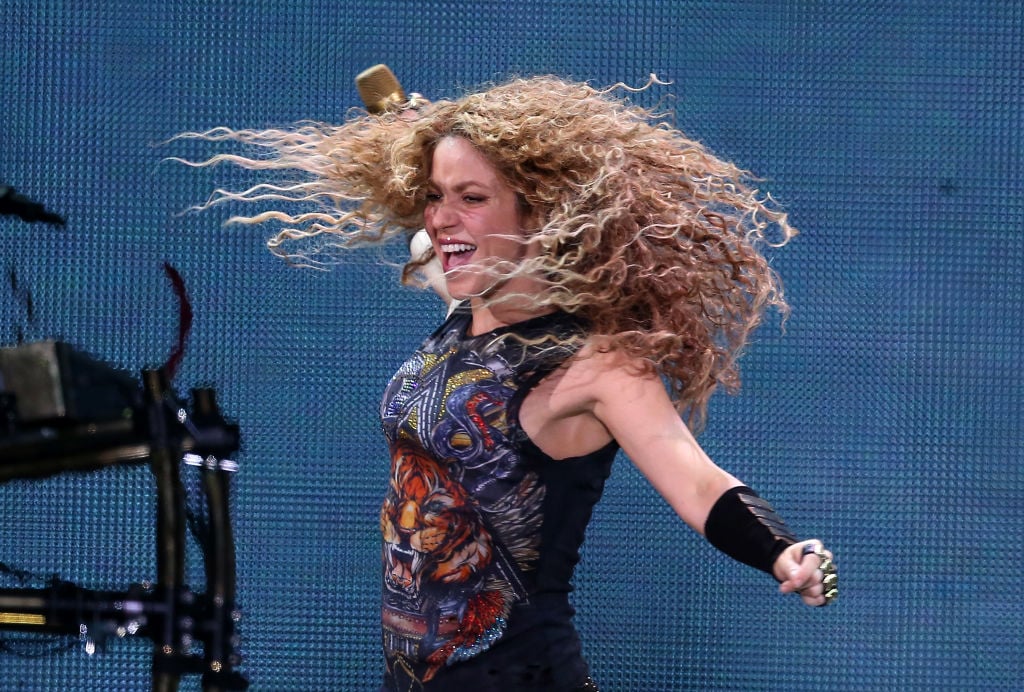 Shakira and J-Lo will basically have about ten minutes to wow a live and digital audience in the millions with a show requiring lung power and high-energy choreography. They know they have to bring it!
Here's what we know about how the international pop star trains and eats for this momentous event.
Shakira regularly works out with trainer Anna Kaiser
Clearly, neither Shakira or J-Lo are jumping into action just for this Super Bowl halftime show. They're already in amazing shape, but whatever they've been doing has to be amped up for the global platform they'll be stepping onto on Feb. 2.
Shakira's longtime trainer is industry vet Anna Kaiser who got the singer into shape for her El Dorado world tour in 2017. According to a PopSugar interview with the trainer at that time, the Colombian singer exercises about five days a week.
"Currently I am getting her prepped to go on a world tour," Kaiser said, "which means we are working on increasing her endurance and stamina because she's going to be on stage for two hours at a time, singing and dancing!"
"The majority of the time, she's performing in an interval-style format," the celebrity trainer explained. "She's going for five minutes and then resting, 10 minutes and then resting, then a costume change . . . on and off for hours at a time. I want her workouts to complement that. We are — just like my classes at my studio — working in an interval-style format."
Shakira's Super Bowl workout
So now, the She Wolf singer is prepping for the performance of her lifetime. Remember, it's only a 10-minute performance, but it's got to be perfectly planned and her stamina, absolutely unflagging.
Kaiser told Shape in December that she's having Shakira prep with two of the trainer's four trademark routines: "Dance," which alternates between choreographed dance and strength intervals, and "Tone," which Kaiser says is "45 minutes of muscular endurance burnout" or "barre  meets  Pilates meets core conditioning." 
"I will probably meet her at least one more time [before the Super Bowl] and do a sort of intensive preparation," Kaiser said. "There's definitely going to be a performance."
Think you can handle Shakira's workout? Give it a shot to see if you're Super-Bowl-Halftime-Show-worthy!
Shakira's eating this (and not that)
Kaiser also has her hand in the Waka Waka artist's plate, telling Self, she prefers for Shakira to have small meals during the day so her energy doesn't have a chance to dip.
"I work with Shakira's chef to create meals and snacks. It's all about real food, she doesn't like supplementing. She wants it to be really good, fresh food and no shortcuts."
Kaiser told Delish in November 2019 that Shakira alternates between eating 60 percent veggies and 40 percent protein and eating 80 percent veggies and 20 percent protein. Here's what Shakira eats in a day: black coffee for breakfast, "a salad and fish for lunch, soup for a snack, skirt steak with grilled tomatoes and spinach for dinner, and dark chocolate for dessert."
That's actually doable – and delicious!
Read more: This Is Shakira's No. 1 Beauty Secret