'Shameless': This Star Has an Alter Ego and Is the Face of a Distillery
Shameless is a Showtime series that focuses on the Gallagher family, but a few of the show's main characters are addicted to alcohol. Throughout 11 seasons, Shameless has demonstrated how alcoholism impacts the Gallagher's lives. Most of the show's characters have had bad run-ins with alcohol, but there's one role that has been the most impacted by alcoholism. Ironically, the actor who plays that character is currently the face of a distillery.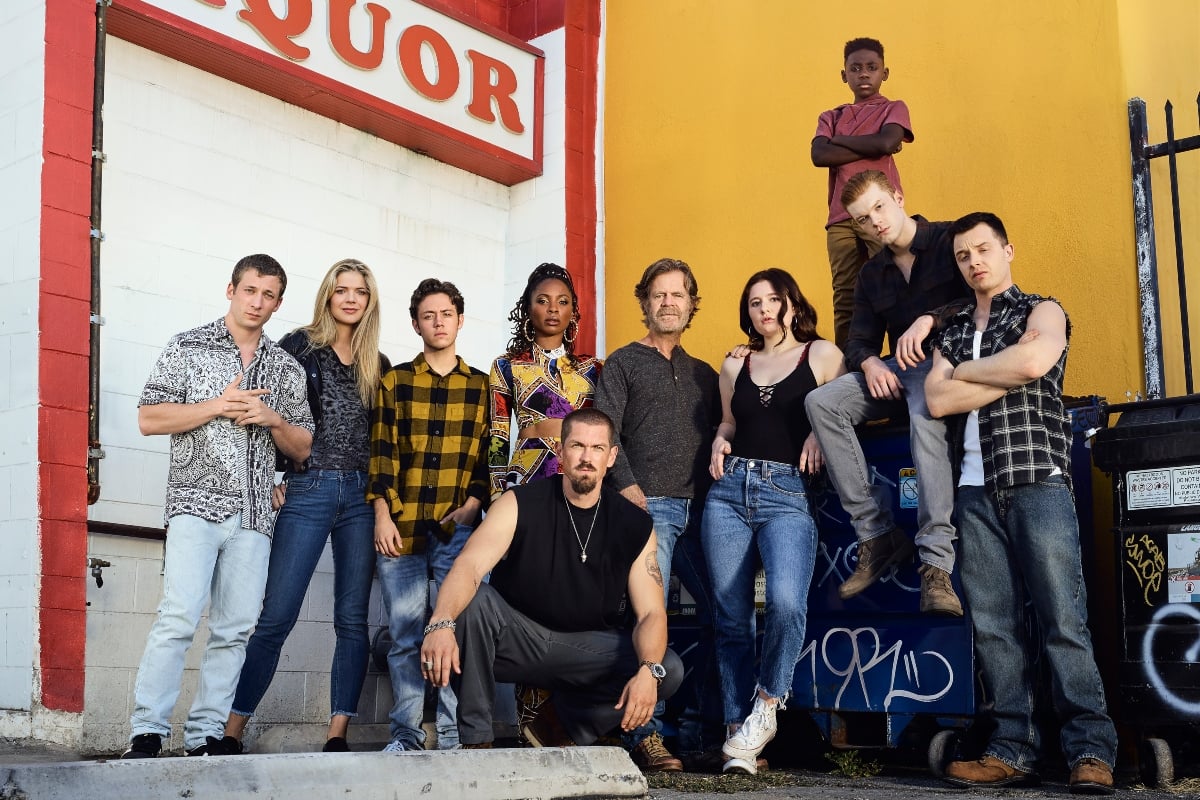 'Shameless' is in its final season
Season 11 will be the last for the Showtime series. Fans learned of the news on Jan. 13, 2020, when Gary Levine, the co-president of entertainment at the network, announced Shameless's end in an interview with Deadline. For Levine and creator John Wells, season 11 seemed like the best and most natural place for fans to leave the Gallagher family.
Some Shameless fans are pushing creators for a spinoff series. But Wells has no desire to do that, as explained in an interview with The Hollywood Reporter.
Alcoholism is part of the main cast of 'Shameless,' especially for William H. Macy's role
Throughout 11 seasons, fans have seen the Gallagher family ripped apart by drugs and alcoholism. It started with the Gallagher parents, Frank (William H. Macy) and Monica (Chloe Webb). Their addictions influenced the behavior of their children and later impacted some of them in more treacherous ways. 
In Shameless Season 4, Fiona's (Emmy Rossum) cocaine use put Liam (Brenden and Brandon Sims) in the hospital and caused the rest of her family to lose trust in her. Later, Lip (Jeremy Allen White) experienced an addiction to alcohol, which cost him his education in season 6. 
But no member of the Gallagher family is as close to addiction as Frank (William H. Macy). Since the beginning, Frank has been the brilliant but drug-and-alcohol-addicted patriarch in Shameless. In the show's final season, it seems Frank's addiction has caught up with him.
He has been diagnosed with alcoholic dementia, and many fans think Frank could die by the end of the season. Ironically, the character with the most significant addiction to alcohol is the face of a whiskey brand. 
William H. Macy sings and drinks whiskey under the alter ego 'Willie Creeks'
With the final season of Shameless wrapped, Macy has turned his attention to other projects. Operating under the moniker Willie Creeks, Macy has started creating gritty music inspired by his inner outlaw. His single "Whiskey Dell" tells the story of Macy's childhood up in the Rocky Mountains.
But writing music and playing his 1935 Martin ukulele isn't the only thing the Shameless star is pursuing under the name Willie Creeks. Macy is marrying his passion for music with his passion for whiskey. The actor is a partner with Woody Creek Distillers, which came about when Macy made a hilarious point: "Look at this face, I could sell whiskey." 
RELATED: 'Shameless' Star William H. Macy Reveals 'What's Next' For Him Following Series' Conclusion
Willie Creeks' partnership with Woody Creek Distillers goes beyond being a face for the brand. The potatoes the distillery uses to craft their vodka come straight from Macy's Colorado backyard. Woody Creek Distillery was recognized at the International Spirits competition with the double-gold award, something Macy likened to "winning all of the Academy Awards with a film made on your iPhone." 
The irony of Macy selling whiskey is not lost on Shameless fans. "Who better to advertise whiskey than Frank Gallagher himself," a fan replied to Macy on Twitter.
"Keep Frank away from the whiskey if you want any profit!" joked another. Fans of Macy's can stream his single online.
Shameless airs Sundays at 9/8 Central on Showtime.
How to get help: In the U.S., contact the Substance Abuse and Mental Health Services Administration helpline at 1-800-662-4357.