Shaq Reveals if Larry David Really Tripped Him on 'Curb Your Enthusiasm' (Exclusive)
Shaquille O'Neal's wipe-out courtesy of Larry David's outstretched legs was the real deal on HBO's Curb Your Enthusiasm. In the show's true form, O'Neal revealed that he told David to get in position and he'd take care of the rest. Of course, tripping the NBA legend during season 2 of the show led to an all-city hatred of David in the episode. It took David to appeal to O'Neal's Seinfeld fan side by gifting him every Seinfeld episode while he recovered in the hospital.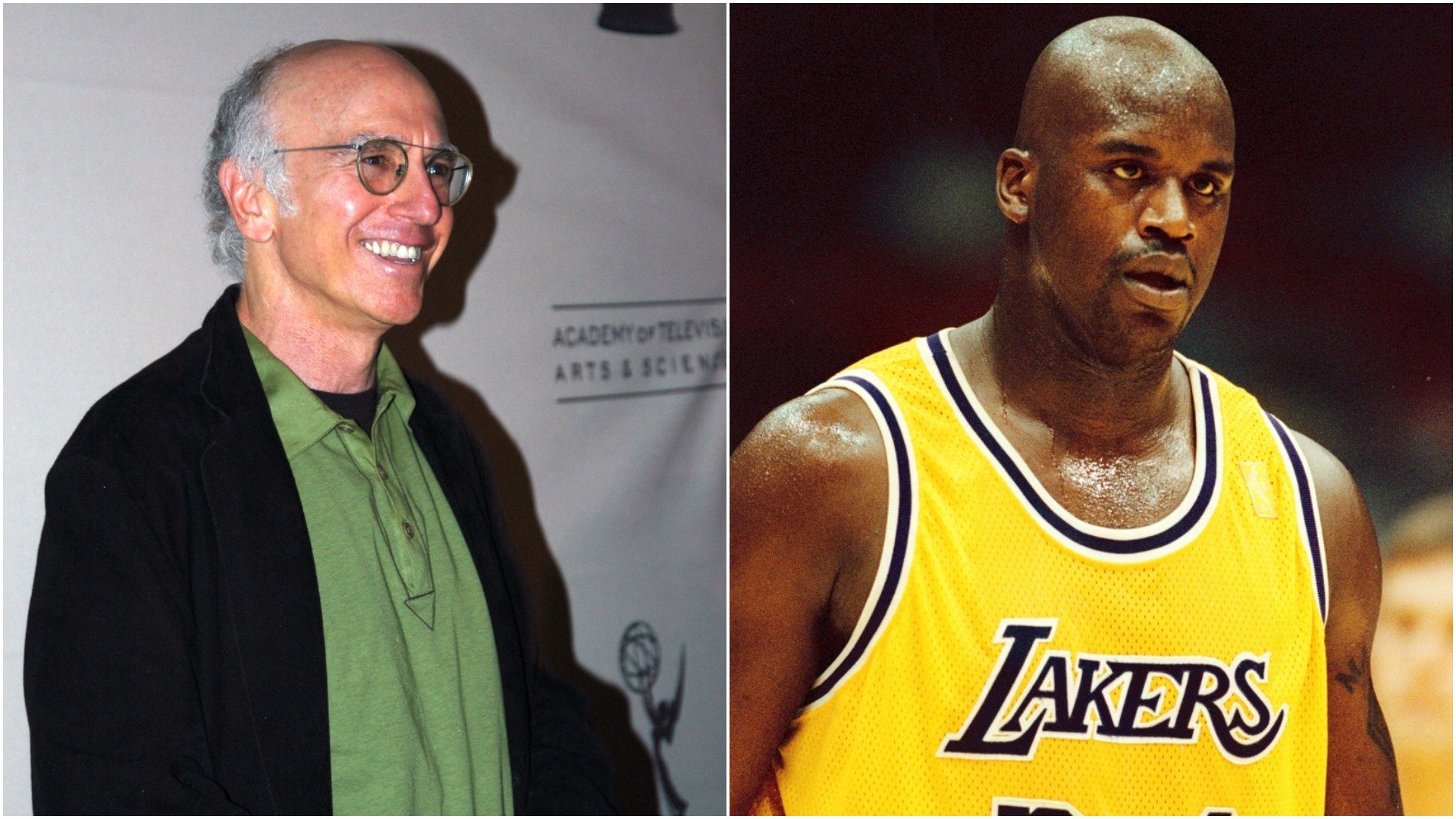 O'Neal dished with Showbiz Cheat Sheet about his appearance on the show, including that courtside wipeout, and yes … O'Neal came up with the line "peanut butter" is a dairy product.
Shaq drove the tripping scene on 'Curb Your Enthusiasm'
O'Neal recalled how he approached the scene where David tripped him. "I told him, Larry put your foot there and I'll do the rest," he said, adding that he had some experience with falls. "I always wanted to be a stuntman when I was little so I know how to fall."
O'Neal said there was no way he was going to fake the fall. "But when I got there I was nervous. Because these people are the real deal on TV," he remarked. "I don't wanna be the one that comes in and messes it up."
So how did the stunt go down? David and pal Richard Lewis are sitting courtside, only a few seats down from the Los Angeles Lakers' bench. David stretches out his long legs as O'Neal rises and trots to the court. But instead of looking down, O'Neal looks at the scoreboard, doesn't see David's legs, and goes flying. O'Neal dramatically pounds the ground in pain and grabs his knee. O'Neal limps off of the court with the trainer's help. Of course, the entire stadium blamed David for sidelining O'Neal, and boos begin to mount.
Shaq was a little stunned when he learned 'Curb Your Enthusiasm' had no script
Making sure the stunt was television ready wasn't the only thing that made O'Neal a little nervous. "When I got there I was told, there's no script," he recalled. "I was like, 'What do you mean there's no script?' I was like, 'Are you kidding me?' They were like, 'Shaq just be yourself.' So we came up with that. And we still talk about it to this day."
He recalled getting the call to be on the series and knew that David was a comedic icon. So O'Neal was determined to nail his role on the episode. During the episode, David learns that O'Neal's favorite Seinfeld episode was "The Contest." He confirmed that indeed "The Contest" really is his favorite. "I used to laugh so hard at Seinfeld," he recalled. "I couldn't stop watching." During the Curb episode, the only way David could appeal to O'Neal and get back in his good graces (and the entire Los Angeles metro area) was to try to brighten O'Neal's day with the Seinfeld episodes while he recovered in the hospital. Plus David made sure to include "The Contest" in the pile.
Yes, Shaq says 'peanut butter' is a dairy product [wink wink]
When David arrives at the hospital, O'Neal, his wife, and his doctor are playing the game Scattergories. O'Neal needed to name a dairy product. He says, "Peanut butter." No one is buying it and it ends up becoming a hilarious moment in the show. A sheepish David arrives at the room so O'Neal says to David, "Listen, dairy product, peanut butter [wink wink]. Peanut butter would be considered a dairy product." Of course, David agrees, "Absolutely."
Meanwhile, David throws the doctor under the bus for cheating at Scattergories. O'Neal said he was the one who came up with the "peanut butter" line for the dairy product too. And as Curb heads into its eleventh season, would O'Neal do it again? Shaq said he enjoyed his Curb Your Enthusiasm experience so … maybe someday?
RELATED: 'Seinfeld': What Is Jerry Seinfeld's Favorite Moment From the Series and Why Did Larry David Almost Quit?