'Shark Week' 2020: Here's When to Watch and What's On the Schedule
Shark Week returns this year with a slate of new programming that includes a reality show bit, celebrity appearances, and plenty of shark-centric greatness.
The Discovery Channel is sparing no chum or ocean floor pebble to bring audiences its flagship summer event. Mike Tyson, Will Smith, and Snoop Doog are part of the lineup, as well as scientific expeditions, survivor tales, and local legends.
Here's a look at what's to come during Shark Week 2020, which kicks off on Aug. 9.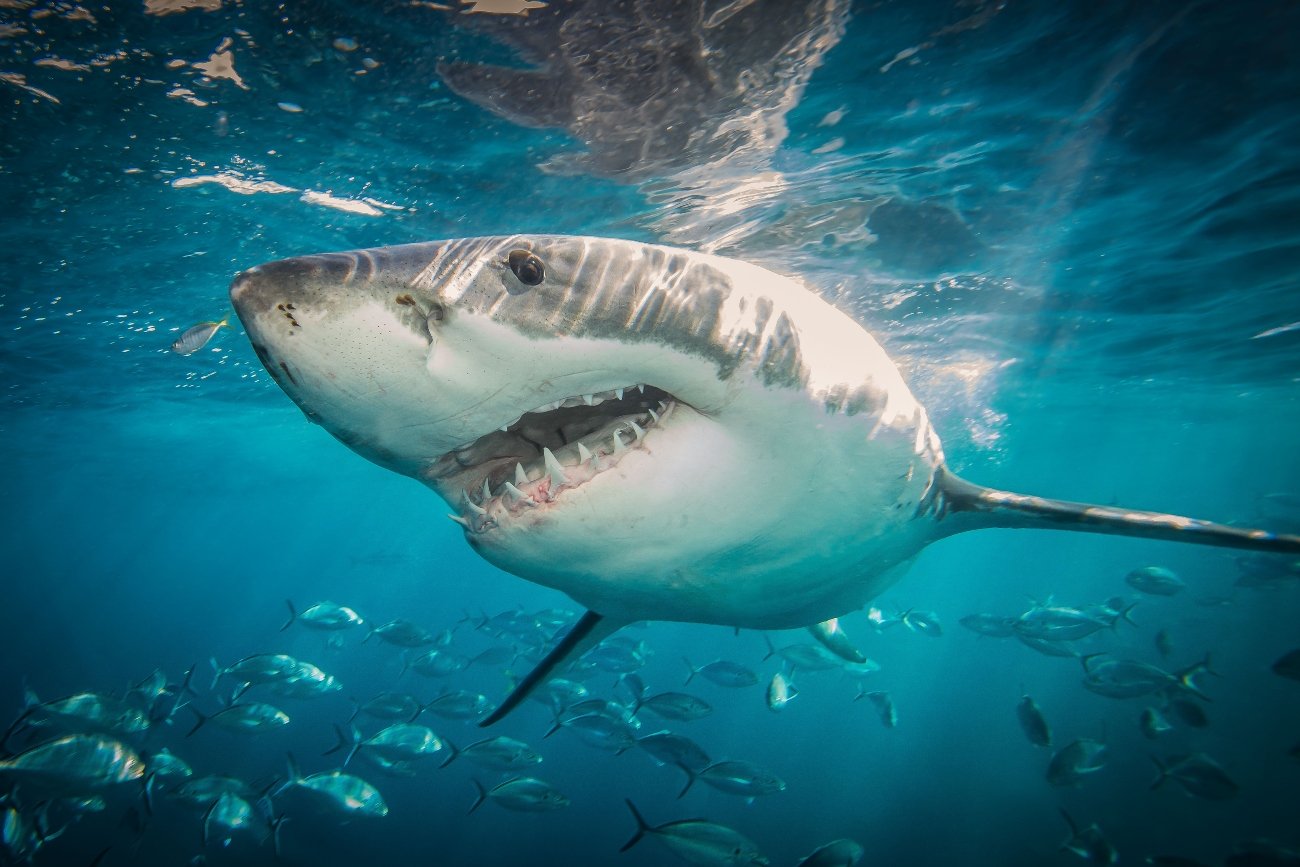 Sunday, Aug. 9
8 p.m. EST: Air Jaws: Ultimate Breach Off – Researchers hunt for sharks that jump from the ocean.
9 p.m. EST: Tyson vs. Jaws: Rumble on the Reef – Mike Tyson goes underwater to face off against the ocean's toughest predators.
10 p.m. EST: Shark Lockdown – Scientists research great whites off the coast of New Zealand where they grow up to 20 feet.
Monday, Aug. 10
8 p.m. EST: Great White Double Trouble – Researchers head to Australia to learn about two groups of great whites behind shark attacks.
9 p.m. EST: ShaqAttack – Shaquille O'Neal joins a mission to study the hunting methods of various sharks.
10 p.m. EST: Jaws Awakens – It's the hunt for the largest great white shark in the world, and it's suspected he's in New Zealand.
Tuesday, Aug. 11
8 p.m. EST: Extinct or Alive: Land of the Lost Sharks – It's a quest to find three shark species that haven't been studied for 100 years.
9 p.m. EST: Will Smith: Off the Deep End – Will Smith faces his fear of water while in coming face-to-face with sharks.
10 p.m. EST: Great White Serial Killer Extinction – To curtail attacks on sea otters, a decoy is launched to find out which shark(s) is causing mayhem off the California coast.
Wednesday Aug. 12
8 p.m. EST: Monsters Under the Bridge – Is there a hammerhead in the Florida Keys? Find out if Big Moe is really chilling under the Old Seven Mile Bridge.
9 p.m. EST: Jaws in America – Snoop Dogg traverses America's waters with experts to check out shark encounters and great white shark behavior across the country.
10 p.m. EST: Mega Predators of Oz – Are mega sharks real or legend? Head to Australia where scientists employ DNA testing and other special methods to find out.
Thursday, Aug. 13
8 p.m. EST: Air Jaws 2020 ­– It's another celebration of flying sharks.
9 p.m. EST: Adam Devine's Secret Shark Lair – Devine and a team of marine biologists explore an underwater tiger shark lair where the party seems to be nonstop.
10 p.m. EST: Sharks of Neptune – Scientists study the impact of COVID-19 on shark behavior since there hasn't been any human contact in months.
Friday, Aug. 14
8 p.m. EST: Alien Sharks: First Contact – Divers are hoping to catch a glimpse of oddity sharks who have rarely been seen.
9 p.m. EST: Lair of the Great White – Great white sharks in a cave in Australia seem to be more aggressive than others. Learn why.
10 p.m. EST: Tiger Shark King – No Joe Exotic here, but something is attacking tiger sharks in the Caribbean. It could be a mega tiger shark or another "cannibalistic" beast.
11 p.m. EST: I Was Prey – Two survivors share their harrowing experiences of being attacked by sharks.
Saturday, Aug. 15
8 p.m. EST: Sharks of Ghost Island – A shark expert sails to a shark "hot spot" in the Bermuda Triangle region to learn why so many congregate there.
9 p.m. EST: Wicked Sharks – Sharks are studied from "first-person" point of view in Cape Cod to better understand attack behavior.
10 p.m. EST: Sharks Gone Wild 3 – Reviews viral shark videos and examines science surrounding sharks.
11 p.m. EST: I Was Prey: Terrors from the Deep – Four survivors share what it was like to encounter one of the ocean's top predators.
Sunday, Aug. 16
Naked & Afraid of Sharks 2
At 8 p.m. EST, fans can watch Naked & Afraid alumni Matt Wright, Jeff Zausch, Serena and Amber Shine, and Alex Maynard try to survive on an island surrounded by hungry sharks. And guess what? They're close to the Bermuda Triangle. Mark your calendars for Shark Week 2020.
RELATED: Mike Tyson Might Be a Fearsome Fighter, But Even He Can't Overpower a Great White Shark
Related post url: