Sharon Stone Was Never 'Comfortable' Around Michael Douglas While Filming 'Basic Instinct'
Sharon Stone wasn't comfortable around her 'Basic Instinct' co-star Michael Douglas and vice versa, but she felt that their discomfort helped their performances.
As many know, actor Sharon Stone co-starred alongside Oscar-winner Michael Douglas for the 1992 classic Basic Instinct. Although Stone has had nothing but kind words towards her co-star, she once admitted she never truly felt comfortable around him. And that discomfort would later affect her performance.
Michael Douglas originally wanted a bigger star to play his love interest in 'Basic Instinct'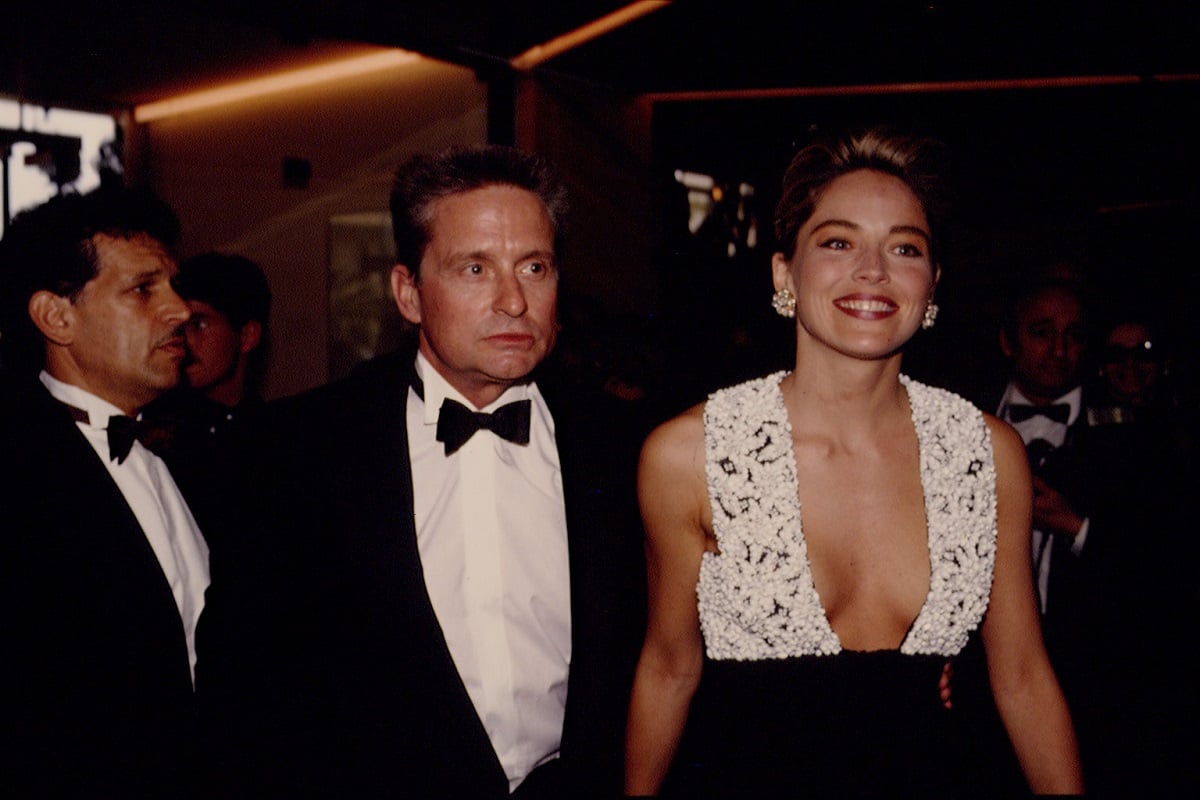 Although many have praised Ant-Man star Douglas and Stone for their chemistry in Basic Instinct, originally Douglas wanted someone else as his co-lead. This was mainly because the actor admitted to envisioning a bigger star in the role.
"I thought, all right, I'll handle this, but I want somebody of equal stature to share the risks. I don't want to be up there all by myself on this one," Douglas told Entertainment Weekly.
But most of the bigger names director Paul Verhoeven approached for the role backed out of the project.
"I guess they just got scared off. You know Paul," Douglas continued. "'Yah, yah, there is nud-it-ty, nud-it-ty, yah, show your breasts.' He's like an X-ray machine."
Eventually, this led to Stone winning the role.
Sharon Stone never felt comfortable around Michael Douglas
Sharon Stone bested several other actors to get the opportunity to star alongside Michael Douglas. After more high-profile actors rejected the role, other actors were screen-tested.
"Five months later, they had tested a number of other women and even offered the part to a few of them—I really don't know who. But they apparently still kept running my test and saying, 'Geez, she seems to have the best handle on it.' Then I tested with Michael," Stone said in an interview with Playboy.
Stone admitted that she was already nervous having screen-tested alongside Douglas. But even while filming the movie alongside him, the discomfort never really went away.
"I had met him on two or three occasions in social situations before I tested with him for this movie. I really felt that he and I could have a certain strange, dynamic energy together. I was never comfortable around him, and I don't think he was comfortable around me," she said.
But the Catwoman actor asserted that the discomfort didn't hurt the movie at all.
"I think that kind of discomfort lends itself to this kind of movie. Tension is good,' she said.
Stone also felt there was some kind of strength rooted in their on-screen relationship.
"It was all about watching him, observing his movements, provoking him. If one were to believe in karma, I would say there is some karmic circle yet unfulfilled between the two of us. Our energy together was strong. It still isn't comfortable for me, but I think it works very well for our work together," Stone added.
Sharon Stone found the sex scenes in 'Basic Instinct' 'ludicrous'
Stone wasn't too fond of a few scenes filmed in the movie, including the sex scenes. If only because she found those particular scenes unrealistic.
"I didn't have a lot of input into the sex scenes. Paul and Michael, very macho men, created them. When I read them and saw the storyboards, I thought they were ludicrous," Stone said.
When asked to elaborate, she wasn't shy about giving out the details.
"Do you know women who have orgasms from these anatomically impossible positions? Please. In two minutes? Send them over to my house so I can learn," she said. "In the meantime, ludicrous they remain. Once I realized that was what the guys wanted, I thought, Oh, I get it! No matter how he touches her or where he touches her or what else he does to her, it's the most, it's the best, it's the sexiest. I want to have some more of that! That's the 'f*** of the century,' according to the macho man mentality."