Shawn Mendes Jokes That BTS ARMY 'Stole' His Fandom Name
Shawn Mendes and Jin, Suga, J-Hope, RM, Jimin, V, and Jungkook of BTS are some of the biggest music stars in the world. Mendes and BTS both have large fan bases, and both fandoms have the same same. The BTS ARMY stands for Adorable Representative M.C. for Youth, and Mendes' fan base is known as Mendes Army. While taking a lie detector test with Vanity Fair, Mendes joked that BTS ARMY "stole" his fandom name.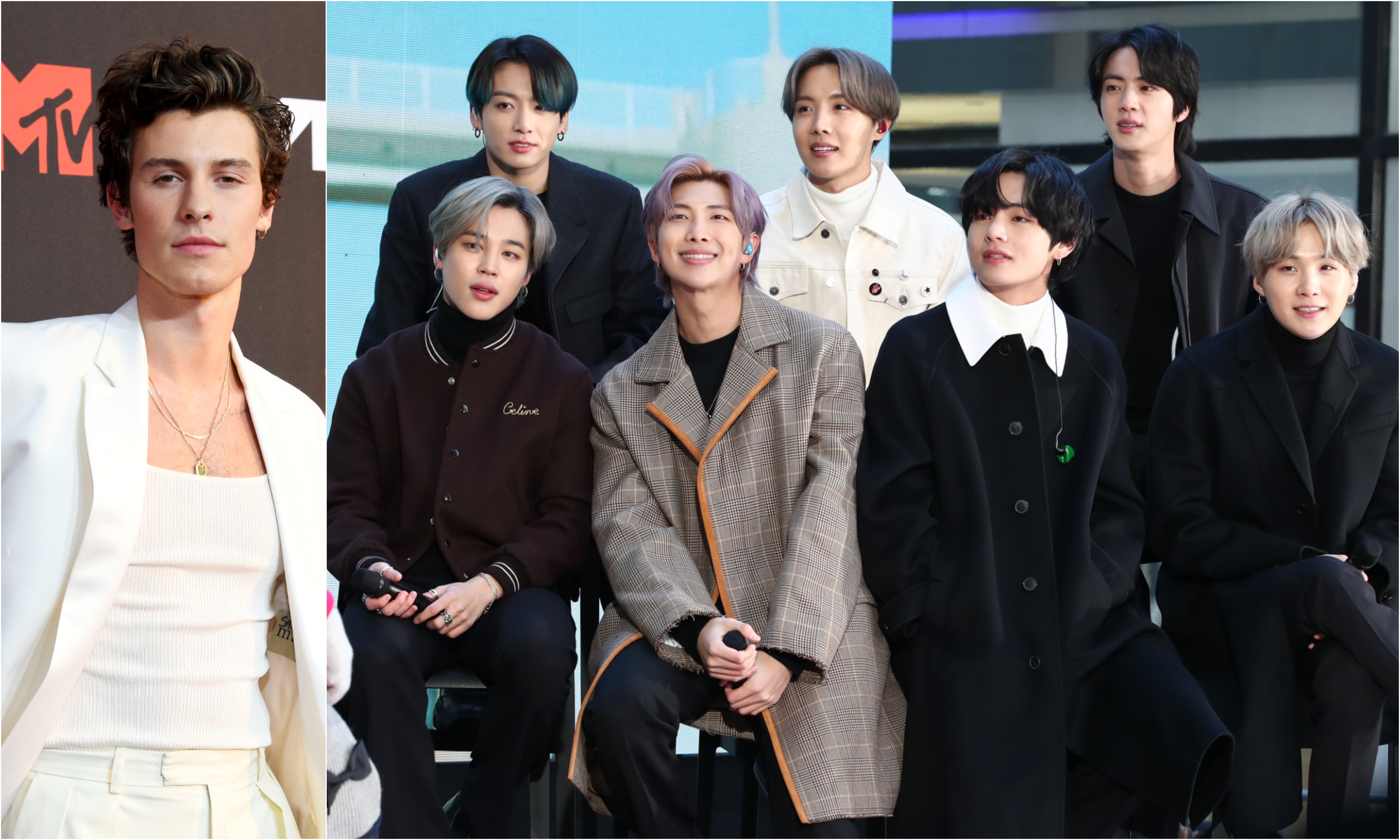 Shawn Mendes joked BTS' fandom stole his fan base's name
On Sept. 20, Vanity Fair posted a segment on YouTube of Mendes taking a lie detector test. Toward the end of the video, Mendes was asked about his fandom sharing the same name as BTS' fandom.
"Well… obviously stole that from us," Mendes said.
The singer-songwriter then laughed and looked into the camera. "That was a joke, BTS ARMY."
He continued, "We're allies. You know? I like to think we're allies. BTS, big fans. I'm thinking our armies are on similar pages."
The interviewer then asked Mendes if BTS follow him on Instagram.
"BTS? They do," Mendes answered. "I think. I can't confirm or deny."
"Do you think that the Mendes Army is more intense than the BTS ARMY?" The interviewer asked.
"Probably not. I don't know what fan base is," Mendes answered.
Shawn Mendes and BTS met in 2017
BTS and Mendes met for the first time at the 2017 American Music Awards. At the award show, BTS performed their song "DNA," making their official U.S. TV debut.
On Dec. 17, 2017, Big Hit Music shared a special BTS Episode about the 2017 AMAs on the BANGTANTV YouTube channel. The BTS Episode revealed that Mendes met Jin, Suga, J-Hope, RM, Jimin, V, and Jungkook at the award show.
"We should… I would love to get together with you guys and do some writing and whatever and sing some stuff," Mendes told the members of BTS.
"Of course," RM and V said.
Will the artists ever collaborate?
In a 2018 interview with Radio Disney, Mendes was shown a video of the members of BTS sharing that they hoped to collaborate with Mendes one day.
"I love BTS," Mendes said. "I'm like obsessed with watching the videos of them dancing."
After watching the video of BTS talking about a collaboration, Mendes admitted he hoped he would be able to work with BTS in the future.
"That's amazing. I met them backstage at an award show and I didn't think they were even gonna know who I was, but they said I guess they're big fans. That's amazing," Mendes said. "Well, yeah, maybe we'll collaborate."
While a collaboration with Mendes and BTS has not happened yet, there is always a chance the artists could decide to work together.